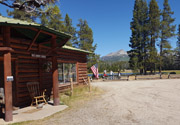 Big Sandy Lodge National Register Nomination: 2020
The Sublette County Historic Preservation Board (SCHPB) is nominating the Big Sandy Lodge District (48su428) for the National Register of Historic Places.
Big Sandy Lodge is located adjacent to Mud Lake in the southern end of the Wind River Mountain Range within Bridger Teton-National Forest (BTNF). It is currently operated as guest lodge and oufitting buisness under permit of the BTNF. The complex consists of corrals and 18 buildings including the main lodge, 10 guest cabins, a care taker house, 2 outhouses, bath house, barn, tack shed, and wrangler cabin.
Adjacent to the primary trailhead to the southern Wind River Mountains, the location was originally established and used by Finis Mitchell from 1929 to 1937 as a fishing basecamp due to its proximity to Mud Lake and other alpine lakes capable of supporting stocked fish. The current wrangler cabin was built during Finis' time in the 1930s. The main lodge and remaining buildings were built from 1949-1955 by the Thomas family as a guest ranch and it has been continuously operated as such ever since. The unique lodge and cabins were constructed from logs milled in the area. Big Sandy Lodge is the only guest lodge on the BTNF that has not been significantly changed or expanded since its construction. It still retains excellent integrity of location, setting, design, workmanship and historical association.
A Request For Proposal (RFP) will be posted here in January 2020 for cultural professionals interested in producing a National Register nomination.