Most of the pages referenced here are from Pinedale Online Website, to see this complete site:
Visit Pinedale Online for current information about Pinedale, Wyoming
www.pinedale.com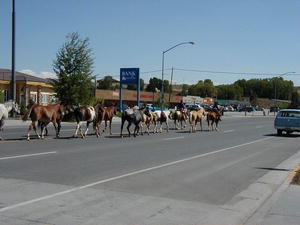 Pinedale Wyoming is the largest community in Sublette County, with a population of about 1500 people. Pinedale is located at the foot of the Wind River Mountain Range and close to the Bridger Wilderness Area. Tourism is an industry that plays a big part here in this scenic town. Deer, moose and other wildlife are often seen within the city limits. Recreation opportunities are just minutes away, whether it's fishing or boating in the many lakes surrounding Pinedale, skiing at White Pine Ski Area or hiking in the Wind River Mountains. For more information on Pinedale visit our companion site Pinedale Online.