From the pages of
Pinedale Roundup
Volume 106, Number 9 - February 26, 2009
brought to you online by Pinedale Online
---
Obituaries


ALICE INEZ BROWN
Alice Inez Brown was born in San Diego, California on June 9, 1913. Alice passed away at her home in Bondurant, Wyoming on January 30, 2009 surrounded by her friends.
Alice loved her home, her flowers, the animals and hummingbirds and the friends who made it possible for her last wish to be carried out…for her to remain in her home until her death.
Alice's husband Steve passed away in 1986. Alice continued to live at "The One Shot on the Dead Shot." She was a loved and respected part of our community.
A Celebration Memorial of her life will be held at her home in June 2009.
For information on the Memorial please call: Pat Burroughs, PO Box 40 , Bondurant, WY 82922; 307-733-4937
Memorial gifts can be made to: Bondurant Community Club, PO Box 71, Bondurant, WY 82922
---
ELIZABETH BETTY LOUISA CONE
Elizabeth (Betty) Louisa Cone was born to Ories Curly Bryant and Anna Margaret Graves on August 5, 1922 in San Fernando, California. She was married to Frank Cone in 1941 and they owned and operated the Saugus Cafe for several years. They later divorced and Betty found her way to Wyoming where she married Fred Hagenstein in 1972. They resided in Pinedale, WY for several years. She continued to work in the restaurant field working at the Stockman's and the VFW. Betty also worked at the First National Bank as a teller. Betty was a lifetime member of the Ladies Auxiliary. She loved rock hunting, travel, crocheting and family time in her spare moments. Betty retired and moved to Riverton where she became a Senior Companion. This was a volunteer position that she dearly loved. Betty loved Wyoming but always missed the beaches in California. She is survived by two children, a daughter Elizabeth (Liz) Moulton of Riverton, WY and a son Mike Cone of Canyon Country, CA. She is survived by 8 Grandchildren, Loni (Brent) Wigginton of Pinedale, Sam Moulton of Riverton, Shelley Cone, Tyla Cone, LeeAnn Cone, Mike Cone, Josh Cone, and Brooke Cone. Betty She is also survived by one brother Bruz (Doris) Bryant of Pinedale. She is preceded in death by her parents, Frank Cone and Fred Hagenstein. Betty loved her family and loved spending time with them. She was also full of life and laugher and will be dearly missed by her family and friends. A special remembrance of Betty was held Tuesday December 16, 2008 at 2:30 at the Wind River Heath Care and Rehabilitation center. No memorial service is planned at this time.
---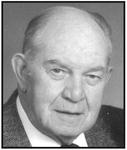 TED J. O'FARRELL
TED J. O'FARRELL
Ted J. O'Farrell, 85, of 1302 10th Street, Rock Springs, Wyoming passed away on Thursday, February 19, 2009 at his home following a sudden illness. He had been a lifelong resident of Rock Springs, Wyoming.
He was born on October 19, 1923 in Denver, Colorado, the son of Timothy J. and Mary Kirby O'Farrell and was the oldest of nine children.
Mr. O'Farrell attended schools in Rock Springs and was a graduate of the Rock Springs High School with the class of 1942.
He served honorably in the United States Army as a combat engineer from 1942 through 1945 and during World War II where he was involved in five major battle campaigns: the Liberation of Northern France, Invasion of Normandy, Battle of the Ardennes, Battle of the Rhineland and Central Europe. He was wounded in action on March 10, 1945 on the bridge at Remagen, Germany. Mr. O'Farrell was credited with numerous combat citations including the Purple Heart.
He married the former Nora Susich on June 26, 1948 at the Saints Cyril and Methodius Catholic Church in Rock Springs, Wyoming.
Mr. O'Farrell was employed for more than twenty-one years with the Union Pacific Coal Company and more than twenty years with the F.M.C. Corporation of Green River, Wyoming. He was elected and served for two terms as city councilman for the City of Rock Springs from 1972 until 1980 under Mayor Paul J. Wataha. He was an avid hunter and fisherman. He was a member of the Holy Spirit Catholic Community, United Mine Workers of America, United Steel Workers of America, Veterans of Foreign Wars, Fraternal Order of the Eagles and Young at Heart Senior Citizen's Center.
Survivors include his wife of over sixty years Nora O'Farrell of Rock Springs, Wyoming; two sons Dr. Mark O'Farrell and wife LeeAnn of Rock Springs, Wyoming and Tim O'Farrell of Marlboro, New Jersey; one daughter Toni Miskulin and husband Joe of Denver, Colorado; grandsons Pat O'Farrell, Mike O'Farrell and Matt O'Farrell all of Rock Springs, Wyoming and Joe Miskulin of Bozeman, Montana; granddaughters Kelsey O'Farrell of Gainesville, Florida, Lauren O'Farrell of Tucson, Arizona and Teddi Ann Barry and husband Nick of Avon, Colorado.
Following cremation, a memorial mass will be celebrated at 1:00 P.M. Monday, February 23, 2009 at the Saints Cyril and Methodius Catholic Church, 633 Bridger Avenue, Rock Springs, Wyoming. A rosary will be recited at 5:00 P.M. Sunday at the Vase Funeral Chapel, 154 Elk Street, Rock Springs, Wyoming. Military Graveside Services & Inurnment will be conducted by American Legion Archie Hay Post #24 in the Rock Springs Municipal Cemetery. Friends may call at the Vase Funeral Home from 3:00 P.M until 8:00 P.M. and again at the church on Monday one hour prior to services.
The family of Ted J. O'Farrell respectfully request that donations be made in his memory to the Holy Spirit Catholic School Building Fund, Post Office Box 6038, Rock Springs, Wyoming 82902
---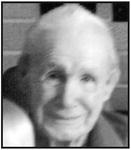 MAX S. ORGILL
MAX S. ORGILL
Max S. Orgill, 88, of Pinedale, Wyoming passed away Monday morning February 16, 2009 at the Sublette Center in Pinedale. His family was with him when he left his mortal body to return to his Father in Heaven.
Max was born February 22, 1920 in Egin, Idaho to Alexander and Margaret Walker Orgill. He was the eldest of five children. He attended school in Kemmerer, Wyoming and graduated from Kemmerer High School. After graduation he worked in Sublette County for the Cattleman's Association. He married his sweetheart Dorothy Cole on May 8, 1941 in the Logan, Utah L.D.S. Temple. To this union were born three children Rex, Jeanene and Norma.
Max was drafted into the U.S. Army and served his country during WWII in the Pacific. He was wounded in the battle of Okinawa, Japan and had several close calls during his time in the service.
He dearly loved his family. He enjoyed the outdoors and spending time in the mountains, he cherished a good dog at his side and an honest horse under him. He had a special connection with nature and the beautiful creations of this world. He was an active member of the Church of Jesus Christ of Latter Day Saints.
He is survived by his son Rex (Winnie) Orgill of Bountiful, UT and their children Ryan, Kelly, Leslie and Kristen; His Daughter Jeanene (Buzz) Esterholt and their children Aaron, Brian (Charlotte), Ruth and Curt; brothers Douglas, Melvin and Stewart Orgill; and great-grandson Wyatt.
He is preceded in death by his wife Dorothy; daughter Norma and sister Barbara Harrin.
A graveside funeral service was held Friday morning February 20th at 11:00 a.m. at the Pinedale Cemetery. Bishop Chris Nelson conducted the service.
See The Archives for past articles.
---
Copyright © 2009 Pinedale Roundup
All rights reserved. Reproduction by any means must have permission of the Publisher.
Pinedale Roundup, PO Box 100, Pinedale, WY 82941 Phone 307-367-2123
editor@pinedaleroundup.com