From the pages of
Pinedale Roundup
Volume 106, Number 8 - February 19, 2009
brought to you online by Pinedale Online
---
Obituaries


An Introduction to Dr. Miatudila's Eulogy For Dr. William T. Close
Submitted by Glenn Close
Dear Friends,
On January 15th, my father, "Doc" Close of Big Piney, died unexpectedly of a massive heart attack. Since then, our family has been overwhelmed by emails and letters that have poured in from all over Sublette County, the state, the country and the world. We have been deeply moved to hear how my father's great heart touched so many people, and in many cases, saved their lives. Just yesterday, a man called from Indiana. He spoke in very broken English, but I could understand that he was from the Congo and that, when he was twelve years old, my father had saved his life by operating on an terrible abscess that was growing in his mouth. This stranger said he wanted to find his way to Wyoming to pay respects to my mother and to lay a rose on my father's grave. We got another letter from a woman who said that, when she was nine and living in the Congo, her foot had been practically cut in half and that Pop had masterfully sewn it up and that it has been perfect ever since. And the stories go on.
In 1971, Dr. Malonga Miatudila, was a young medical doctor in Kinshasa, when he met my Dad. Dr. Miatudila writes:
"Dr. Close welcomed us and offered us a seat. He said how pleased he was to organize the training of young medical doctors from Lovanium University in the practical aspects of medicine…A thick wall of preconceived ideas prevented me and my comrades from hearing what this "expatriate" was saying and, even less, from seeing the man behind the speaker…I, for one, was given many opportunities through my strong involvement in community medicine and in the fight against major outbreaks as well as the reorganization of Mama Yemo Hospital, a 2000 bed hospital in Kinshasa. Through these interactions, I---like many other persons--- became more and more charmed with a man who could so beautifully combine high standards of rigorous professionalism with undiscriminating love of his fellow human beings. And toward the end, I became addicted to this remarkable mentor."
Knowing the history between Dr. Miatudila and our Pop, my family was deeply moved to receive this eulogy coming straight from the heart of one of Pop's dearest friends. We share it with you:
MIAT's CONTRIBUTION TO DR CLOSE's EULOGY
January 17, 2009
To bind up broken hearts,
To proclaim liberty to the captives all sorts,
To comfort all the mourn
To give unto them Beauty for ashes
The oil of joy for mourning, The garment of praise for the spirit of heaviness
To bring the best out of people and situations Rather than focusing on sins and other deficiencies
This is what Christ's program really is. This is what Christianity was founded for. This has also been the program of the man whose life we celebrate today. In the hellish conditions of a war-torn Zaire Congo, Dr Close has managed to have a remarkable productive career. The 2,000-bed hospital he helped establish is a unique success story that is yet to be reproduced. It is worth mentioning that this facility is just one of the many accomplishments of this American doctor. In Africa, this color-blind and legally white man has stood as an extremely rare specimen: there was never a time that Dr Close could be seen patronizing Africans or treating them like trained dogs. The audacity of his trust and humanity has earned him true love, authority, and success in Africa as evidenced by the abundant flow of testimonies I have been receiving since Thursday January 15, 2009.
I am so fortunate that on December 1971, the path of my life merged with Dr Close's. Since then, Dr Close has been my guiding lantern. His life has been his message, a never-ending performance of care, compassion and universal and inclusive brotherhood. Most of what I and my nuclear family have and are today, we owe to Papa Close. He once was my boss. He has become my dearest mentor, my second father. I would be at loss to tell when the metamorphosis occurred. All I know is that it has occurred. Abundant tears are flowing from our eyes.Yet our spirits are at peace, for we hold it to be true that those who implement Christ's program never die. Death has no grasp on God's true children.
---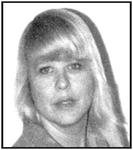 JEAN SHIELDS
JEAN SHIELDS
Jean Shields, 56, of La Barge, Wyoming passed away Thursday February 12, 2009 at L.D.S. Hospital in Salt Lake City, Utah after a valiant battle against cancer. Her family was at her side. Jean was born March 31, 1952 in Provo, Utah. She graduated from Tooele High School in 1970. She married the love of her life Dean Shields June 12, 1970 and to this union were born three children; Anthony, Richard and Amanda.
Jean loved her family dearly. She most enjoyed spending time with her family and spoiling her grandchildren. She became involved in Cancer Fighters for Cancer Treatment Centers of America (while battling cancer herself) and was an active advocate in helping others with this deadly disease.
She is survived by her husband Dean; three children Anthony (Tammy) Shields, Richard (Kelly) Shields and Amanda (David) Butcher; her mother Betty Jones of Tooele, UT; brother Charlie (Teresa) Jones; sister Cherie Bigelow and her companion Steve Blue; grandchildren Michael, Matthew and Craig Shields and Shonteal and James Butcher.
She is preceded in death by her father Jack Jones; her grandparents; her aunt Rae; brother Larry and sister-in-law Janice.
Funeral services will be held Thursday February 19th at 12:00 noon at the L.D.S.Church in La Barge. Interment will follow in the Viola Cemetery.
Memorial contributions can be made to Cancer Treatment Centers of America, 2610 Sheridan Rd. 2nd Floor, Zion, Illinois, 60099. In Memory of Jean Shields.
---
MAX ORGILL
Pinedale resident Max Orgill passed away Monday Morning February 16. A graveside funeral service will be held Friday February 20th at 11:00 a.m. at the Pinedale Cemetery. Obituary will follow in the next edition.
See The Archives for past articles.
---
Copyright © 2009 Pinedale Roundup
All rights reserved. Reproduction by any means must have permission of the Publisher.
Pinedale Roundup, PO Box 100, Pinedale, WY 82941 Phone 307-367-2123
editor@pinedaleroundup.com