From the pages of
Pinedale Roundup
Volume 106, Number 7 - February 12, 2009
brought to you online by Pinedale Online
---
Obituaries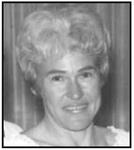 BARBARA BAGLEY
BARBARA BAGLEY
Barbara Bagley, a summer resident of Pinedale since 1972, was born Barbara Maxine Gibson in Midway, Utah on September 10, 1929 to Bill and Florence Gibson.
She graduated from the University of Utah where she met her future husband, Melvin J. Bagley. She worked as an elementary school teacher in Los Angeles while Melvin attended Optometry school. After his graduation, Melvin and Barbara settled in Henderson, Nevada in 1955 where Melvin was Henderson's first Optometrist. Barbara continued to work as a teacher in Las Vegas until her twin daughters were born, followed closely behind by two more daughters. She was a wonderful and loving mother and homemaker and was PTA president while the girls were in school. She was an exceptional golfer and fisher woman. She was the ultimate good sport, accompanying her husband on all his hunting and fishing trips, and helping him build their Henderson home and his office in the 1960's and their summer home in Pinedale in 1972.
Barbara is survived by her husband of 57 years, Dr. Melvin J. Bagley, her four daughters: Nancy McGuire (Pat) of Pinedale, Mari Bochanis (Chris Cookson) of Henderson, Nevada, Hawley Doyle (Rob) of Pinedale, and Bobbi Hendricks (Dr. Jerry) of Henderson. She is also survived by 11 grandchildren: Andrew and Hannah McGuire, Athena, Theo and Aris Bochanis, Parris Crooks, Calli Adamson, Jessica, Jaylin and Gabriel Hendricks, and Jeri Melinkovich (Clayton), and one great-grandchild, Roxanne Melinkovich. She is survived by her brother Dale Gibson (Deon) of Salt Lake City, Utah, sister Clarice Webb (George) of Heber City, Utah, and sister-in-laws Jeanne Low (Ron) of Coaldale, Alberta, Canada, and A. Marie Bagley of Salt Lake City, Utah. She was preceded in death by her parents, sister Luana Murdock, brother and sister-in-laws Gerald and June Bagley and granddaughter Hayley Hendricks.
Services were held in Henderson, Nevada on February 9, 2009.
---
JONATHAN WAYNE BROWN
Jonathan Wayne Brown, 41, of Caldwell, Idaho, died Friday, January 16, 2009 at his home of natural causes. Cremation was under the direction of Flahiff Funeral Chapel, Caldwell, Idaho. 208-459-0833.
---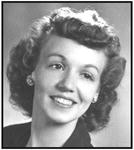 LAURA J. HICKS
LAURA J. HICKS
Laura J. Hicks, 83, passed away January 31, 2009 in Pinedale after a short illness. Laura was born in Council Bluffs, Iowa and spent many of her young adult years in Kansas and Missouri.
She moved to Pinedale, WY in the 70's to be closer to her son, "Rusty" Gooch. In addition to Pinedale, she lived in Pavillion, WY and Mesquite, NV. Many of you will remember the fun had by all at the MT (Empty) Cattle Company's White Shirt and Black Tie Brandings in Pavillion, WY, thrown by Laura and her now deceased husband, Dallas "Chip" Hicks. In addition to being a homemaker, she worked as secretary to a Dept. Chair at the Univ. of Missouri, manager of the Triangle R Lodge in Pinedale, and rancher, raising longhorn cattle and sheep.
Laura leaves behind her son Rusty Gooch and grandchildren Lindsey and Wesley Gooch of Pinedale and daughter Patricia Spach and her husband George of Clovis, CA and their eleven children and her 16 great-grandchildren. At Laura's request, there will be no services.
See The Archives for past articles.
---
Copyright © 2009 Pinedale Roundup
All rights reserved. Reproduction by any means must have permission of the Publisher.
Pinedale Roundup, PO Box 100, Pinedale, WY 82941 Phone 307-367-2123
editor@pinedaleroundup.com