From the pages of
Pinedale Roundup
Volume 106, Number 7 - February 12, 2009
brought to you online by Pinedale Online
---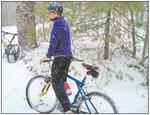 Pinedale native Sara Percy is competing in the grueling Wenger Patagonia Expedition Race.

Pinedale native competes in 'Race at End of World'

by Jordan Harvey

Kayaking more than 100 miles against 75 mile per hour winds and 15 foot swells, slogging another 100 miles by foot through wetlands, fjords and glaciers and climbing thousands of feet by mountain bike is Pinedale native Sara Percy's challenge as she competes for America in the Wenger Patagonia Expedition Race.

And all this while carrying up to 30 pounds with very little sleep.

Percy, 31, and her three teammates will attempt to cover approximately 400 miles of brutal terrain in Chile's Southern Patagonia while competing in what some call the last, truly wild race in the world.

The event starts February 10 and the winning team is expected to finish in seven days.

Calleva, an outdoor leadership school in Maryland, sponsors Percy and her team. She is the lone female on the four-person team representing the U.S. in the event, which includes teams from Brazil, Argentina, Chile, Great Britain, France, Spain and Canada.

"Our team is four hard-core adventure racers, not three males and a female. You will see me take just as many risks as they do; you will see me tow [a teammate] if I have more energy," Percy asserts confidently when asked about being the lone female on the team.

Brainchild of Chilean geologist and professional mountaineer Stjepan Pavicic, the Wenger Patagonian Expedition Race (WPER) is one of the most extreme events in adventure racing. The sport has grown in popularity worldwide over the past few decades and continues to take a stronger foothold in the U.S., owed in part to the nationally televised "Eco-Challenge," which first took place in 1985.

Mountain biking, trekking, kayaking, orienteering and rope activities, such as rock climbing and belaying, are the disciplines utilized in the WPER — and the majority of adventure races — to cover diverse, wilderness terrains.

The WPER has become known as the most difficult of all the world's adventure races. At approximately 680 miles, the 2007 edition is the longest in adventure racing history. Six of eleven teams dropped out during an especially challenging 68-mile trekking section through densely wooded wetlands. There are no mandatory dark periods, which means Percy and her teammates will choose if and when they rest.

Because of this unparalleled difficulty and isolation in a sport where rigor is the name of the game, the WPER has grown in popularity, receiving widespread international media coverage. Wenger, maker of the famed Swiss army knife, will sponsor the 2009 event. Racers still participate solely for pride however, and the WPER is a not-for-profit event supporting local conservation efforts.

"We have focused on creating an experience that isn't only a physical and mental challenge, but one that sends a message to world: we must preserve this remote and pristine region of Chilean Patagonia," Pavicic says.

Percy has competed in Primal Quest, the premier, expedition-class race in the U.S., which, along with adventure racing as a whole, has been scrutinized following the death of veteran racer Nigel Aylott during the 2004 race. Injuries are not uncommon.

"When my teammate flew off his bike in Primal Quest '08 and stopped breathing for what seemed like ages, that raced my heart a bit. Also, when rapid snowmelt gorged the river, organizers had to perform six major rescues within an hour and they closed the river section of the race," she mentions calmly.

Competing in the WPER will confront Percy with even greater challenges and dangers, as it is the most remote and unassisted race worldwide.

"Unlike Primal Quest where you can rely on food, additional supplies, and medical aid, for Patagonia you're totally fending for yourselves, relying on only your teammates to help you survive whatever challenges are at hand," Percy says with excitement rather than trepidation.

Last weekend she found herself sloshing a paddle through inches of slush attempting to propel her kayak through nearly frozen waters, having supplemented her training regiment that includes spin classes, running, mountain biking and rock climbing with paddling. This is in addition to her job as a personal trainer and massage therapist.

In their first race together, Team Calleva placed third, reaching the podium at a 30-hour race in Virginia last December.

They will require savvy as well as endurance for a podium finish in the WPER, as navigation is imperative in a competition where participants are in peak physical condition. Teams are supplied with a map including the start and finish points along with a route book offering vague descriptions of natural landmarks as their only guide, just moments before the race.

This year's race features previous winners from Spain and France. No American team has finished better than fourth in the event's history. When asked about their chances to reach the podium in this most extreme of expedition-class races, Percy states firmly, "I really have a good feeling that we're going to finish strong…we're not the fastest team but I believe we're going to be the smartest."

Team Calleva's progress and the other team from around the world will be transmitted via satellite tracking system and can be followed on the WPER's Web site www.patagoniaexpedtionrace.com.

See The Archives for past articles.
---
Copyright © 2009 Pinedale Roundup
All rights reserved. Reproduction by any means must have permission of the Publisher.
Pinedale Roundup, PO Box 100, Pinedale, WY 82941 Phone 307-367-2123
editor@pinedaleroundup.com