From the pages of
Pinedale Roundup
Volume 106, Number 6 - February 5, 2009
brought to you online by Pinedale Online
---
Obituaries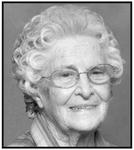 ANNA EVA TOWNSEND
ANNA EVA TOWNSEND
Anna Eva (Ogden) Townsend passed away January 31, 2009, in Hurricane, Utah. She was born Sept.2, 1911 in Clarks, Nebraska. She was the youngest with 5 older brothers and 4 older sisters.
She married Leslie Eldred Townsend June 9, 1927. Three children were born to this union, son Donald the oldest, daughter Lorena next oldest, and youngest son Lee.
They homesteaded in Powell, Wyoming arriving there Dec.9, 1934. It was a very cold winter. The main crops they grew were pinto beans. Water was hauled in milk cream cans and heated on the old cook stove. In 1957 through 1979 they homesteaded & operated a ranch on the New Fork River out of Boulder, Wyoming. The main crops they grew were alphalfa and grass hay. All that was there at both homesteads when they arrived was sagebrush, no fields, no house, no running water, no phone service, just an electric pole. At Powell, water was hauled in milk cream cans and heated on the old cook stove. At Boulder, drinking water had to be hauled by barrel from Boulder, a 10 mile trip one-way. To wash clothes, they used a wringer washer with water that was hauled by the bucket from the canal and hung the clothes out on the line to dry. To bathe, they used a community bucket with water that was hauled from the canal & heated up with a heating torch. Such was the life of homesteading. While they lived on the ranch Grandma was a member of the local ladies club that met together bringing their sewing, crocheting & knitting projects along to work on while they visited. This was a very important weekly social event for Grandma. To get the daily mail, it was a 10 mile trip in to Boulder. When there was time, Grandma enjoyed going fishing down on the river. Dad passed away in 1967. From that time on Grandma was a widow.
Somewhere between 1979 and 1980 the ranch was sold. Her new home now was at Castle Valley, Utah where she lived till 1996. And once again another move that took her to Hurricane, Utah where she lived the rest of her life.
Grandma was an excellent gardener. In the early years in Powell it was her lifeline. She enjoyed gardening a lot. You could say she had a green thumb. Even in old age she gardened. Each morning you would find her up early out in the garden hoeing, weeding or harvesting.
She especially loved flowers! Wherever she lived she had beautiful flowerbeds with Iris, California Poppies, Zinnias, and Pansies to name a few. She also had a talent for making flower arrangements. She arranged many flower bouquets for the table or for church each week. Grandma also enjoyed sewing, making many of her own dresses as well as dresses & clothes for her children and grandchildren. Grandma enjoyed canning and canned many jars of fruits, vegetables, jams & jellies. She was a very good cook. She loved it when the family was gathered around the table enjoying a meal she prepared. Grandma enjoyed music. Once in a while she would sit down at the piano to play a tune she knew. It was not uncommon to hear her humming to herself as she went about her daily activities.
Grandma enjoyed the good times taking the bad times in stride. She was quiet, humble, and never went around "tooting her own horn". She had a strong faith in God, her life living testimony of that faith.
She had a fun side to her with a knack for surprising you. Like on the Fourth of July mornings, she would set firecrackers off when you were still in bed. Her sense of humor and wittiness were also a trademark. At times when things didnít look the brightest, she would liven it up. Like when she was in the hospital after she fell this last July, an aid was trying to get her to drink some water. When she saw what he was trying to do, she quickly pulled the covers up over her mouth or when they were trying to get her to go to her room at the rehab center one time, she told them, "Iíll call the sheriff!" The few times you could actually surprise her, she would just beam with joy. I say few times because Grandma didnít miss much, so it was a challenge to surprise her. During Grandmaís lifetime she lived through the Great Depression, lived in Hawaii, Wyoming, and Utah. After a fall in July of 2008, she spent the remaining months of her life at the Rehab Center in Hurricane, Utah.
She is preceded in death by her husband, Leslie Townsend, her 5 older brothers and 4 older sisters, 3 grandchildren and 1 great grandchild.
She is survived by son Donald Townsend and his wife Lillian of Sutherlin, OR; daughter Lorena Widstrand of Hurricane, UT; son Lee Townsend of Roseburg, OR; 11 grandchildren, 20 great- grandchildren and 5 great-great grandchildren.
Funeral services will be held Thursday, February 5, 2009, at 11:00 a.m. at the Hurricane Valley Mortuary, 140 N. Main, Hurricane, Utah. A visitation will be held Thursday from 9:30 - 10:30 a.m., at the mortuary, prior to services. Interment will be Friday, February 6, 2009, at 2:00 p.m., at the Pinedale City Cemetery, Pinedale, Wyoming.
See The Archives for past articles.
---
Copyright © 2009 Pinedale Roundup
All rights reserved. Reproduction by any means must have permission of the Publisher.
Pinedale Roundup, PO Box 100, Pinedale, WY 82941 Phone 307-367-2123
editor@pinedaleroundup.com