From the pages of
Pinedale Roundup
Volume 106, Number 4 - January 29, 2009
brought to you online by Pinedale Online
---
Obituaries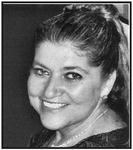 DIANE PETTYJOHN
DIANE PETTYJOHN
Funeral services for Diane Pettyjohn, 52 year old Buffalo resident who passed away quietly at her home late Monday evening, surrounded by family and friends, will be held Saturday, January 31, at 2:00 p.m. at the Kingdom Hall of Jehovah's Witnesses in Buffalo. A private family interment will be held at a later time. Donations may be made in Diane's memory to the Johnson County Cancer Support Group in care of the Adams Funeral Home at 351 N. Adams in Buffalo.
Diane Kay Pettyjohn was born on September 4, 1956 in Winner, South Dakota to Alvin and Marjorie Ahlers. She attended a country school in Clearfield, South Dakota and her first year of high school in Winner. She attended Colome High School before moving to Rapid City in 1972. She was married on September 6th, 1975 in Rapid City to Fredrick Pettyjohn and they made their home in Rapid City. They lived in the Black Hills until 1990 when they moved to Pinedale, Wyoming where Diane was a homemaker and fulltime public minister of Jehovah's Witnesses. In 1993 they moved to Newcastle and in 1996 they moved to Buffalo where she took a job at the Crossroads Inn to pay for her real estate school and licensing. Diane worked for Century 21 for three years and Remax for one year. Diane started Big Horn Mountain Realty in 2003, which she owned and operated until the time of her death.
She is a member of the Kingdom Hall of Jehovah's Witnesses, she was a member of the Buffalo Board of Realtors and the National Association of Realtors. Diane enjoyed horseback riding, hunting, fishing, camping and spending time with her family and friends. Diane's greatest love was sharing God's Word and offering hope for the future.
She is survived by three sons, Gary Pettyjohn and his wife Rachael of Farmington, New Mexico, Daniel Pettyjohn and his wife Kimberly of Buffalo and Skyler Pettyjohn of Buffalo; two brothers, Duane Ahlers and his wife Carol Jean of Palmer Lake, Colorado and Dwight Ahlers and his wife Paula of Whitewood, South Dakota; two sisters, Carol Matthews and her husband Harold of Buffalo and Connie Babcock and her husband James of Pinedale, Wyoming; five grandchildren, Allyssa, Kylie, Tristen, Averie, and Micah, and numerous nieces and nephews. She was preceded in death by her parents and one brother Dennis Ahlers.
See The Archives for past articles.
---
Copyright © 2009 Pinedale Roundup
All rights reserved. Reproduction by any means must have permission of the Publisher.
Pinedale Roundup, PO Box 100, Pinedale, WY 82941 Phone 307-367-2123
editor@pinedaleroundup.com