From the pages of
Pinedale Roundup
Volume 106, Number 4 - January 29, 2009
brought to you online by Pinedale Online
---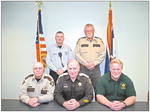 A recent reorganization of the Sublette County Sheriff's Office eliminated the undersheriff position and created four captain positions that answer to Sheriff Wayne 'Bardy' Bardin instead. Pictured: (back row, left to right) Captain Wes Johnston of Detentions, Captain Mike Peterson of Northern Patrol, (front row, left to right) Captain John Wells of Southern Patrol, Sheriff Bardin and Captain Brian Ketterhagen of Investigations.

Sheriff's reorganization working well
'Everyone Is Playing On The Same Team Again'
by Jonathan Van Dyke

Patrolling the southern half of the county, Justin Hays needed a handheld radar gun.

Not thinking much of it, but hopeful he'd have it within the week, he relayed the message to his new Captain John Wells. He'd get the gun soon enough, but he would make due until then.

"For the south end of the county having a captain down there is plumb handy," Hays said. "Down there you kind of get forgotten."

Oftentimes his superior sergeants were busy multitasking in the field and in the office, and a small request like bringing a radar gun from the northern-located Sublette County Sheriff's Office (SCSO) was the last thing on their mind.

However, now was different. Wells came to Hays the next day with his requested gun in hand. Wells, just a few months on the job, is part of a new reorganization that the SCSO has undergone since November.

"Having someone connected with the brass down here is nice to have," Hays added.

During the late summer of last year, Sheriff Wayne Bardin sent shockwaves through the SCSO when he terminated the contracts of then Undersheriff James Whinnery and Lieutenant Hayes Randol.

The sheriff said at the time that he was looking at a full-scale reorganization of the office, with the specific elimination of the undersheriff position.

Matters were made complicated by several in-house position changes (resignations and reassignments), that seemed to anger more SCSO staff.

The swift removal of Whinnery and Randol brought a backlash against Bardin, leading to an official complaint by nine current and former SCSO employees including the two terminated parties. The complaint accused Bardin of several deeds of misconduct. The complaint has not yet been resolved and is pending an internal investigation. Regardless, Bardin moved forward on his reorganization, one that is now working on all cylinders.

"The reason I did it was mainly because of the workload," Bardin said. "There was so much we had to do that was being funneled through one or two people that a lot of issues were falling through the cracks."

The reorganization promoted four men to captain positions, who would then answer directly to Bardin. Previously, sergeants and lieutenants would have come to Whinnery, who would then relay the information to Bardin when necessary.

"I get [the information] directly from the horse's mouth and they get what they need a lot sooner," Bardin said. "The office just moves a lot more efficiently."

Bardin promoted Sergeant Mike Peterson to patrol captain of the north, brought in Sergeant Wells from Goshen County for patrol captain of the south, promoted Detective Brian Ketterhagen to captain of investigations and promoted Lt. Wes Johnston to captain of detentions.

"The captains now have more responsibility to me, to keep me informed so I know what's going on," Bardin said. "They're my pulse out there for the citizens, so to speak."

The patrol divisions have seen the greatest differences in the streamlined process. By dividing patrolling into two divisions, the county has micromanaged control, while the staff can — especially in the south — receive more administrative aid. Previously, sergeants were the mainline to the office, but they also had many responsibilities in the field.

"By putting a captain over the sergeants, it allows the sergeants to be out with their [staff] and helping them out," Bardin added.

Peterson was previously dealing with court security, but now finds himself responsible for two sergeants and the crews underneath each, while also supervising dispatch.

"I went from just looking out for a couple of guys [in my previous position] to looking out for a lot more people," he said. "They're good people so they make it easy."

Aside from chain of command, Peterson noted a more streamlined process for "call reporting" where officers can spend less time filling out paperwork for the same kinds of filings.

"We've gotten away from that so the guys can spend more time out in the street doing what they need to do instead of in here writing reports where we know what they're going to say before they ever come in," Peterson added.

Wells, the newcomer after working near Torrington for 16½ years, has always had a soft spot for Sublette County. He initially met Bardin during detention basic training in 1992, and the two have kept in contact since then. Wells frequently visited Sublette in the summer.

"We both thought it'd be a good deal [for me to take the captain position] for both of us," he said. "Everybody I've talked to thinks the reorganization has been very good for the morale of the guys. It spreads the workload out and I think it's working very well."

Ketterhagen brings almost 24 years of law enforcement experience to his post. While the direct chain-of-command has been altered in his department, the actual work is what has changed recently.

"I've made some changes," he said.

"When the sheriff appointed me, one of the things he wanted me to do was look at the cold cases we have."

With renewed vigor, investigations has already brought six cold cases to conclusion.

Two unsolved homicides were included in the re-opening — 25 and two years old, respectively — and the captain is confident those will be brought to conclusion in the near future as well.

"We're trying to do things a little different as far as going back to cases that were open and trying to clear up a backlog of open cases," Ketterhagen added.

Not everyone in the department has felt the reverberations in the office. Some haven't noticed much, and others that did not like where the SCSO was heading chose to resign.

"For me, it was a name and rank insignia change," Captain Johnson said. "Everything else pretty much stayed the same because I'm still the jail administrator."

Office manager and secretary to the sheriff M.L. Baxley concurred that things were running much the same as before, but perhaps with a slightly lighter tone.

"For me it's pretty much business as usual," she said. "I think there's a lot less stress and people are a lot happier."

Others also pointed to a better line of communication that was helping team morale.

"I've seen a lot of things come and go," said Patrol Deputy Michael Hueckstaedt. "With all the changes I've seen the morale has been both high and low. With recent events, I'll tell that eight months ago I had never seen morale lower, ever, not in my six years."

However, after the reorganization, Hueckstaedt acknowledged that his peers seemed to be revitalized.

"I think I have a lot more administrative support," he added. "I have more of an outlet for my concerns and grievances and stuff like that. Everyone's going to have that. Essentially, I feel like everyone is playing on the same team again."

And so everything appears to, once again, be in its right place — or at least most workers at the SCSO are ready for it to be so, if not without some regret of the past.

"The [officers] that left, we got along with them well too," Hays said. "Whether [they will choose to return] or not remains to be seen. We don't hold it against them. The new ones we've gotten since then are top of the line people also."

While the system will take a little tweaking, Bardin appeared proud of the changes and how they have been implemented thus far.

"We have good people on board," Bardin said. "Crime is always going to be there, but I think we're at a point now where we can be proactive going into 2009 rather than reactive."

Photo credits: Jonathan Van Dyke

See The Archives for past articles.
---
Copyright © 2009 Pinedale Roundup
All rights reserved. Reproduction by any means must have permission of the Publisher.
Pinedale Roundup, PO Box 100, Pinedale, WY 82941 Phone 307-367-2123
editor@pinedaleroundup.com