From the pages of
Pinedale Roundup
Volume 106, Number 4 - January 22, 2009
brought to you online by Pinedale Online
---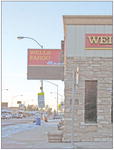 The Wells Fargo bank sign was blank during the planned power outage last Wednesday afternoon. The power was down for about an hour.

Mixed reaction over planned power outage

by Mari Muzzi

Pinedale business owners had mixed feelings regarding last Wednesday evening's planned power outage, but all were glad that it was shorter than planned.

Rocky Mountain Power started its planned power outage at 3:30 p.m. It was planned to last approximately two hours, but instead power was only out for roughly an hour.

Many businesses were forced to close and some didn't reopen once power returned. Since the outage was planned many shop owners said they felt prepared.

"It won't hurt us too much, because this is the slow season for Pinedale," said Cowboy Shop employee Dawn Whitley. "If they did (the power outage) on Christmas Eve, then it would be a problem."

She said most of the other businesses were closed as well.

Pony Express Photo shop owner said the planned power outage delayed her photo development since the progress requires powered equipment.

She, like others in the community, was worried that the power outage would last longer than planned.

"I hoped it didn't happen like Utah," she said. "They had a planned power outage and the power was out for 36 hours."

Others business owners thought the planned outage should have kept its originally scheduled day, which was going to be on a Sunday instead of a Wednesday.

"Sunday would have affected the least amount of our customers," said Heritage Quilts and Fabric Shoppe owner Sue Wells. "We had to close and that's our big business hours."

Val Ercanbrack, store manager at Ridley's, said they didn't close during the outage. Instead, they left two registers open. The pharmacy did close but reopened once the power returned.

"Since our customers were aware of the outage, they knew to get their prescriptions refilled before then," Ercanbrack said.

He said the planned power outage would have some impact on sales and that another day of the week would have been preferred.

"Sunday would have been a better day for us," he said.

Ridley's has backup generators, which allowed them to remain open and keep food fresh and frozen.

"If the power shut down for a lengthy period of time, then we could have lost about a quarter of a million in meat and other frozen products," he said. "But it wasn't that bad, we just prepared ourselves."

The Outdoor Shop also remained open during the power outage.

"We just used lanterns and head lamps," said shop employee Fred Pflughoft. "Because we are a smaller store, we can do things manually."

Business owners and employees said they were glad that the power outage didn't last too long.

Many people depend on electric heat and a lengthy power outage would impact them greatly, Ercanbrack said.

"It would be interesting to know why (the power company) picked the winter for the outage when many people depend on heat," he said. "I'm glad they were good for their word, because if we were without power for a long period of time we would really suffer."

Photo credits: Mari Muzzi

See The Archives for past articles.
---
Copyright © 2009 Pinedale Roundup
All rights reserved. Reproduction by any means must have permission of the Publisher.
Pinedale Roundup, PO Box 100, Pinedale, WY 82941 Phone 307-367-2123
editor@pinedaleroundup.com