From the pages of
Pinedale Roundup
Volume 106, Number 3 - January 15, 2009
brought to you online by Pinedale Online
---
Obituaries


Beulah Mildred Richmond Springstead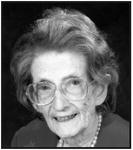 Beulah Mildred Richmond Springstead

Beulah Mildred (Richmond) Springstead was born Nov. 20, 1922. She was the firstborn child of Rolla Everett and Alma May (Powell) Richmond and was a great joy to them. She was delighted when her siblings started arriving: Elden, Melvin, Harvey, Carroll and Raymond.

The Richmond family was busy and lively and very close to each other. What a blessing family is! Beulah often remembered spending parts of starry nights outside looking at the skies with her grandmother and talking together. She learned to cook on a wood-burning cook stove.

While still quite young, she came to recognize her need of asking Jesus Christ to be her personal Saviour and placed her trust in Him for salvation. Her mother's walk with the Lord was especially a testimony to her.

Beulah attended school at Maupin Elementary and Maupin High School.

Upon completing her high school education, she wanted to attend a Christian school where she could further her studies in the Bible. She attended Multnomah School of the Bible in the early 1940s. While there, a mutual friend introduced her to William A. Springstead.

Bill was soon drafted into the army during World War II, so they didn't get to know each other very well until after the war was over. During the war years, Beulah invited children to Bible camps to help mothers who were working and fathers who were away on active duty. She also worked assembling radios, helped with care-giving for an elderly woman, worked at a home for developmentally disabled children and worked at a leprosy mission.

When Bill came back to school, they began to get acquainted and grew to love each other. They were married May 28, 1948, in Maupin. God blessed Bill and Beulah with five children: Ramel, Clifton, Deirdre, Loren and Rilla.

Bill and Beulah felt called of the Lord to serve Him in local churches and so Beulah began the role of a pastor's wife. They ministered in Delena, Ore., Myrtle Creek, Ore., Empire, Ore., Corvallis, Ore., Pinedale and Hamilton, Mont. In 1985, Bill retired and they moved out to Maupin to care for Beulah's mother who was suff ering with Alzheimer's. They cared for her there for several years. In 1988 Bill was diagnosed with ALS (Lou Gehrig's disease). Beulah cared for both of them for a while. When Bill's needs became greater, Alma moved to Seattle to her other daughter's home and Beulah continued to lovingly care for him until his home-going in February 1990.

Beulah greatly enjoyed working at different Bible camps. From the first summer when she and Bill got to know each other better, Beulah was often in the kitchen preparing meals for hungry campers and staff. Through the years, she also cooked at several other camps including Red Cliff Bible Camp in Pinedale and Big Sky Bible Camp, in Whitefish, Mont. She also helped in later years with Release Time classes through Child Evangelism. Her story telling abilities were excellent.

Beulah had many interests: gardening, sewing, quilt making and needlework, bird watching and identification, reading, writing poetry as well as study materials for youth (some of which were published), DVBS and Christmas programs, teaching Sunday School classes, playing the piano, exploring family history, letter writing, camping and picking huckleberries with family, and photography – but her greatest loves were her family and the Lord. She had a servant's heart and it clearly showed in the many things she quietly did for her family and others.

Christmas Eve morning (Dec 24, 2008), Beulah left a tired earthly body and quietly slipped away to be with her Creator and Saviour who has prepared a wonderful place for her in heaven.

Beulah was preceded in death by her parents Rolla Everett and Alma May (Powell) Richmond, her brother Rolla Melvin Richmond, sister-in-law Betty Jean (Crocker) Richmond, and her husband, William A. Springstead.

She is survived by her aunt Evelyn Crabtree; uncle Arthur Powell; her siblings Elden E. Richmond, Harvey W. (and Joann) Richmond, (Jerry and) Carroll E. Haining, and Raymond F. (and Fran) Richmond; sister-in-law Joan (Nichols) Richmond; numerous nieces and nephews; her children (Mike and) Ramel K. Wilson, Clifton M. (and SunHee) Springstead, (Dick and) Deirdre A. MacGill, Loren D. (and Susan) Springstead, and Rilla E. Springstead; 15 grandchildren and 20 great grandchildren, with another on the way.

Memorial Services were held at Sellwood Baptist Church, 1104 SE Spokane St., Portland, OR 97202 on Saturday, Jan. 3, at 1 p.m.

Internment followed at Kelly Cemetery near Maupin, Ore. Cards may be sent to Springstead Family c/o Deirdre MacGill PO Box 391, Pinedale, WY 82941. If desired, memorial gifts can be sent to Red Cliff Bible Camp PO Box 846, Pinedale, WY 82941, designated "Springstead Memorial."

See The Archives for past articles.
---
Copyright © 2009 Pinedale Roundup
All rights reserved. Reproduction by any means must have permission of the Publisher.
Pinedale Roundup, PO Box 100, Pinedale, WY 82941 Phone 307-367-2123
editor@pinedaleroundup.com