From the pages of
Pinedale Roundup
Volume 106, Number 20 - May 15, 2009
brought to you online by Pinedale Online
---
Obituaries


DON CALHOUN
Don Calhoun, 61, of Daniel, Wyoming passed away Monday morning May 11, 2009 of natural causes. A graveside funeral service will be held Saturday May 16th at 10:00 a.m. at the Plainview Cemetery in Big Piney. A viewing will take place Friday evening May 15th from 6 to 8 p.m. at Covill Funeral Home in Pinedale.
---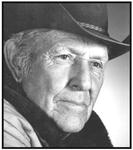 DONALD K. 'BILL' SCOTT
DONALD K. 'BILL' SCOTT
Long time resident, Donald K. "Bill" Scott, died on April 23rd surrounded by his family and friends and the caring staff at St. Johns Hospital in Jackson, Wyo. He passed at age 74 due to natural causes. The following has been provided by his family: Bill was born on May 20th 1934, to Harold and Bertha Jane Scott in Gillette, Wyoming. He grew up on his family's cattle ranch north of Gillette along with his 3 brothers, Marion, Jim, Doug and sister, Kay. Bill went to a country school, by horseback much of the time, and graduated from Campbell County High School in 1952…even though he held the record for the most absences partially due to helping on the ranch one winter while his father was recuperating from an illness. After handing his diploma to his mother, he was off to explore the world. He spent the next several years rodeoing wherever he went and was a member of NRCA (Northwest Ranch Cowboys Association). He also trapped bobcats, worked in hunting camps in Jackson Hole, gathered wild burros and horses in Utah and Nevada, sold Christmas trees from Montana to Arizona, drove a cotton picker in Arizona and worked construction in the Grand Canyon and on Hoover Dam. He then went to Jackson Hole where he guided and wrangled at the Crystal Springs Girls Dude Ranch near what is now Teton Village until 1956 when he was drafted into the U.S. Army. While stationed in France he competed in their first ever International Rodeo, winning many of the events. Upon completion of his tenure with the Army, receiving an honorable discharge, he returned back to the Jackson Hole area in 1959. He then leased a lodge and cabins on Dinwoody Lakes near Dubois where he led fishing pack trips as well as packed mountain climbers into the Gannett Peak area. In 1960 he married Melva Lea McGuire and three children were born of this union: Clay and twin girls, Shelly and Kelly. After they later divorced, Bill and the children continued to make their home in Jackson Hole with a lot of help from family and friends. Bill contracted with the Government spraying bug trees…some in Grand Teton National Park. There he met Vonona Bailey (also known as "Sam"), who was an employee of the Park, and they were married in 1968. Adding to their family were another set of twins, Jayne and Wayne, then daughter Jodi and their youngest son, Shane. In the winter of 1965 Bill had traveled to Tempe, Az with a truck, small trailer and 7 horses which marked the beginning of Papago Riding Stable which is currently in business today and has expanded to a second location in Scottsdale…Papago North. When returning to Jackson Hole during the summer months, he'd cut his own poles to build many miles of buck rail fence as well as clearing and building many miles of forest and park service trails that are still in use to this day. In the summer of 1966 he opened Meadowbrook Stables located at the base of Saddle Butte in Jackson. Bill moved his family and horses back and forth from Wyoming to Arizona for the next 40 years. He enjoyed outfitting, guiding and was an excellent teamster working his horses, teams, wagons and stagecoaches in many parades, commercials and movies over the years and even kept his Screen Actors Guild Card current. His first movie was "Road to Denver". He also worked and put equipment on "Dream West", "The Quick and the Dead", "Rambo III", "Tombstone" as well as many others. In 1976 he started operating the stagecoach concession on the Jackson Town Square which he continued for 11 years. This also entailed putting on the "shoot-out" and supplying the horses every night during the summer months in Jackson. At this time he also opened and operated a riding stable at the Virginian, leading horseback rides on Snow King Mountain. In 1977 Bill and his brother, Marion, bought and operated Turquoise Lake Hunting Camp in Upper Granite Creek. In 1978 he moved his riding stable business to Teton Village where he owned and operated Jackson Hole Trail Rides for the next 30 years.
Bill was always very proud of his grandkids and loved them very much; Sam, Tayler, Tyler, Koti, Keith, Lani, Clayton, Amber, Hailey, and Jackson. He even had a bumper sticker on the suburban saying "Ask me about my grandbaby!" He always said "If I knew grandkids were this much fun I would've had them first!"
The Teton Barrel Racing Association recently honored Bill as the 2008 honorary member for their 50th Year for all of his support and work over many years. He spent a big part of his life at The Teton County Fairgrounds competing, judging rodeos, and watching his children and grandchildren live their dream. Bill always felt fortunate to be able to do the work he loved and also have his family by his side everyday. He was a good man who loved his family and friends and touched so many lives throughout his journey…there were NO strangers to Bill Scott! He loved Jackson Hole and the Tetons so much he influenced many people to come to this area. Some were just visitors, some were family and friends, some were his employees, but many of them stayed here, sharing Bill's love for the great outdoors, western way of life and especially the Tetons. From his childhood, he chose to look at life on the lighter side and had a joke to fit about every situation. He had a heart as big as all outdoors and truly "lived his dream". It was not unusual to see Bill drive the town of Jackson in his well-known & distinctive vehicles. He loved to drive through the rodeo grounds to see what was goin' on at the arena. It was easy to get yourself lost in conversation with him. He was always in the midst of a good crowd and recently would walk across town to see his buddies while enjoying his morning cup of hot chocolate and tell a joke or two. Jackson Hole will sorely miss Bill's many jokes, enlightening spirit and his cowboy humor! Jackson is gonna be a lonely town without their "Favorite Cowboy"!
Bill was preceded in death by both of his parents ~ Harold and Bertha Jane Scott, and stepmother, Helen. He is survived by his wife, Vonona "Sam" Scott and his seven children ~ Sons: Clay (Chelsea) Scott-Chandler, AZ; Wayne Scott-Tempe, AZ; Shane Scott-Jackson, WY. Daughters: Kelly (Barney) Holmes-Jackson, WY.; Shelly Scott-Jackson, WY.; Jayne (Ken) Chambers-Driggs, ID; and Jodi Scott-Scottsdale, AZ. Bill is also survived by 10 beloved grandchildren ~ Sammy, Lani, Clayton and Jackson Scott; Tyler and Koti Schwitzer; Tayler and Keith Holmes; and Amber and Hailey Chambers as well as his three brothers ~ Marion (Mary) Scott-Gillette, WY; Jim (Patty) Scott-Cottonwood, AZ; Doug Scott-Buffalo Gap, SD; and 1 sister; Kay Storms- Queen Creek, AZ and many nieces, nephews and their families.
On April 30th 2009, Bill's life was honored at his favorite spot…The Heritage Arena at the Teton County Fairgrounds, which was barely large enough to hold all of his family and friends, as they listened to several fantastic selections from Bill's favorite musicians, The Bar J Wranglers, throughout the service. Also a "Celebration of Life" with an open mike nite and wonderful food was held at his next favorite place, The Virginian, with many great stories being told of him and his "simple solutions for just about anything!" Bill's place of rest has a beautiful view of the mountain range at the Elliott Cemetery in Wilson, Wy. Memorial contributions may be made in remembrance of Bill to Teton County Friends of Fair at P.O. Box 3075, Jackson, Wy 83001 or St. Johns Hospital Foundation, Cardiology Department at P.O. Box 428 Jackson, Wy 83001. Condolences may be sent to the family at www.valleymortuaryjackson.com
See The Archives for past articles.
---
Copyright © 2009 Pinedale Roundup
All rights reserved. Reproduction by any means must have permission of the Publisher.
Pinedale Roundup, PO Box 100, Pinedale, WY 82941 Phone 307-367-2123
editor@pinedaleroundup.com