From the pages of
Pinedale Roundup
Volume 106, Number 19 - May 8, 2009
brought to you online by Pinedale Online
---
Obituaries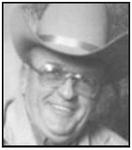 ROBERT LEE AUSTIN
ROBERT LEE AUSTIN
Robert Lee Austin, 83, passed away on Thursday, April 30, 2009 at the VA Medical Center in Sheridan, Wyoming.
He was born on October 1, 1925 in Provo, Utah, the only child of the late Clyde Lee Austin and Juanita Smith-Cerf and her husband, Howard A. Cerf.
Mr. Austin attended schools in Utah, Wyoming and Texas and as a boy, worked in his grandmother's restaurants in Rawlins and Lamont, Wyoming. As a young man, Bob worked as a ranch hand, dealt cards in Nevada and was an extra and livestock wrangler for western movies filmed in Los Angeles, California. In later years, he was a carpet layer and welder.
He proudly served in the United States Army as a Rifleman and was wounded twice in the line of duty. He was awarded the Purple Heart with Oak Leaf Cluster.
During a visit with his mother in Salt Lake City, Utah, he met, courted and married Jessie Naomi Goff. Together, they owned and operated Custom Campers in Salt Lake City and raised four children.
He was an avid fisherman and hunter and frequently provided for his family with the game he brought home. Bob's happiest memories were of the time he spent in Wyoming and he longed to return. With their children mostly raised, Bob and Jessie moved to Big Piney, Wyoming and built their home on the Green River.
They spent many happy years in Big Piney until declining health forced them to move to Sheridan to be nearer to family. After settling in Sheridan, he made many trips back to his beloved Big Piney and to the Fontenelle Reservoir to fish. He was as quick with a helping hand as he was with a joke. He was a warm, generous man with a huge heart.
He is survived by his wife Jessie of Spanish Fork, UT; two daughters, Laura Austin-Ely and husband Rick of Bulls Gap, TN and Sharon Austin-Egelston and husband Allen of Spanish Fork, UT; granddaughters Leigh Chapin-Doll and husband Geoff, Jessica Egelston-Shurtleff and husband Paul; grandsons Robert Chapin and Bryan Egelston; great-granddaughters, Alexys and Kaytlyn Koch and Gillyan Doll; great-grandson, Shane Casey Egelston.
He was preceded in death by his parents, and two sons, David Lee Austin and Mark Allan Austin.
A private family memorial will take place in Big Piney at a later date.
---
JACK LOZIER
Jack Lozier was born in Rock Springs, Wyoming on October 18, 1928, the second of five children born to Robert G. and Alice Bender Lozier. He grew up in Cora, Wyoming.
In 1950, he was drafted and served in the Korean War in the 224th Infantry.
In 1954, he married Ellen Steele Mahaffey. In 1967, they moved to Soda Creek, British Columbia where they had bought a ranch and operated it until 1993, when he retired and moved to Kersley, British Columbia.
He is survived by his wife Ellen, five children: Gary (Sharlene), Gayle, Becky Stilwell (Larry), Lynn (Sherman) and Deb (Joan). Also eight grandchildren and six great grandchildren; four siblings, Bob, Betty, Dick (known as Cork) and Larry.
He was predeceased by his parents. He died on April 22, 2009 in Vancouver, British Columbia.
A gathering celebrating his life will be held in Williams Lake, British Columbia.
See The Archives for past articles.
---
Copyright © 2009 Pinedale Roundup
All rights reserved. Reproduction by any means must have permission of the Publisher.
Pinedale Roundup, PO Box 100, Pinedale, WY 82941 Phone 307-367-2123
editor@pinedaleroundup.com