From the pages of
Pinedale Roundup
Volume 106, Number 16 - April 16, 2009
brought to you online by Pinedale Online
---
Obituaries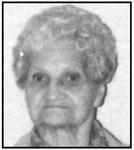 LUCILLE ARES OLDHAM
LUCILLE ARES OLDHAM
Lucille Ares Oldham passed away on April 8, 2009 at the Sublette Center in Pinedale, where she had resided since 2007.
Lucille was born on November 21, 1919 in Crookston, Minn., to Carl and Marjorie Sabin. She was the oldest of four children.
She married Charles Oldham in Lander on June 11, 1941. She lived most of her life there and raised three children: Tony, Nancy and Charlene.
She is survived by her daughter Charlene (Bob) Tracy of Big Piney, six grandchildren and ten great grandchildren.
Lucille will be going home to Lander for a graveside service on April 13 at 10 a.m. A big thanks to everyone at the Sublette Center for the T.L.C that she received while there.
She was a very caring, loving person to everyone. She will be missed.
---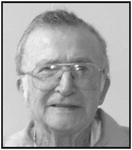 JOE M. WARREN
JOE M. WARREN
Joe Merle Warren was born June 25, 1932 north of Eminence, MO the tenth of twelve children born to Jesse James Warren and Raussie Adeline (Wood) Warren. He passed away January 24, 2009 at Georgian Gardens Nursing Center in Potosi, MO at the age of 76 years.
He was united in marriage to Juanita J. Pierce on May 17, 1952 in St. Louis, MO and to this union two children were born.
He was preceded in death by his parents; six brothers Dee, Dock, Carmel, Deroyn, Jim, Clayte; and four sisters Sadia Thomas, Lavada Odom, Lola Barrett and Ruth Warren.
He is survived by his two daughters Debby Jess and husband Kermit of Big Piney, WY and Sandy McClelland and husband Jim of Hayward, CA; his former wife Juanita J. Warren of Farmington, MO who shared his last twenty years and was his wife for twenty-three years; one brother William "Bill" Warren and wife Ona Fern of Springfield, MO; three sisters-in-law Lorene (Craft) Warren "Mrs. Dee Warren" of Springfield, MO, Gloria (Atkins) Warren "Mrs. Dock Warren" of Laramie, WY, and Thelma "Mrs. Carmel Warren of Denver, CO; five grandchildren, John Jess and wife Marcy of Boise, ID; Kara (Jess) Ranta and husband Robert of Marbleton, WY, James McClelland and wife Erika of Fremont, CA, Jessica (McClelland) Taylor and husband Christopher of Chesapeake, VA, and Joe McClelland of Hayward, CA; nine great grandchildren; many nieces, nephews and cousins.
Joe and Juanita made their home in Wyoming while he cut and skidded logs in the mountains until 1972 when he started working for True Drilling of Casper, WY. He worked his way up to the position of Toolpusher on the oil rigs and received many safety awards. He loved the outdoors and took his family along to picnic while he fished. He never failed to fill the skillet with trout from the high Wyoming mountain creeks. His delight was to teach his two daughters and later his grandchildren to fish. He lived and worked for many years in and around Sublette County. In 1993 he was medically retired and in 2001 moved back to his beloved Missouri Ozarks.
Memorial Services will be held on Friday, April 17, 2009 at 11AM at the Duncan Funeral Chapel in Winona, MO with Rev. Ted F. Jess officiating. Interment will be in Mt. Zion Cemetery under the direction of Duncan Funeral Home of Winona.
See The Archives for past articles.
---
Copyright © 2009 Pinedale Roundup
All rights reserved. Reproduction by any means must have permission of the Publisher.
Pinedale Roundup, PO Box 100, Pinedale, WY 82941 Phone 307-367-2123
editor@pinedaleroundup.com