From the pages of
Pinedale Roundup
Volume 106, Number 15 - April 9, 2009
brought to you online by Pinedale Online
---
Obituaries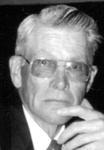 PETER S. OLSON
PETER S. OLSON
Pete Olson of Big Piney, Wyoming passed away Monday evening March 30, 2009 at Memorial Hospital of Sweetwater County in Rock Springs. He was 77 years old.
Pete was born February 28, 1932 in Big Piney to Arnold and Lena Olson. He completed his formal schooling in Big Piney and graduated from college with a bachelors of science in accounting in 1954. He married the love of his life Anne Radakovich June 6, 1955 in Pinedale, Wyoming. Together they ran their ranch and raised their family of five children.
Pete was the a former President of the Green River Valley Cattleman's Association, a member of The Upper Green River Cattleman's Association, Sublette County Planning and Zoning Board, The Hospital Board, and served on the district 9 School Board in Big Piney for nine years.
He enjoyed rock hunting, fishing and sports of all kinds. He was a strong supporter of the Big Piney Punchers athletic programs and he loved to attend sports and events at the high school when his children were participating. He dearly loved his family and life on the ranch. A good horse was his pride and joy.
He is survived by his wife Anne, children Stan and Cara Olson of Big Piney, WY; Joe and Lori Olson of Upton, WY; Julie and Brian Sheets of Powell, WY; and Sally and Kevin Morse of Cheyenne, WY; and five grandchildren.
He is preceded in death by his parents and son Jim Olson.
A graveside funeral service was held Friday April 3rd at 11:00 a.m. at the Plainview Cemetery in Big Piney. A celebration of Pete's life followed the service at the Marbleton Senior Center. Father Lucas K. Simango of St. Anne's Catholic Church conducted the services.
---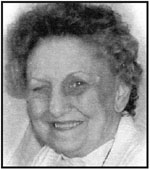 VELMA CHRISMAN
VELMA CHRISMAN
Velma Chrisman passed away on Thursday, March 26, 2009 at her home in Big Piney, Wyo.
Velma was born on December 3, 1931 in Akron, Ohio, to William and Margaret Berka. Velma graduated high school in Akron, Ohio, where she then met Robert M. Kouri, a U.S. Marine. Later they moved to Glen Rock, Wyo., where she raised their children.
They had six boys and two girls. After her divorce, she moved to Big Piney, Wyo., where she met and married Joe Chrisman, a cowboy, whom she loved dearly.
Velma enjoyed her country music, barbeques, boxing, football and NASCAR racing. After her husband passed away, she took up painting and enjoyed her life with her 18 grand children and 22 great grand children.
Velma was preceded in death by her father William Berka; mother, Margaret Berka and sister, Mary Modi.
Her memorial service was held at 10 a.m., Tuesday, March 31, 2009, at St. Anne's Catholic Church in Big Piney, Wyo. Her inurnment was at Plain View Cemetery.
See The Archives for past articles.
---
Copyright © 2009 Pinedale Roundup
All rights reserved. Reproduction by any means must have permission of the Publisher.
Pinedale Roundup, PO Box 100, Pinedale, WY 82941 Phone 307-367-2123
editor@pinedaleroundup.com