From the pages of
Pinedale Roundup
Volume 106, Number 10 - March 5, 2009
brought to you online by Pinedale Online
---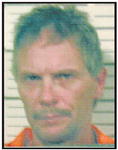 Willoughby

Cold Case: Murder suspect charged

by Jonathan Van Dyke

A cold case no more, the Sublette County Sheriff's Office (SCSO) arrested a suspected murderer of Elizabeth Miles Ehlers only months before the 25th anniversary of her death.

"Those involved with this case throughout the years have never forgotten this young woman," Sheriff Wayne "Bardy" Bardin said during a Sunday press conference. "I am very proud of the investigative unit and the amount of time and sacrifices that went into this investigation."

Earlier that morning, Troy Dean Willoughby, 46, was arrested in Helena, Mont. and charged with first-degree murder. Willoughby is a former Daniel resident.

Upon the time of his arrest, Willoughby was already being held by the Helena Police Department, charged with failure to register as a violent offender.

The case resurrected during the recent SCSO reorganization, headed up by new Captain of Investigations Brian Ketterhagen. The team of Ketterhagen, detectives Sarah Brew, Lance Gehlhausen, Shane Templar and Investigator Randall Hanson of the Sublette County Attorney's Office opened the case back up in October of last year.

"They never really die," Hanson said. "They kind of have their peaks and valleys. They go along and get investigated for a time, and if nothing develops, then they slow down and kind of simmer. Then, all of a sudden, they get picked back up."

This specific case was investigated numerous times: under Sheriff Bud Slater at the time of the murder, in the mid-1990s by Wyoming Department of Criminal Investigations (DCI) at the request of then-sheriff Hank Ruland and again by Sergeant Detective K.C. Lehr in 2007 at the behest of Bardin — but no charges could be brought.

"Some of the old investigations had the right idea, they just didn't follow it far enough," Hanson said.

When Bardin asked Ketterhagen to open the old cold cases again, the newly appointed captain tried a slightly different method with his team. Each team member took a piece of the file to look at extensively before convening with everyone else.

"I looked at my watch and within the first hour we had which direction we were going to go with," Ketterhagen said. "We sat in this office — the five of us — and determined this is the direction we need to go to solve this."

That direction took the investigative team thousands of man-hours, not only across Wyoming, but also Idaho, Colorado and Montana.

"Everywhere we went to further the investigation there was a tremendous amount of cooperation from the local law enforcement agencies in the four states," Hanson said.

Officials kept key information close to the vest during Sunday's press conference, careful not to damage a potential trial.

"A lot of questions you have that we can't answer, they'll more than likely be answered as the case progresses," Hanson said.

"We just have to be careful," County Attorney Lucky McMahon said. "If there's something that there's a chance might not be allowed in court and we've already told it to the newspaper, then it could jeopardize our case. That's why we have to be careful with certain things."

What we know so far:

Several weeks before Willoughby was charged, The Roundup caught up with Ketterhagen on his progress with the Ehlers case.

The captain said that his team was awaiting test results and that those results would be coming from evidence collected at the 25-year-old crime scene.

"The evidence has been sent off and is being tested," he said at the time. "As soon as those results come back, should they be what we anticipate, then charges will be filed."

After speaking, recently, with several people who had been interviewed years ago, his team had found a direction and a suspect.

Ehlers, 25, was found dead at a pullout near the Hoback Canyon and the Black Powder guest ranch on June 21, 1984. She was found at about 6 a.m. and had gunshot wounds — more than likely from a high-caliber pistol — to her hand, chest and head.

She was found not far from her car, which was still running with the turn signal on — indicating to officials that she intentionally pulled over to the side.

Some officials had felt that she might have pulled over to adjust her windsurfer sitting atop the car. Others theorized that she stopped for someone she was familiar with. An early witness had claimed to see fading taillights moving away from the scene.

"There is a connection, but I don't want to go any further than that," Ketterhagen said on Sunday, as officials said Willoughby and Ehlers were at least acquaintances.

Ehlers was believed to be traveling south on Highway 191 to Panama City, Fla., to meet her husband of two and a half years, Peter. She was living in Jackson at the time.

In the affidavit filed on Sunday, a more specific picture is painted.

According to the filing, at some point in the investigation, Willoughby was identified as a suspect by Tim Basye and Rosalie Hosking. Hosking was Willoughby's wife at the time of the murder.

During an interview with Basye on Dec. 6, 2008, he said that he, Hosking and Willoughby had traveled together to attend a party at the home of Michael Johns in Jackson Hole on June 20, 1984. The three left the party to head back to Daniel early in the morning on June 21 — where they came upon Ehlers.

"Basye stated that he witnessed Willoughby having a verbal altercation with Ehlers at the side of the roadway near where her body was located," the affidavit says. "He indicated that Willoughby went to the victim's automobile and dragged her out of her vehicle. Basye indicated that after Willoughby dragged Ehlers from the parked vehicle, Willoughby returned to his vehicle and retrieved a handgun from under the seat, then Willoughby fired the handgun, shooting Elizabeth Ehlers 'two or three times.' Basye stated that after Willoughby returned to the vehicle, Willoughby stated, 'that'll teach that bitch to rip me off.'"

An interview with Hosking on Nov. 20, 2008, confirms Bayse's details.

"Hosking further advised that Willoughby murdered Ehlers and explained that Willoughby and Ehlers argued at the side of the road and that she heard a gunshot," the affidavit says.

On Feb. 24, 2009, Malcolm Scott Willoughby, his son, reported to Deputy Royce Perkins of the Natrona County Detention Center, that Willoughby admitted to Malcolm on or about December 26, 2008, by telephone, that Troy killed someone in a canyon in Wyoming in 1984, and "that he (Troy Willoughby) needed to return to Wyoming to tie up loose ends."

Finally, on Feb. 27, 2009, Willoughby was interviewed in Helena, Mont. He admitted to traveling to the party and back with Basye and Hosking, and that they "located" Ehlers on Highway 191.

"Willoughby further admitted that he was present at the homicide scene, but did not admit to firing the handgun," the affidavit says.

Some outlets and theorists have tried to tie the murder to several other unsolved "gangland-style" shootings that occurred in about the same year, including the murders of Eric Cooper in October of 1983 and Jon Rice in May of 1984.

"I can tell you that that particular connection is still under investigation," Ketterhagen said on Monday.

Troy Willoughby:

Willoughby was born on Aug. 26, 1963 in Daniel. He is believed to have lived there until at least 1985 or 1986.

"Then he kind of traveled around," Ketterhagen said. "He was in Phoenix for a while, and where else I don't know. But he eventually ended up in the Helena, Montana area."

Willoughby was living in Wickes, Mont., just outside of Helena when he was arrested.

Officials in both law enforcement and the court system have seen a lot of Willoughby over the years. Former judge William Cramer remembered him coming through his court several times. Ruland also had several run-ins with Willoughby.

"I knew him and had dealt with him," Ruland said. "We were called out there (to Willoughby's home) several times on assault cases and family violence cases. He was arrested at least twice out in Daniel at his home there."

During the time of the murder, it is believed that Willoughby was working for one of the local rig companies. It was also believed that he could be involved with drugs.

"We always had a weary eye for Troy, if you will," Ruland said. "There's no doubt he was a violent person. I know he was in some trouble up in Montana.

In fact, according to public records, Willoughby had at least three charges filed against him in Montana and one civil suit.

According to an affidavit filed by Craig Campbell, a detective with the Helena Police Department, Willoughby pleaded guilty to felony assault on Aug. 2, 1996. Because of that plea, Willoughby was required to register as a "violent offender" wherever he moved within the state for the following 10 years after confinement or sentencing.

On May 27, 1999, Willoughby pleaded guilty to criminal possession of dangerous drugs, a felony. In this case, it was marijuana.

According to the affidavit, Willoughby first registered as a violent offender on June 13, 2001. He would change his address several times, and even plead guilty on Oct. 18, 2005 to failure to register as a violent offender charges.

The affidavit also notes that on both Nov. 28, 2006 and Nov. 23, 2007, Helena police officers responded to his apartment to investigate domestic disturbances with his girlfriend, Laurie Haley.

When Willoughby was arrested for first-degree murder, he was already being held in Helena for failure to register as a violent offender. He had not been living in his previously listed location since Aug. 22, 2008.

Moving forward:

The current charges of failure to register as a violent offender could net Willoughby five years in prison or as much as a $50,000 fine.

Before he can be brought here, his Helena charges must be settled in some way.

"It will depend on the pending charges they have now and whether or not they intend to complete those charges before he's transferred and whether he asks for these charges to be addressed," McMahon said on Sunday. "We'll just have to see how this plays out."

Willoughby is scheduled for a March 13 preliminary hearing in Helena.

"I have a choice of either going forward with my prosecution or I can defer my prosecution until Wyoming is done," said Leo Gallagher, county attorney for Lewis and Clark County. "It's unknowable how long he'll be in Montana. It could happen very quickly. It could be next week or it could be months into the future depending on how things shake out."

Most homicide trials take about a year, from initial charging to the trial, Hanson said — so the county is stuck in a holding pattern, although the county attorney's office will begin preparation.

As far as those with a stake in the case, the overall feeling is relief.

"Boy, I tell you, that's good," Ruland said. "Of course, there's no such things as an open and shut case. When I heard the news I was just ecstatic. That thing has been haunting me for years."

Ketterhagen would not release any specific information on Ehlers' surviving family, but did say that he has spoken with them since the charges were filed.

"I have talked to family members and they're very appreciative," he said. "And I think this might help bring them some closure."

See The Archives for past articles.
---
Copyright © 2009 Pinedale Roundup
All rights reserved. Reproduction by any means must have permission of the Publisher.
Pinedale Roundup, PO Box 100, Pinedale, WY 82941 Phone 307-367-2123
editor@pinedaleroundup.com