From the pages of
Pinedale Roundup
Volume 105, Number 9 - February 28, 2008
brought to you online by Pinedale Online
---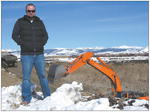 Matt Harber, developer of the proposed BloomField subdivision, stands beside one of the ponds being dug to maintain open space at the site.

Developer talks about BloomField project
Q&A With Matt Harber
by Alecia Warren

How did the idea first come about?

Actually it was the town and county that really promoted it originally. My dad used to own the property and back in 2004 the property was identified as one of the more developable areas due to its proximity to town.

Who are you working with on this project?

A few partners and investors, and all the people we've hired.

In addition we've also got Rio Verde Engineering, and WLC Engineering is working with us now. We've got some individual consultants from here and other areas that have years and years of experience with various different aspects of development.

Why is BloomField necessary for Pinedale?

Obviously there's a huge need for housing, and not just housing, but different types of housing. This exists whether the boom's here or not, but not everybody's at the same place in life where a single-family home is the perfect thing for them.

On the commercial side, there's a huge need for small businesses. There are so many people here who have small businesses and are working out of their homes or their garage, or just wherever they can, and it's keeping people from coming here. There's a need for creating an economic base that goes beyond the fluctuations of the gas industry. As long as there's an economy to keep people here, they'll stay here.

There's been a lot of controversy about the town annexing the land pre-zoned, instead of as open agricultural land. What are the benefits to a pre-zoned subdivision?

First of all, it's from a development standpoint. It's very difficult if not impossible to put together a project of this size without that, and by that I mean the everything that goes on behind the scenes: the investors, the financing, just getting other developers and builders involved.

Beyond that from a strict planning standpoint, that's what's been missing here in Pinedale, not having a master plan. With this, we can plan out (roads and pathways and infrastructure) before we start building anything.

Some people argue the subdivision is just too big. What's your response?

Well, if we were going to build it overnight, yeah it is, but it's a phased project. Outside of just the gas industry, there are jobs for just about anything you could ever want (in Pinedale). Based on the amount of jobs currently truly available, there already is this huge, huge need. If we could build it all today, technically it could be all filled up today.

Why a 15-year period?

It's kind of lending itself to flexibility, but from the beginning we've stated that it will be market based. Who knows? It may take us 50 years to develop it. If things are really slow and that's not what's happening here anymore, then we won't be building here anymore.

Why are you building the low-end units first, like the RV Park and the mobile home park?

They're the ones we need the most. This is getting back to the people working at the grocery store, people working at the gas stations, at the restaurants, the sheriff's deputies, schoolteachers. All those people, they have set salaries, and it takes a ton of those people to make a community work.

Exactly how much will the affordable housing units cost?

That is hard to determine, a lot is going to be determined on what's required of us. Some of our targets for rent are to rent the slots for mobile homes for $500 or $600 a month, which is pretty high compared to Rock Springs, but it's better than what we've got.

I can see a one-bedroom apartment in the range of $600 or $700 a month, and two and-three bedrooms from $900 to $1,300 or $1,400 a month. The rent on condos will go up from there.

What are the next steps in getting the different sections of the subdivision approved?

We have to plat the entire master plan, and then we come in with individual (detail plans) for the different blocked areas. First it goes in for preliminary plat, which goes before the Planning and Zoning Commission and they give their recommendation, which is passed along to the Town Council, and they give their recommendation.

Typically throughout that process, the Town Engineer and Town Planning and Zoning Administrator have their own comments. Once you have preliminary plat approved, you come back through with the final plat, and hopefully that final plat has all the things that have been requested.

The actual platting process is typically going to be two to three months working with engineering and design, and then getting those plats approved takes two to three to four months. If there are glitches, it can take seven, eight or nine months.

Are there other communities you've looked at as a model for the subdivision?

Yeah, some we've looked as a model, others we've looked at as definitely what we don't want to do.

One of the big ones in Las Vegas is Summerlin. It's been one of the most successful communities in history, and the main reason is the way they planned. Talk about a big master plan, that's 22,000 acres annexed all at one time. They've been working on it for about 20 years, and they still have about half the property left.

Will you live in BloomField?

I hope so! A lot depends on what happens. My long-term goal is go back to school and get my doctorate and teach at the university level.

Unless Pinedale gets a college here, it's going to be hard to live here permanently. I plan on spending every minute of my summers here for the rest of my life. I'd love for my kids to live there, I'd love for my brothers who aren't married and come up here to work to be able to live there, instead of having to live with me.

Photo credits: Alecia Warren

See The Archives for past articles.
---
Copyright © 2008 Pinedale Roundup
All rights reserved. Reproduction by any means must have permission of the Publisher.
Pinedale Roundup, PO Box 100, Pinedale, WY 82941 Phone 307-367-2123
editor@pinedaleroundup.com