From the pages of
Pinedale Roundup
Volume 105, Number 8 - February 21, 2008
brought to you online by Pinedale Online
---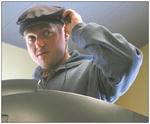 Casey Boersma, boxer turned gas field worker, removes his hat before starting a recent workout in Pinedale.

Gas field worker could have been a contender

by Alecia Warren

The regulars in the small gym of downtown Pinedale pay no attention to the hooded figure strutting across the room to the weightlifting corner.

The rhythm of runners' legs pumping on treadmills continues as the young man stands in front of the mirror and exhales, softly bouncing from foot to foot. Slowly, he lifts his fists to his face, studying himself in the mirror as the bulk concentrated in his short frame hunches and he lets loose, throwing a punch into the air and then another, and another.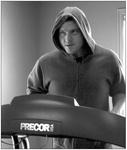 Casey Boersma still jogs as he did while training as an amateur boxer.

Running shoes smack the treadmills. Nobody gives him a second glance. Why bother, when his quiet intensity is evidence enough that he's just another gas field worker? And so he is.

Yet little do the sweat-soaked exercisers realize that but eight years ago, hundreds would wait in line to see this quiet, stocky boy pick up his fists in just that way under blazing auditorium lights and amid the roar of a crowd hungry for blood.

A natural champion, his trainers had said, and ripe for the pros.

He was something, all right, before he lost it all.

And not for lack of dedication or lack of fierce love for his sport, but for the reason most dreams are lost. Self-doubt, weariness.

And, of course, the ultimate obstacle that sends the most talented daydreamer back to the help-wanted page — money.

Casey Boersma, 28, now a two-year Pinedale resident and production testing supervisor, no longer suffers financial worries, thanks to his job on the Jonah Field. And he knows the intensity of his work doesn't allow for distractions like training or daydreaming of glories past.

But every morning when he steps into the Pinedale gym, he returns to being 14, before life and obligations weighed down on his ambition, when he entered his first gym to start training as an amateur boxer.

That old gym in Portland, Ore., an hour drive from his home in Salem, Ore., was the only kind he could afford at the time, a rundown vestige of athletic grandeur hidden in the basement of a downtown mental institution. Casey didn't mind the older equipment, or even the awkward moments when he stood outside and felt the people in white bathrobes staring at him through the window. Instead, the chubby teen swelled with pride strolling like a member of a private club into a bona fide boxing gym.

He could hear the proof when he entered the main floor, where the sounds of the bell clanging and fists pounding rose through the floorboards. On the staircase down to the training room, the smell changed from medicine and rubbing alcohol to the piercing combination of dirt, sweat and blood.

Casey bruised his fists in the dank basement night after night, heading straight to the gym after the last school bell rang. When he lost his first fight because he lost his breath too quickly, he started jogging three miles before school, too. Soon he hung punching bags in his family's garage to practice on when he couldn't get a ride downtown.

"I loved it. I just took to it straight away," he said. "It's hard to explain something you care about so much."

His father Butch sat in the corner of the training room every day, silently watching his son as he waited to drive him home.

"Casey had incredibly natural skills," Butch remembered. "When he trained, it wasn't unusual for a crowd to gather around, because for as young and inexperienced as Casey was, he just had natural reflexes, and he could really hit. It just came natural to him, and he enjoyed it."

A year or two after Casey's first match, the teen stood in a ring in Portland, facing the son of a trainer at the rival gym. The kid had given Casey the typical intimidation routine, parading in to get weighed with his entourage of friends, all whispering to each other with smirks as their eyes looked Casey up and down.

But Casey had his own routine. With his usual steady calm, he introduced himself and stared back unflinchingly when his opponent laughed and shadow boxed inches from Casey's nose.

Hours later in the ring, Casey's opponent jumped forward, already swinging. But Casey, a seasoned counterpuncher, held back, patiently calculating his opponent's size, speed, power. Once his opponent threw the next punch, Casey knew what was coming, and darted out of the way to swing where the other fighter was left exposed. With two more hits, his opponent knew who would win the fight.

— — —

Casey's wins piled up at tournamentsacross the state, and gradually his trainer started booking matches with bigger crowds. Expectations of him mounted, and the faces he bloodied in the ring belonged to careerfocused boxers who considered every fight as "the only thing between them and being somebody," Casey said.

Until then, boxing had always just been a sport, something to be good at. Suddenly, it was much more serious.

By 18, Casey was a two-time winner of the middleweight division at the Golden Gloves, the statewide tournament to determine the best of the amateur divisions.

He went on to win the regional tournament in Las Vegas that year, which landed him headlines in the local newspapers. With Casey boasting a record of 29-5, it was time to give some real thought to boxing in the Olympics, his trainer said, a steppingstone to turning professional.

But that meant boxing was still far off from paying his bills. The amateur matches didn't award monetary prizes, and Casey was a recent high school graduate who had always known his family couldn't save for a college fund.

He took a job as a nurse's assistant, but it wasn't enough to pay the mortgage on the house he shared with his girlfriend, even with the salary from her full-time job. He took a second job installing phone lines.

His work schedules changed week by week, switching from day to night shifts. His training became spotty, and sometimes he couldn't get nights off to compete.

But the fights were still getting bigger, and he still had a reputation to uphold, not just for him, but for his trainer, who depended on Casey's wins to build a reputation and land better matches for his other boxers. Maybe it was the pressure. Maybe it was the lack of sleep from training and splitting night and weekend shifts between two jobs.

Maybe it was just loving to win so much that seeing his years of training slip through his fingers was just too much to bear.

For whatever reason, his dream was about to die.

— — —

It started out like any other fight. Casey sat in a back room of the auditorium with his father, talking quietly about "anything but boxing," Casey said, and a doctor gave him a quick physical and OK'd him to fight.

Then more waiting outside the door of the auditorium, where Casey repeated to himself that the other guy wasn't as tough as he looked. Then he heard his name called.

The audience was large for an amateur match — about 500 people, all yelling and cheering and staring as Casey made his way to the ring.

"Being nervous for a boxing match is more than just being nervous," Casey remembered with a chuckle. "Nervous is approaching a girl you've never talked to and asking her out on a date. Getting into a ring, you're just so on edge. It's just a totally different level of nervous."

And then they were standing in the ring across from each other, Casey and his opponent, a 20-something from Washington whom Casey had beaten years before, but had clearly grown a few inches since then. For a moment, Casey was overwhelmed by the roar of the audience as they touched gloves. But only for a moment.

"Once the bell rings, you don't hear nobody, you don't see nobody," he says.

The fighters slammed into each other immediately, gripping each other's necks in a tight clutch. At last they broke off, each taking a second to regain their focus.

But just as Casey raised his fists, he heard shouting in the ring.

"One, two…"

The ref was declaring. A standing eight? That call was reserved only after a hit to test if a boxer was knocked out on his feet. And there hadn't even been a hit yet!

"Three, four…"

"What are you counting for?" Casey demanded. It was a mistake. Casey hadn't been hit, and the call automatically deducted a point – a point that any boxer knew could likely lose the match.

"Five, six…"

Boos poured in from the audience on every side. Casey should've fought through it. A better boxer would have, he says now.

"Seven…"

Casey swiveled into the referee's face to scream exactly what he thought of the call. The audience went wild and the judges sitting beside the ring feared a riot. The fight had to end, and they gave the call — Casey was disqualified.

He slowly stepped out of the ring, blinking into the lights of the auditorium. He wound through the audience as the air filled with the deafening chaos of 500 boxing fans screaming their indignation, everyone booing Casey, booing his opponent, booing the referee.

He burned to scream back, but when he saw the grim disappointment in his trainer's gaze, Casey clenched his jaw and knew he'd said enough.

He showed up at the gym for a few weeks afterward, but he and his trainer both knew that things had changed. Every time Casey slid on his gloves and pummeled the bags, he relived his mistake and heard the judges calling him out.

It was a turning point, his father said. "I think something busted at that point," Butch said. "Something happened in Casey's mind and the coach's mind, and he lost heart. (The disqualification) was not anything big, it was something that could easily be stepped over and moved on from. But Casey didn't move on."

Casey fought in matches across the West as he jumped from job to job over the years, but suddenly training wasn't worth the broken noses or the head trauma, and hearing audiences scream for a victory took a back seat to a steady paycheck.

"Casey said to me one time years ago, and I thought it was really profound at the time, he says 'Dad, as I look back, I was trying to be somebody I wasn't,'" Butch remembered. "The peers around Casey in high school, everybody looked up to Casey because they knew he was a boxer, he was a tough guy. But as Casey got older, he found that wasn't him, the tough guy.

"I think he was a nice guy, and I don't think a nice guy is what is required to do well in the boxing field. He had great ability, he was a natural in his ability. But I don't think he had the heart of a boxer, in that it really requires having no problem with hurting someone."

— — —

Now Casey's muscles ache not from training, but from back-flowing production fluids on the Jonah Field from noon to midnight, seven days a week, three weeks on and one week off.

Sure, he wishes he could spend more time with his boxing than the precious hour in front of the mirror at the local gym each morning. And he would love another chance to step into the ring, even if only for one more match.

But the money on the field is as good as his friends had told him when they urged him to relocate to Wyoming, he says, and he would be a fool to give it up.

"A lot of athletes balance time and education and effort to make that dream come alive at the risk of losing their jobs and everything else," Casey said. "But I didn't grow up wealthy. If I had, I probably would've tried to compete professionally." The gas field's intensity reminds him of boxing in a way, he added, with the constant fight to avoid mistakes and still hold a job, as well as still be alive, at the end of a shift.

"It's really motivating when you really don't want to be out there in the snow, working all day, every day," Casey said. "It's enough to keep me going."

Photo credits: Alecia Warren, Alecia Warren

See The Archives for past articles.
---
Copyright © 2008 Pinedale Roundup
All rights reserved. Reproduction by any means must have permission of the Publisher.
Pinedale Roundup, PO Box 100, Pinedale, WY 82941 Phone 307-367-2123
editor@pinedaleroundup.com