From the pages of
Pinedale Roundup
Volume 105, Number 6 - February 7, 2008
brought to you online by Pinedale Online
---
Obituaries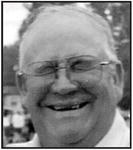 Fredrick Joseph Boyce Sr.
Fredrick Joseph Boyce Sr.
Fredrick Joseph Boyce, Sr., 69, passed away Monday evening, Jan. 28, 2008, in Pinedale of natural causes. Fred was born Nov. 17, 1938, in Pinedale, Wyo., to Alvin and Weenona Boyce. He spent his childhood and growing up years in Pinedale. He graduated from Pinedale High School in 1957. After high school, he served his country in the United States Army from 1957 to 1958 and trained in automotive mechanics at Ft. Leonardwood. He married his sweetheart, Barbara E. Skorcz, on July 6, 1958, in Pinedale. To this union were born four children Abby, Teresa, Nonie and Fred, Jr.
Fred enjoyed golf, hunting, fishing, camping, snowmobiling, playing pool, bird watching, history, sports of all kinds, reading and being with his family. He was a member of the Wyoming Wildlife Federation, Snow Explorers, F.F.A. Alumni, Menís Golf Association and the Pool League. Fred was not involved with organized religion, but he did believe in God, and he worshiped in his own way.
He is survived by his wife, Barbara; brother, Bob Boyce; sisters, Joyce Mitchell and Ruthie Clark; daughters, Abby Botkin and Nonie Johnson; son, Fred Boyce Jr.; grandchildren, Jesse Botkin, Jason Botkin, Adam Johnson, Cassie Boyce, Mathew Boyce and Michael Grant; great grandchildren, Jason and Hannah Botkin; also numerous cousins, nieces and nephews.
He is preceded in death by his parents, grandparents and daughter, Teresa Diane Grant.
Funeral Services were held Friday, Feb. 1, 2008, at 11 a.m. Fredís nephew, Tony Boyce, conducted the service. Interment followed in the Pinedale Cemetery.
---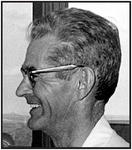 William F.(Bill) Meyer
William F.(Bill) Meyer
Funeral services for William F. (Bill) Meyer, 87, will be held at the Pinedale Auditorium on Saturday, Feb. 9, 2008, at 2 p.m., with Father Wes Shields officiating. He died on Jan. 30 at his home in Pinedale, following a lengthy illness.
Bill was born on January 22, 1921, in Rock Springs, Wyo. He was the oldest of eight children, of Fred and Alli Meyer. He grew up on the family ranch in Farson, Wyo., and graduated from the Eden Valley High School. After completing high school, he worked in construction until he joined the Seabees during World War II, where he served in North Africa and the Phillipines building airfields. After he returned home to Farson, he continued his work in construction, working for Northwest Construction Company. At that time he met Claudie Fitzpatrick of Pinedale, and in 1948, they were married at St. Andrews-in-the-Pines Episcopal Church.
Bill and Claudie helped run the Farson Bar for four years. In 1957, Sandy, their daughter was born. In 1959, they moved to Pinedale and started the Pinedale Chevron Service Station and Wrecker Service, which Bill owned until 1985.
In 1974, Bill was elected Sublette County Coroner and served for 25 years, and he also filled in as Justice of the Peace. At the same time, he ran the local funeral home. After his retirement, Bill and Claudie were active in the success of the local Food Basket.
Bill was active in St. Andrews-in-the-Pines Episcopal Church, Past Master of Franklin Lodge #31, AF & AM, Past Patron of Pinedale Chapter #39, Order of the Eastern Star, Past Associate Guardian, Jobs Daughters Bethel #34, and a member of the Korein Shrine. He was a volunteer member of the Pinedale Ambulance Service, Search and Rescue and served as Chief of the Pinedale Volunteer Fire Department.
Bill's love was his family and community, and he dedicated his life to serving both. He is survived by his wife, Claudie; daughter, Sandy of Pinedale; two sisters, Ruth Chesnovar of Farson and Dorothy Jordan of Dubois; two brothers, Kenneth Meyer of Thermopolis, Wyo., and Jim Meyer of Bountiful, Utah, and numerous nieces and nephews. He is preceded in death by his parents, two brothers, Ben and Bob Meyer, one sister, Millie Williams, and one son, Claude Fredrick Meyer.
In lieu of flowers, a memorial has been established at the Pinedale Food Basket. Donations may be sent to the Food Basket, P.O. Box 34, Pinedale, WY 82941. Funeral arrangements are under the direction of Covill Funeral Home, Pinedale.
---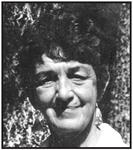 Elizabeth Ann Raftery
Elizabeth Ann Raftery
Elizabeth Ann Raftery passed away peacefully at Peaks Care Center in Longmont, Colo., on Saturday, Feb. 2, 2008. Elizabeth was born April 20, 1934, to Paul and Flora Raftery in Helena, Mont. She graduated from Helena High School in 1951 and attended the University of Montana where she was a member of the Kappa Alpha Theta sorority. She then attended Montana State College in Bozeman, Mont., transferring to Washington State University, where she graduated in 1955 with a degree in commercial art. She moved to Seattle where she worked for an advertising agency as a radio and television time buyer. There she met Dr. Richard F. Noble, and they were married in Helena on June 22, 1957.
While Richard served in the Navy, the Nobles lived in Hayward, Calif.; Pensacola, Fla.; Yuma, Ariz.; San Diego; Yokosuka, Japan; and Oakland, Calif. The family moved to Cheyenne, Wyo., in 1969. Elizabeth founded the Wyoming Epilepsy Association, worked with the state legislature to successfully champion the rights of those suffering with epilepsy, and was an active volunteer with the Bishopís Guild. The Nobles divorced in 1975.
Elizabeth worked for the law firm of Hirst & Applegate and for the Honorable Ewing T. Kerr. She married John McInerney of Cheyenne in June of 1979.
Elizabeth worked as a travel agent in Denver and San Diego, where she earned her paralegal degree at the University of San Diego. Elizabeth pursued her passion for art in Taos, N.M., and moved to Pinedale, Wyo., in 1993. In her travels Elizabeth touched many lives and made many friends with whom she shared her love of reading, art, the outdoors and conversation.
She is survived by her children, Paul (Cindy) Noble of Longmont, Colo.; Greg (Peggy) Noble of Anchorage, Alaska; and Lisa (Barry) Fredrickson of Chagrin Falls, Ohio; and her brother, Robert (Mary Kay) Raftery of San Jose, Calif. She also leaves behind grandchildren, Emily and Katy Noble of Longmont, Colo.; Cathy (Cody) Saxtonof Pinedale; Chad (Joey) Mitchell of Sylvan Lake, Alberta; Nate Noble of Anchorage; Matthew, Grace and Paul Fredrickson of Chagrin Falls; and three great grandchildren, Holden Saxton of Pinedale and Kobbe and Bo Mitchell of Sylvan Lake. She was preceded in death by her parents, Paul and Flora Raftery, husband, John McInerney and nephew, Paul Raftery.
Condolences can be sent to Howe Mortuary, 439 Coffman St., Longmont, CO 80501, who was entrusted with cremation. A Catholic service will be held at a later date in Cheyenne. Memorials can be made to The Wyoming Epilepsy Association, 119 west 17th St., Cheyenne, WY 82001.
See The Archives for past articles.
---
Copyright © 2008 Pinedale Roundup
All rights reserved. Reproduction by any means must have permission of the Publisher.
Pinedale Roundup, PO Box 100, Pinedale, WY 82941 Phone 307-367-2123
editor@pinedaleroundup.com