From the pages of
Pinedale Roundup
Volume 105, Number 6 - February 7, 2008
brought to you online by Pinedale Online
---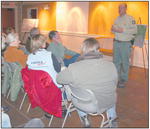 Big Piney District Ranger Greg Clark answers questions about the development.

Residents rip PXP proposal

by Alecia Warren

U.S. Forest Service (USFS) officials received harsh blows last week at the public meeting on Plains Exploration and Production's (PXP) proposal for full-field development on USFS lands on the Hoback Rim.

More than 30 people showed up at the Sublette County Library for the Jan. 29 meeting, part of the USFS scoping process on the proposal to drill 136 wells across 400 acres in the Noble Basin, about seven miles southeast of Bondurant, and 60 miles north of Pinedale.

PXP expanded the number of wells in the proposal from its 2005 request to drill three exploratory wells on its 20,000 acres of leases, which aren't included in the currently suspended 40,720 acres in the Wyoming Range.

The company asked the USFS to expand the Environmental Impact Statement (EIS) on the project to include a master plan for full-field development last winter, after 19,000 comments on the original EIS accused that PXP would likely drill beyond three wells.

The USFS released a Notice of Intent (NOI) this December announcing plans to prepare the draft Environmental Impact Statement (EIS) on the master plan, and will continue submitting scoping statements and collecting general opinions before the end of the public commentary session on Feb. 7. The Final EIS is scheduled for release next summer, said Greg Clark, Big Piney District Ranger.

"I don't want to leave the wrong impression," Clark said at the meeting of what to expect in the new EIS. "In this field, there is going to be an impact. A significant impact. It isn't going to be as it was."

Which is why most had come to the meeting. And in their onslaught of criticism, many brought up ideas the USFS officials hadn't considered to disclose in the EIS, Clark said.

Those ideas included water quality, which John Fogerty, member of the Pinedale Planning and Zoning Committee, announced as a significant problem that operators are ignoring on the Jonah Field and Anticline.

"You're averaging half a dozen to a dozen wells being drilled out there that are contaminating the groundwater," Fogerty said, admitting that he wasn't sure if the statistic was accurate. "Shell and Ultra and Questar can't pinpoint why, but their solution is to keep pumping water out of the ground until they get a clean sample. There's no way for any of us to know what's left down there." Clark said he hadn't been aware water contamination was such a problem.

"That's noted, we'll look into it," he said. Still others questioned the vague environmental standards that energy operators are held to on their drilling projects.

"We're seeing a situation where the air quality standard is always being lowered," said Richard Garrett, a volunteer for the Wyoming Outdoor Council. "The level of expectation 13 years ago was higher than it is today, and ours today is higher than it will be in another five years, so what will be the specific level of expectation for PXP? The rules that applied when it leased the area 13 years ago, or the rules that apply when drilling starts?"

Air quality is indeed "at a head," Clark acknowledged, and he said his limited expertise in the area prevented him from giving an actual number of emissions standards that energy companies currently have to meet. "There are Clean Air Act standards that will be kept," Clark said. "If five years from now, (the federal government) changes those standards, then we'll meet those."

Not good enough, said local Dave Smith, making the USFS officials admit that operators are already exceeding some emissions limits on the Jonah Field, and the USFS doesn't know by how much.

"So, we're already violating the law," Smith said. "How can any government body with any integrity say that 'we don't really know what standards we have now, but we'll hold you to this and we're certain you'll do your best'? It's so bogus, it has a big flashing sign around it."

A woman in the audience agreed that should be reason enough to think again on allowing PXP to drill.

"In this scoping notice, it says, 'the purpose and need for action is to determine whether and how to approve the exploration and potential development,'" she read from the statement. "'Whether.' Do you or do you not have the ability to say no?" "Yes, but only if I find something (in the proposal) that cannot be mitigated or that violates the law," Clark said.

Public outcry certainly doesn't seem to fall under "whether," Smith said. "We've protested every drilling project that's happened around here for the past 10 years, and they've all been accepted," he said. "If officials at the USFS or the BLM have actual authority where you can tell (energy companies) 'no,' then somebody's going to have to grow a pair at some point to do so."

Clark wasn't surprised at such reactions, he said after the meeting.

"I try to explain to people that PXP has existing leases, they have that right to explore and produce, and we need to look for mitigation in the meantime," he said. And mitigation should be a priority in the Noble Basin drilling area, said GFD spokesperson Theresa Hartman, who attended the meeting.

"For moose, it's a crucial winter range in most of the area, and we expect that moose won't adapt well to winter activities and will probably disperse," Hartman said, adding that the area also contains an elk feeding ground.

The GFD met with PXP and the USFS last month to give them a "laundry list" of questions on potential mitigation, she said. "We'd prefer they not drill it at all, but we also recognize they have a valid lease and there's really nothing we can do unless someone can come up with a reason why it shouldn't occur," Hartman said. "It's rare that wildlife is that reason, so we've resigned ourselves to accept that and are trying to come up with how to do it the best way."

Photo credits: Alecia Warren

See The Archives for past articles.
---
Copyright © 2008 Pinedale Roundup
All rights reserved. Reproduction by any means must have permission of the Publisher.
Pinedale Roundup, PO Box 100, Pinedale, WY 82941 Phone 307-367-2123
editor@pinedaleroundup.com