From the pages of
Pinedale Roundup
Volume 105, Number 6 - February 7, 2008
brought to you online by Pinedale Online
---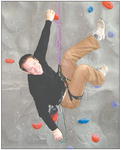 Pinedale Aquatic Center's recreation coordinator Michael Peters is ready to hang out with all of the new members of the facility, which officially opens today.

New PAC coordinator, family made the move

by Jennie Oemig

As final preparation for the grand opening of the Pinedale Aquatic Center (PAC) has taken place, Pinedale residents can expect to see some fresh faces in the facility and around town. One of those belongs to recreation coordinator Michael Peters.

Hailing from Georgia, Peters, who graduated from the University of Georgia with a degree in international business and business management, brings expertise as the former director at a YMCA-style recreation center.

Though they are from the southern portion of the country, Peters and his wife, Cindy, who works as a corporate space planner and interior designer, had ties to Wyoming.

"My wife had been coming out to this area for years," Peters said, acknowledging her love for horses.

Still living in Georgia at the time, the couple was married in the Cora area in 2004, eventually deciding to make their home in the Hoback Ranches, where they reside with their 2-year-old son, Wyatt, a horse, Buddy, and an Australian Sheppard, Lucy.

"Something kind of switched," Peters said of the sudden realization that he wanted to live in a more rural setting. "I wanted to come out here and get away from the hustle and bustle of the city."

But the job at PAC did not come by chance, as Peters said he had been searching for an opportunity for some time.

"I was bored at my old job and probably once every three weeks, I would search on Pinedale Online! to see what was in this area," he said, adding that he was seeking something primarily near Pinedale and Jackson or in Austin, Texas. "And I saw this place … so I called Cindy and told her, 'I think I found it. I think we're moving.'" While he and his wife could have relocated before the job at PAC presented itself, Peters said it just didn't make sense.

"I didn't want to work in the oil fields or the gas fields," he said. " … [This] fell right along the lines of what I was doing already."

And so far, Peters said he and his wife are enjoying their time. "We're loving that we're out here and loving this community," he said. Being active in the community in which he calls home was also important to Peters.

"We want to serve the community we're living in," he said. "That's why I wanted to get on the Chamber Board."

A lover of all things sports, Peters said that PAC was not only a perfect fit for his lifestyle, but also for his interests. "This is going to be, I think, the focal point for family activity," he said, expressing his interest in being part of that interaction. "I look forward to serving the community in that capacity. This place is just so full of life and energy and activity." But that anticipation has been a long time coming, as PAC was originally projected to open in July.

"The hardest part for me is that everything was just a hurry up and wait mentality," he said. "There's a lot of frustration." One thing that Peters said helped to quell that frustration was the guidance of PAC Director JJ Huntley.

"She's such a great leader," he said of his vivacious coworker. "She's done a great job of keeping us positive."

And now that the time has come to invite the public into the new facility, Peters said he couldn't be more thrilled.

"I guess I'm just ready for the people," he said. "I'm ready to see happy faces … and looking forward to building relationships with the people and getting to know the families here." PAC will open its doors to the public today with a ribbon-cutting ceremony at 2 p.m., followed by a reception and tours of the facility.

Photo credits: Jennie Oemig

See The Archives for past articles.
---
Copyright © 2008 Pinedale Roundup
All rights reserved. Reproduction by any means must have permission of the Publisher.
Pinedale Roundup, PO Box 100, Pinedale, WY 82941 Phone 307-367-2123
editor@pinedaleroundup.com