From the pages of
Pinedale Roundup
Volume 105, Number 52 - December 25, 2008
brought to you online by Pinedale Online
---
Obituaries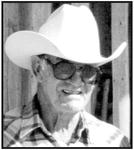 LOUIS T. DAPRA
LOUIS T. DAPRA
Louis Dapra was born November 18, 1918 in Guernsey, WY to Roman and Teresa (Brandl) Dapra. He was the youngest child with five older sisters and three older brothers. They were raised on a dry land farm in Sunrise. Louie said it was a starvation setup. His father worked the farm and also worked in the iron mines. His parents came from Austria. After high school, Louie served in the C.C.C.'s from 1935 – 1937. On July 9, 1941 he joined the Army in the 272nd Infantry, then served as a MI Rifle Combat Infantryman and later served as a military policeman in Germany for over a year. He was honorably discharged December 7, 1945.
He returned to Torrington where he worked on ranches, finally going to Saratoga where he got a job as a ranch foreman. While there he met Toni, a gal from the east who was teaching school in the area. Louie and Leona (Toni) Norton Meadows were married January 2, 1959 in Green River, WY. In October of that year they moved to Sublette County with their small son Jim. They worked for Don Jewett and Louie managed the ranch. Toni drove a school bus and substituted as a teacher when Jim later went to school.
They homesteaded land in the Soap Hole Basin, cleared the brush and planted grass. Toni took care of the homestead while Louie took care of the Jewett Ranch.
In 1974 Louie went to work as manager for the H-C Ranch, which was part of the Jewett Place that he had worked on before, and stayed until 1978 when he went to work for the Belco Gas Company. He retired from there November 1, 1988 so he could have time to take care of his own place for a change. In 1990 Louie sold his homestead but continued to live there until 2006. In the meantime he went to work for other ranches in the area until he was forced to retire again in the fall of 2002 because of failing eyesight.
In August of 1975 Louie lost his only son Jim in an auto accident just north of Marbleton. On June 16, 1988 Louie lost his wife Toni after 29 years of marriage to a courageous battle with cancer. He is also preceded in death by his parents, five sisters Maria Dapra, Teresa Williams, Mary Lauk, Rose Martin and Ann Stratton; and three brothers William (Billy), Frank and John (Fred) Dapra.
Louie had many friends who enjoyed his wit and humor. He was a member of the V.F.W. and a lifetime member of the Green River Valley Cattleman's Association.
A funeral service was held Monday December 22nd at 10:00 a.m. at Covill Funeral Home in Pinedale. Interment and military honors followed the service in the Plainview Cemetery in Big Piney.
Memorial contributions in Louie's honor can be made to the Sublette Center, P.O. Box 788, Pinedale, WY 82941.
See The Archives for past articles.
---
Copyright © 2008 Pinedale Roundup
All rights reserved. Reproduction by any means must have permission of the Publisher.
Pinedale Roundup, PO Box 100, Pinedale, WY 82941 Phone 307-367-2123
editor@pinedaleroundup.com