From the pages of
Pinedale Roundup
Volume 105, Number 51 - December 18, 2008
brought to you online by Pinedale Online
---
Obituaries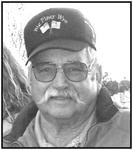 RICHARD E. HOLGATE
RICHARD E. HOLGATE
Richard E. Holgate of Big Piney, Wyoming passed away December 10, 2008 at the Eastern Idaho Regional Medical Center, Idaho Falls, Idaho at the age of 78 years.
He was born November 29, 1930 in Terrebonne, Oregon at the home of Norman Ray Holgate and Lucille Margaret Wilson Holgate. He was the fifth of seven children. He married Darlene C. Chadwick in Big Piney on June 29, 1956. They had three children; Robert, Danny and Georgie.
Richard served in the United States Air Force on a refueling aircraft during the Korean
War. He was a member of the Veterans of Foreign Wars and the Masonic Lodge. He was active in the Shriners and Commandry. Dick was a fishing enthusiast and enjoyed traveling during the winter months to the desert southwest. In his earlier days, he raced snowmobiles. He referred to his loved ones and close friends as "fella." It was a loving habit which was returned by his family. While living near Yuma, Arizona he learned the craft of creating hanging baskets from the dried roots of the desert evening primrose.
He is survived by two sons, Robert and Danny, daughter-in-law Julie, grandsons Jared and Bryan and close companion, Donna.
He is preceded in death by his son Georgie Lee, his wife Darlene, brothers Fred, Walt and Bobby, and his sister Patricia.
Funeral Services were held Saturday, December 13th at 11 a.m. at the Community Congregational Church in Big Piney. Father Dick Kalber conducted the services. Interment followed in the Plainview Cemetery.
Graveside Military Honors concluded the services and were conducted by the American Legion Dee Fox Post #78 of Big Piney and U.S. Air Force Reserve.
---
WILLIAM K. STREENAN
William K. Streenan of Vancouver, Washington died December 12. 2008, at the age of 90. He was born on May 15, 1918, in Kemmerer, Wyoming to Michael and Jennie Sneddon Streenan. He attended schools in Oakley and Kemmerer, Wyoming, and graduated from Colorado Springs High School in 1936. In 1939, he married Amy Rahm of Pinedale. They celebrated their sixty-ninth anniversary in May. He worked in Pinedale during the late 1930s and 1940s. In the 1950s, he and Amy moved first to Mountain Home, Idaho, and then to Idaho Falls, where he began employment with the Atomic Energy Commission (later the Department of Energy), ultimately retiring as an administrator for the Department of Energy's operations in the South Pacific. Along with his wife, he was an inveterate traveler, and together they visited Europe, Asia, the Middle East, North Africa, and the South Pacific. He loved hunting, fishing, and, in his later years, golf. He was an avid reader and maintained a keen interest in current events and history up until the final weeks of his life. Bill thoroughly enjoyed life, especially "to talk story"— the Hawaiian way of saying way good conversation. Because of his interest in people, he was dearly loved by most of the people who knew him.
He was preceded in death by his wife, Amy, and his sister Dolores Symes. He is survived by his nephews Ken Symes of Bellingham, Washington, and Dal Symes of Albuquerque, New Mexico. At his request, he will be cremated and his ashes scattered on Mount Hood. There will be no memorial service.
See The Archives for past articles.
---
Copyright © 2008 Pinedale Roundup
All rights reserved. Reproduction by any means must have permission of the Publisher.
Pinedale Roundup, PO Box 100, Pinedale, WY 82941 Phone 307-367-2123
editor@pinedaleroundup.com