From the pages of
Pinedale Roundup
Volume 105, Number 50 - December 11, 2008
brought to you online by Pinedale Online
---
Obituaries


JOSEPH ROY BOLINGER
Joseph Roy Bolinger, age 77, passed away Thursday, November 27, 2008 at 9:25 a.m. at Doctors Hospital in Opelousas Louisiana.
Joseph, also known as "Joe the school bus driver," was a native and lifelong resident of Pinedale, WY. He enjoyed the outdoors, especially fishing and boating on Fremont Lake. He was a deputy sheriff for the Sublette County Sheriff's Office for sixteen years. During this time he also worked as a forest patrol officer. He was also a volunteer EMT with the Pinedale Ambulance service for ten years. He was also a veteran of the military, having served in the U.S. Navy during the Korean Conflict on the U.S.S. Begor also known as "the Grey Ghost of the Korean Coast.".
Survivors include one daughter, Jo Ann Stallings and her husband, William, of Leonville, LA; two step sons, Jimmy Sims of Farson, WY and Abner Sims and his wife, Danielle, of Blackfoal, ID; two brothers, Bill Bolinger and his wife, Christy, of Cheshire OR and Preston Bolinger of Colorado Springs, CO; two step sisters, Joan Barwin and her husband, John, of Lakewood, CO and Judy Evans and her husband, Howard, of Billings, MO; fourteen grandchildren and numerous great grandchildren.
He was preceded in death by his wife of 42 years, the former Alice Madeline Hawley; his parents, William Roy Bolinger and his mother, the former Madeline Marie Adney; one infant son, Joseph Roy Bolinger and one step son, Alan Steven Sims and
View the obituary and guestbook online at www.melanconfuneralhome.net. Melancon Funeral Home of Opelousas, 4708 I-49 North Service Road, (337) 407-1907, is in charge of arrangements.
---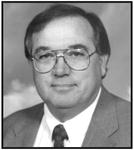 WELDON SHELLEY
WELDON SHELLEY
Mr. Shelley, 62, died of natural causes at his home in Riverton on Monday evening, Dec. 1, 2008.
Ben Weldon Shelley was born on May 26, 1946, in Riverton. He was the third child of Ned Russell and Deaun (Dalley) Shelley and had been a resident of Wyoming all of his life.
He was graduated from Riverton High School in 1964 and received his Bachelor's degree in education from the University of Wyoming. He later received his Master's degree from the University of Maryland.
Mr. Shelley started his teaching career in Pine Bluffs. He began teaching at Riverton High School in 1971, and then became director of James H. Moore Career Center, later serving as superintendent of schools for Fremont County School District #25 in Riverton. He later served as superintendent of schools for Sublette County School District #9 in Big Piney, for a total of 38 years as an educator.
During those years he served on committees and shared successful programs with educational facilities in other states. He addressed the Wyoming state legislature for additional funds to assist teachers and to improve education.
Mr. Shelley retired last year, and his family said he especially enjoyed family gatherings, spending time with his grandchildren, boating, fishing, hunting and camping.
Mr. Shelley is survived by his father, Ned R. Shelley of Glendale, Ariz.; two sisters, Janet Davis and her husband Ted of Peoria, Ariz., and Lois Hull and her husband Chuck of La Barge; wife of 20 years, Sherry Shelley; three children, Holly Cassity and her husband Jimmie of Riverton, Michael Shelley and his wife Kimberly of Lander, and Amy Shelley and partner, Angie of Boulder, Colo.; wife of 15 years, Prudy Shelley; step-son, Tyler Gilmore of Denver, Colo.; four grandchildren, Jesse Cassity, Sierra Cassity, Matthew Shelley, and Maya Shelley; numerous nieces and nephews.
He was preceded in death by his mother, Deaun, and his brother, Ned Jr. Memorials for a scholarship fund in the name of B. Weldon Shelley may be made in care of the Davis Funeral Home, 2203 West Main, Riverton, WY 82501.
On-line obituaries are available and condolences for the family may be made at: thedavisfuneralhome.com Services are under the direction of the Davis Funeral Home of Riverton.
---
RALPH TRUMAN SPENCER
Ralph Truman Spencer, 89, passed away at the Sublette Center in Pinedale Monday morning December 8th 2008. He had been a resident at the Sublette Center for about 1 year. He will be returned to his home state of California for funeral services and interment.
See The Archives for past articles.
---
Copyright © 2008 Pinedale Roundup
All rights reserved. Reproduction by any means must have permission of the Publisher.
Pinedale Roundup, PO Box 100, Pinedale, WY 82941 Phone 307-367-2123
editor@pinedaleroundup.com