From the pages of
Pinedale Roundup
Volume 105, Number 48 - November 27, 2008
brought to you online by Pinedale Online
---
Obituaries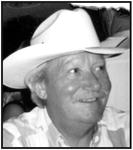 MICHAEL R. NYSTROM
MICHAEL R. NYSTROM
Long-time resident, Michael R. Nystrom, 70, passed away Nov. 18 at his home at Boulder Lake. He was born in Berkeley, Calif., and lived in Durham, Calif., until moving his family to Boulder in 1965.
He was co-owner of Boulder Lake Lodge, White Pine and was a real estate broker. His true love was the mountains and his life in Wyoming. He especially loved his family and friends.
He is survived by his wife, Donna; son Mike (Margie) Nystrom of Cora; son Greg (Dari) Nystrom of Oregon; daughter, Michelle (Lonnie) Taylor of Texas and daughter Lisa Green of Texas. Survivors also include his grandchildren Kelli Ann, Brandon, Alex, Quinton, Brandon and Jasmyn and a brother, John (Peggy) Nystrom of Alabama.
Cremation has taken place and the family wishes that in lieu of flowers donations be made to a scholarship fund at Pinedale High School (Box 549) in his name or to the McKenzie Meningitis Foundation (Box 1368) both located in Pinedale, WY. A BBQ will be held next summer with his friends and family.
See The Archives for past articles.
---
Copyright © 2008 Pinedale Roundup
All rights reserved. Reproduction by any means must have permission of the Publisher.
Pinedale Roundup, PO Box 100, Pinedale, WY 82941 Phone 307-367-2123
editor@pinedaleroundup.com