From the pages of
Pinedale Roundup
Volume 105, Number 46 - November 13, 2008
brought to you online by Pinedale Online
---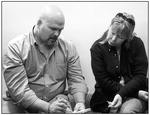 House District 22 candidate Charles Stough (R) takes a look through his Election Day notes while awaiting the recount results.

Alpine precinct will vote again

by Jonathan Van Dyke

It's not over until it's over.

Due to concerns over voter improprieties in the Alpine precinct of Lincoln County, a special election will be held in just that precinct to determine the ultimate outcome of the House District 22 race.

"I was just really interested to see the process unfold," candidate Jim Roscoe (D) said Wednesday. "They really struggled [with the decision] because they've never had to do anything like this before."

The unofficial results gave Roscoe a slim, four-vote victory over Republican opponent Charles Stough. Lincoln County had voted 368 in favor of Roscoe and 323 for Stough. The complete vote tally was 2,891 for Roscoe and 2,887 for Stough.

"I think I would have been happy with whatever they determined," Roscoe said.

The State Canvassing Board met on Wednesday morning and voted 3-1 for a revote in the Alpine precinct. The special election will be held on Nov. 25, with further details pending.

The canvassing board is comprised of Gov. Dave Freudenthal, Secretary of State Max Maxfield, State Treasurer Joseph Meyer and State Auditor Rita Meyer. Maxfield was the lone dissenting vote, calling for the inclusion of all precincts.

Neither Teton County nor Sublette County had found any improprieties before the meeting. Disenfranchising voters, especially those stationed overseas voting absentee, was reportedly a major concern during the discussion.

"There were a lot of those (absentee ballots) that came from Iraq and Afghanistan," Roscoe added.

Initial recounts came up with little to change the outcome of the election.

"We had no discrepancies, there's nothing material in our election that should affect the results," County Clerk Mary Lankford said. "We came up with all the same numbers we came up with on Tuesday night."

Teton County was similarly ready to send its results to the State Canvassing Board.

However, the swift moving office in Lincoln County — where only one precinct voted for the House District 22 race — was less optimistic about its results.

"There are some discrepancies, not in the recount itself, but in the voters," said April Brunski, deputy clerk of Lincoln County.

Lincoln did certify its results, but put a note on them that 11 voters had actually cast ballots in the wrong precinct. The 11 voters were supposed to vote at the Etna 2-5 precinct, which falls under House District 21. Precinct judges are in charge of making sure each voter is valid for their precinct, but Tuesday brought a record number of voters out.

"You just don't like these things to happen," said Jeanne Wagner, Lincoln County Clerk. "That precinct registered over 200 people that day. They were just overwhelmed by the massive turnout at the polls. A mistake was made."

The Alpine precinct also allowed two potential felons to vote. However, the county follows up on those voters, and most of the time the voter is cleared of that status, Wagner said.

The last time a revote occurred was for the House District 36 election in 2002. The State Canvassing Board decided then to have all precincts revote. However, that particular race took place entirely in one county, while the House District 22 race is an odd swath of Sublette, Teton and Lincoln counties.

The Sublette County Republicans sent a letter to the canvassing board requesting a revote in all precincts.

Due to the high amount of new voter registrations, the Sublette County Clerk's Office is still authenticating them. Because of this, the Republican Party would not have enough time to authenticate those votes either, chairperson Cat Urbigikit said.

"We won't be able to fully look at that until the state canvassing board has already met and decided on whether to have a special election," Urbigkit said.

Because not everything could be doublechecked ahead of time, Urbigkit felt the state would have to have all precincts vote.

"We have to give these candidates their due," she said. "I don't know if Charles Stough will be given his due if we don't do this."

Stough could not be reached for comment early Wednesday.

A race that was run cleanly and with little vitriol will remain that way, Roscoe said.

"We (Stough and I) met right on the steps [leading up the state capitol]," Roscoe said.

"We rode the same elevator up. We were talking about how we'd probably have to keep campaigning."

Photo credits: Jonathan Van Dyke

See The Archives for past articles.
---
Copyright © 2008 Pinedale Roundup
All rights reserved. Reproduction by any means must have permission of the Publisher.
Pinedale Roundup, PO Box 100, Pinedale, WY 82941 Phone 307-367-2123
editor@pinedaleroundup.com