From the pages of
Pinedale Roundup
Volume 105, Number 45 - November 6, 2008
brought to you online by Pinedale Online
---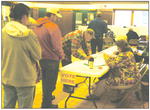 Local voters lined up just outside the Wrangler Gymnasium on Tuesday morning to cast their ballot in this year's election. A record number of voters showed up to the polls throughout the nation.

Roscoe beats Stough by a mere four votes

by Jonathan Van Dyke

A record voter turnout saw a wild finish for candidates vying for the House District 22 Seat.

Democrat Jim Roscoe edged out Republican Charles Stough by the narrowest of margins — four votes.

"I still can't really accept it yet," Roscoe said. "I'm sure there will be a recount. Charles called right away and we had a great conversation."

Indeed, all three counties — Sublette, Lincoln and Teton — that comprise House District 22 will run their ballots through again before the end of the week.

"Normally, it comes out the same, exactly," said Sharon Nethercott, Teton County election supervisor. "If there was a big difference in that race, yes, we would [possibly count the ballots by hand]."

The election gained immediate drama when Sublette County was only able to release initial results for six of the nine precincts — with both Pinedale precincts still out. Early results showed a wide margin of victory for Roscoe in Teton County and Stough in Sublette County. When results came in for Pinedale's precincts, Stough gained a 41-vote advantage.

Once the final results came into the commissioner's room — where Roscoe and his supporters were watching results — some tallies were calling it a Stough victory. However, Lincoln County came back with a 45- vote advantage for Roscoe, giving the candidate his small margin of victory.

"They counted it up and said four votes," Roscoe said. "I thought they were kidding."

So for now, the candidates must wait to make it official. Throughout the campaign both candidates had vowed to be civil in their discussion.

"We met early on in the campaign and agreed to make it a non-negative campaign, and both of us held to it, and it was really a pleasant experience," Roscoe said.

Stough was equally cordial, and actually called Roscoe the night of the election.

"I wish there was a more definite outcome, either way," Stough said on Tuesday. "I called Jim and congratulated him on a great campaign, and tentatively congratulated him on a his win. I hope it ends soon. We want to know who wins."

While stating he was only the presumptive nominee without the official recount completed, when pressed, Roscoe talked about his next steps as representative-elect.

"First I have to get my wood in, get my elk, catch up on my construction job and then I need to start studying and start taking some advice from people that are already in office," Roscoe said.

He said he hoped to learn from a variety of sources including Senate District 16 winner Dan Dockstader, Gov. Dave Freudenthal and other legislators including current representative Monte Olsen. Property tax relief was immediately on his mind.

"That was my promise, that my number one issue was property taxes," he added. "I would actually follow up on [Olsen's bill] that he introduced this last session and I would talk to [Rep. Keith Gingery of House District 23] about his bill."

It was an uphill battle for Roscoe to even by competitive in the heavily Republican region, but a door-to-door campaign might just have made the difference.

"I had an awful lot of support," Roscoe said. "My family was tremendous. I campaigned for the last week with my older son and that was as fun as anything."

The recount could still tilt the race. The combined three counties had 215 under votes (not voting for any candidate). Sublette County has two over votes (voting for too many candidates).

"Either way, Sublette County is going to be well represented in Cheyenne," Stough said.

— Commissioner John Linn defended his county commission seat, defeating Democrat Courtney Skinner 58 percent to 35 percent. Linn was running for his first re-election and Skinner was on his third try for a county commissioner spot.

"I just want to thank the people that voted for me and thank my family and friends that helped me campaign," Linn said.

Linn commended his opponent for a wellrun race.

"Courtney was serious about [his campaign]," Linn said. "He feels very strongly about Sublette County. His campaigning was not taken lightly. He brought up serious issues and kept at it. I wish him good luck going forward."

As for Linn, the commissioner will continue to move forward on a diverse agenda.

"We need to get our air quality study going and that's a hot ticket item right now," he said. "I'd really like to see some more thought and effort put toward property tax relief for our county residents."

— When all was said and done, Sublette County residents went to the polls in droves on Tuesday.

"We had tons of voters, tons," County Clerk Mary Lankford said. "It was just incredible."

Before the election, Sublette County had 3,784 registered voters. By the end of the night, 4,375 ballots had been cast — over 100 percent voter turnout.

"The way the day pretty much went, we got hit really hard first thing, and they were busy until about noon," Lankford said.

"Then they slacked out a little in the afternoon before they had more business near 5 p.m."

The large amount of previously unregistered voters made it a hectic day for Lankford's office, but no voters were turned away, she added.

"We ran out of ballots and we made more ballots," Lankford said. "We had plenty of ballots for everybody by the end of the day so there wasn't anybody turned back because of ballots."

Despite the low population numbers, voters even got a taste of big city voting lines.

"I know up here [in the two Pinedale precincts] we had people standing in line just like everybody else in the country, standing in line for 15 or 20 minutes," Lankford said. "But they were just that busy."

Photo credits: Stephen Crane

See The Archives for past articles.
---
Copyright © 2008 Pinedale Roundup
All rights reserved. Reproduction by any means must have permission of the Publisher.
Pinedale Roundup, PO Box 100, Pinedale, WY 82941 Phone 307-367-2123
editor@pinedaleroundup.com