From the pages of
Pinedale Roundup
Volume 105, Number 44 - October 30, 2008
brought to you online by Pinedale Online
---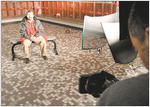 Coach Cole Clifford of the Big Piney Puncher football team sits under the bright lights in his locker room while being interviewed for a segment to be aired during NBC's Sunday Night Football.

National TV For Big Piney Football
Punchers will be featured on NBC
by Jonathan Van Dyke

No Friday Night Lights?

Big Piney and those of its western Wyoming brethren tend to have early start times — a trend easily understood for anyone standing outside as the sun goes down during the fall in Sublette County. Big Piney doesn't consider itself the "Icebox of America" for nothing.

"Tuesday was kind of rough for us, we're not used to that," said Bob Fremgen, copywriter for the production company Saatchi and Saatchi. "I think it hit like 14 (degrees) or something, so we're not ready for that."

Those conditions will garner the Big Piney Punchers national attention during NBC's Sunday Night Football later this year. Earlier last week, the camera crew arrived to film two 45-second segments on the Punchers for the "Toyota Tundra Line of Scrimmage" halftime show.

"We decided to do the 'gutsiest schools' in the nation in high school football," Fremgen said. "Gutsy is a very subjective term for this story. The reason that Big Piney is on the map is because of the extreme cold temperatures and altitude they play in every week."

The agency initially reached out to former coach Joel Eskelsen several years back, and had him fill out several questionnaires for future consideration.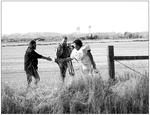 Puncher James Jones III wraps up a filming session with the camera crew.

"We've had a really good run the last 10 years," Coach Cole Clifford said. "We got the call at the end of last year that we were selected to be one of the schools for their halftime show."

So the agency from Los Angeles descended on Big Piney, but it was hardly the intrusion that some might have expected.

"These guys are very organized," Clifford said. "You worry about distractions to your team, but I think it's been very positive for my kids."

For the most part, Fremgen and his crew stayed out of the way, taping practice on Tuesday and traveling the area to capture the scenery and history. On Thursday, they set up a brief interview period with Clifford and a few of his players.

"It was weird, but it was fun," defensive tackle James Jones III said. "I've never been interviewed by camera people."

Jones was filmed behind the school, walking with the mountains in the background as a two-man camera crew took in the landscape.

"Earlier today they filmed me fishing, they interviewed some older people up here and they went up to the mountains and took some shots up there," said running back/linebacker Shane Copeland. "It's pretty cool, but it's kind of nerve-wracking."

While practice proceeded per usual, Clifford did note some changes in attitude.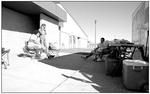 Teammates James Jones III and Shane Copeland wait by the crew truck during the interview session.

"I know my boys are all very excited to get on TV," he joked. "These are the only forms I think I've had all of them turn in on time, so they have their priorities straight."

Ironically, the latter part of the week saw temperatures rise to almost 60 degrees, but the crew still got a sense of the cold that Tuesday.

"Luckily Tuesday we had the wind coming off the mountains and so the temperature was down in the 20s and it was really cold that day," Clifford said. "Everyone was bundled up and they got to feel the chill."

The crew agreed.

"They have long-sleeved shirts on, but we're ready for the South Pole expedition," Fremgen said.

During the halftimes of the NBC Dec. 28 and Jan. 3 NFL games Big Piney will join a roster full of other worthwhile gutsy stories including an Iowa town ravaged by a tornado and a North Carolina school that plays on despite many fathers off to war. Both segments will be 45 seconds.

"You want to tell a quick story, but there's a lot to tell," Fremgen said.

Although players were a bit on edge, the experience actually helped for preparation against 7-1 Cokeville.

"Just to see their excitement at being out here the other day in the cold and being filmed was one of our best practices," Clifford said. "Our practice was almost a game the other day because everyone wanted to get that good hit to get on TV."

In the end, the cameras saw a young and valiant team fall to Cokeville 20-0. Still, all will remember the experience positively and the Punchers were a continued testament to the virtues of high school football.

"We've been to some kind of rougher schools — not the nicest places — but to a man and to a school, the football team has always consisted of really nice kids, always respectful and very well disciplined," Fremgen said. "That's something to be said for the game."

Photo credits: Jonathan Van Dyke, Jonathan Van Dyke, Jonathan Van Dyke

See The Archives for past articles.
---
Copyright © 2008 Pinedale Roundup
All rights reserved. Reproduction by any means must have permission of the Publisher.
Pinedale Roundup, PO Box 100, Pinedale, WY 82941 Phone 307-367-2123
editor@pinedaleroundup.com