From the pages of
Pinedale Roundup
Volume 105, Number 42 - October 16, 2008
brought to you online by Pinedale Online
---
Obituaries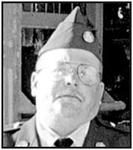 ROC CARTER
ROC CARTER
Roc Carter, 48, of Rock Springs, WY died Tuesday October 7th 2008. Roc was born on August 12, 1960 in Scottsbluff NB to Rod and Katherine Carter. Growing up Roc played many sports and excelled at baseball earning a college scholarship; unfortunately he damaged his ankles in football and never got to play college baseball. After graduating from High School in Gering NB, Roc joined the Army National Guard. He served for twenty years in Nebraska, Colorado and Wyoming. Roc retired from the 1041st Bridge Boat Engineer Unit in 2000.
Roc moved to Rock Springs in 1985 to pursue a job in the oil industry, he worked for many companies. At the time of his death, he was employed with Aurora Power in Alaska. He had many friends in the oil field and enjoyed spending time with his coworkers.
In 1993, he met Anita Layland and the two were married in 1994. They had two children, Rodney Luke in 1994, and Victoria Christine in 1997. Roc and Anita later divorced.
Roc had a passion for Nebraska football, serving in the National Guard, spending time with his friends and of course his children.
Roc is survived by his son and daughter, Rodney and Victoria of Pinedale WY, dad Rod Carter of Cheyenne WY, mother Katherine Carter of Gering NB, one sister Jeannette Carter of Denver CO. His grandmother Leota Kennedy of Gering NB, grandfather Ray Carter of Helena ARK, two aunts, Jodie and Gloria of Denver, and many nieces and nephews.
He was preceded in death by a grandfather and grandmother. Cremation and rosary have taken place. A private graveside service will take place at a later date.
See The Archives for past articles.
---
Copyright © 2008 Pinedale Roundup
All rights reserved. Reproduction by any means must have permission of the Publisher.
Pinedale Roundup, PO Box 100, Pinedale, WY 82941 Phone 307-367-2123
editor@pinedaleroundup.com