From the pages of
Pinedale Roundup
Volume 105, Number 42 - October 16, 2008
brought to you online by Pinedale Online
---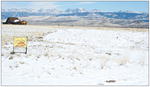 Beautiful vistas await potential house owners, but the current economic climate appears to be taking a toll even in Sublette County, where home sales are down about 45 percent.

House market hurting

by Jonathan Van Dyke

Sublette County is far from invulnerable to what ails the nation — and its housing market may be the most telling sign.

"At the current sales rate per month for 2008, there's enough [residential] inventory of lots currently on the market to last over five years, if we add nothing else," County Planner Bart Myers said.

According to the Multiple Listing Service and the County Assessor's Office, the county has seen a dramatic drop off in residential purchases since last year. Only 51 vacant residential lots have sold through September of this year, down about 55 percent from last year's 113. Actual house sales have also seen a sharp decline from last year's 148 through September to this year's 82, down about 45 percent. Just four total lots were moved during August and September.

"My bet is that some of that decline in the number of sales has to do with the inability of people to get financing due to the credit crunch," Myers said. "I've been told that the rental market is still really good here and part of the reason might be because people aren't able to buy homes."

However, whether the market has truly slowed may hinge on ownership and recognition of the market.

"People that are pricing according to last year's prices are still seeing houses move," said James Rogers, broker/partner of Pinedale Properties.

Previously, many owners were able to mark up land and prices considerably as Sublette County's energy boom emerged, but that streaking market may be leveling off. Rather than increasing prices yet again, owners may have to look at making less of a profit margin if they wish to move the property, Rogers said.

"We're definitely seeing a price adjustment, which is very good," he added. "We've needed that for a while."

Many are looking to sell with a yearly appreciation, which may no longer be possible.

Whether depreciation is on the way, and whether overdevelopment could cause a housing crash, remains to be seen.

Even if the market sees an overshoot, construction inflation may be its saving grace.

At 8 percent, construction inflation has risen to the point that any possible depreciation period will more than likely be countered for most new additions, Rogers said.

While the county has seen almost 100 new lots introduced in the last month before the winter season, the town of Pinedale has noticed a slowdown.

"We've seen a drop in submissions to planning and zoning and as far as building permits issued in the last four or five months," said Eugene Ninnie, town engineer. "Everyone is working through the same problems around the country."

The county has issued about 100 less building permits this year, also.

For the most part officials have a laissez faire approach to regulating the market in the county.

"I feel strongly that if a landowner wants to come in and present any kind of land proposal to get his value out of that land, unless there's a compelling reason not to do it that's in violation of the county master plan, then I feel they have the right to do that," said William Cramer, chairman of the Sublette County Commission. "Maybe their lots will sell and the one's [the commission] previously approved won't. We don't know where the demand will be."

The debate remains as to whether county officials should let the market be or work for some influence over a possible over-saturation. Myers noted the problem of letting the inventory increase without a demand, is that "everyone's property value begins to become affected."

"One criteria for a zone change is community need," Myers said. "So I think community need goes right to supply and demand and the whole idea that too much supply and too much inventory can be as harmful as not having enough inventory during the boom period. That should be one of the criteria we look at."

However, even if developers purchase up the land, zone change it and divide it into lots, it is then up to that developer to put it up for sale, something they may hold off on until the market regains momentum, Ninnie added.

"If they continue throwing more lots out of there, that's the landowner's prerogative," he said. "The reality is that you might not be able to move them."

Rather than regulate what comes into the county, Ninnie stressed the importance of planning and zoning so that controls are in place for lots to best incorporate — such as regulations for parking, sewer and architectural standards.

"I wouldn't worry about how many lots, because then you're getting into the market," Ninnie said.

The county has taken a mantra for building near the towns, where infrastructure like sewer and water are more readily and safely available.

"We should be concerned about overdevelopment, especially in the more rural areas of the county," said Albert Sommers, Chairman of the Sublette County Planning and Zoning Commission. "In fact, one of the findings the county must consider in making a zone change is public need."

Earlier in the year the county released the "Collins Planning Associates: An Assessment of Current Housing Conditions." The report warned about the seesaw of meeting the housing demand while working for a "soft landing" when the energy development comes to an end, something that may or may not take government intervention.

"If the citizens of Sublette County feel that there should be no checks and balances on development, other than those provided by the Wyoming Department of Environmental Quality, then they should demand the elimination of zoning," Sommers said. "I do not believe that would be prudent."

Sommers noted that his and the towns' planning and zoning commissions are merely entities of recommendation — something he has felt privileged to do for six years. The final decisions rest on the county commission and town councils.

The ultimate solution may go even further than simple planning and zoning. A strong economy that can survive without the energy industry may be the most important thing for the county moving forward, to ensure the real estate and local market doesn't suffer, Ninnie said.

For now the county may only be experiencing a leveling off from lofty heights, and not a downward spiral, by any means.

"Maybe we're a little bit ahead of schedule [on meeting demand]," Myers said. "Is that trend going to continue? So far in 2008, it's been a pretty steady decline."

Photo credits: Jonathan Van Dyke

See The Archives for past articles.
---
Copyright © 2008 Pinedale Roundup
All rights reserved. Reproduction by any means must have permission of the Publisher.
Pinedale Roundup, PO Box 100, Pinedale, WY 82941 Phone 307-367-2123
editor@pinedaleroundup.com