From the pages of
Pinedale Roundup
Volume 105, Number 40 - October 2, 2008
brought to you online by Pinedale Online
---
Obituaries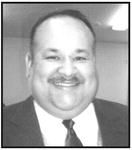 STEVEN E. ARRELLANES
STEVEN E. ARRELLANES
Steven E. Arrellanes, 39, of Pinedale, died September 24, 2008, peacefully in sleep at his home near Boulder. Steve, the son of Linda S. Arrellanes, was born June 14, 1969 in Santa Barbara, CA. He graduated from Dos Pueblos High School in Goleta, CA. He was raised as one of Jehovah's Witnesses (baptized in 1987). An avid Bible student and teacher, he was a great inspiration to all with heartfelt expressions of his faith. In 2006, he moved to Pinedale, where he was embraced by friends and family. He married Katrina Beckstead on September 20, 2006 at Pinedale's Kingdom Hall. Steve and his wife owned and operated DA Screening in Pinedale. Steve loved to relate stories of his childhood experiences and friends growing up in California.
He is survived by his wife Katrina; his uncle, Daniel Arrellanes; his aunts, Loretta (Mike) Holt and Sara Lopez; and his cousins, Elaina Arrellanes and Erica (Mark) Dakos.
Memorial services will be held Saturday, October 4, 2008 at the Pinedale Kingdom Hall of Jehovah's Witnesses (5 miles west of Pinedale) at 3 p.m., with a reception following at Rendezvous Pointe in Pinedale.
---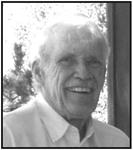 LARRY J. BOURRET
LARRY J. BOURRET
Larry J. Bourret, 76, Laramie, died Monday, Sept. 22, 2008, at his home.
He was born Sept. 22, 1932, in Harrison, Nebraska to Francis (Bud) and Fern (Eberspecher) Bourret. He graduated from Sioux County High School in 1951. He was a veteran of the Korean War, serving in the United States Navy as a radioman on several minesweepers. He graduated from the University of Wyoming in 1959 with a B.S. in agriculture. He was a lifelong advocate of Wyoming agriculture.
He lived in Cheyenne from 1966-1982 where he was the county agent in Laramie County and the Wyoming Commissioner of Agriculture. His career also included being the executive vice president of Wyoming Farm Bureau Federation. Among his many awards, he was recognized as an outstanding alumnus by the University of Wyoming in 1991.
His greatest joys in life were his saving faith in his Lord Jesus and his loving family.
He was preceded in death by his father and mother and one granddaughter He is survived by his wife of 51 years, Bobbie, of Laramie; a son, Ted Bourret and his wife, Bonnie of Potter, Neb.; three daughters, Julie Zook and her husband, Dennis; Suzanne Johnson and her husband, Anthony; and Jonene Day, all of Laramie; nine grandchildren and 10 great grandchildren.
Survivors include two brothers, Bill Bourret and wife, Isla, of Glenrock; James Bourret and wife, Linda, of Moran and two sisters Bonita Broderick and Kay Stone and husband, Earl, all of Gillette and numerous nieces and nephews.
Private family services will be at a later date. A memorial fund in his name has been established at UniWyo Federal Credit Union, Attn: Leslie Johnson, 1610 E. Reynolds, Laramie, WY 82070.
See The Archives for past articles.
---
Copyright © 2008 Pinedale Roundup
All rights reserved. Reproduction by any means must have permission of the Publisher.
Pinedale Roundup, PO Box 100, Pinedale, WY 82941 Phone 307-367-2123
editor@pinedaleroundup.com