From the pages of
Pinedale Roundup
Volume 105, Number 4 - January 24, 2008
brought to you online by Pinedale Online
---
Obituaries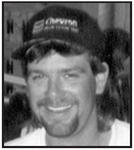 Scott Leroy Buss
Scott Leroy Buss
Scott L. Buss, passed away on Jan. 16, 2008, in La Barge, Wyo., at the age of 36. He was born on May 1, 1971, in Kosciusko County, Ind., the son of Randall and Roxanna S. (Swartz) Buss. He loved to hunt and spend time working on automobiles. Scott loved to pull pranks on people. He was a talented individual.
He is survived by his daughter, Holly Marie Buss, of Marbleton, Wyo.; mother and step-father, Roxanna (John) Hodges, of Big Piney, Wyo.; father, Randall Scott Buss, of Laketon, Ind.; brothers, James Shannon Hodges and Rory Malcom Hodges, and a sister, Tammy Renae (Billy Joe) Kaiser, of Big Piney. He is also survived by a maternal grandmother, Evelyn Swartz. He is further survived by nieces and nephews, Brittney Crawford, Kory Graham, Jamie Graham and Chancee Kaiser.
He was preceded in death by his maternal grandfather, Harold Swartz, and a paternal grandmother, Elvira Butterbaugh. Funeral services were to be conducted on Sunday, Jan. 20, at 2 p.m. at the 1st Baptist Church in Big Piney, with Pastor Larry Mizell officiating. Cremation will proceed funeral services.
The family has requested that in lieu of flowers, memorial donations may be made to the Bank of The West in Big Piney. Arrangements are under the direction of Ball Family Chapel of Kemmerer, Wyo.
See The Archives for past articles.
---
Copyright © 2008 Pinedale Roundup
All rights reserved. Reproduction by any means must have permission of the Publisher.
Pinedale Roundup, PO Box 100, Pinedale, WY 82941 Phone 307-367-2123
editor@pinedaleroundup.com