From the pages of
Pinedale Roundup
Volume 105, Number 4 - January 24, 2008
brought to you online by Pinedale Online
---
Local connection for Romney campaign

by Alecia Warren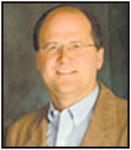 COLEMAN ANDREWS

Despite Wyoming's earnest attempt to advance to an integral position in the national election process by shoving its county caucuses to an early January date this year, few presidential candidates bothered to slate the arid state into their campaign tours. Yet former Massachusetts governor Mitt Romney managed to slip in two tours of the least-populated state in his crammed schedule, and stopped by Jackson, Gillette, Riverton and Cheyenne, while two of his five sons worked in the state.

Whether it will help Romney in the presidential race or not, he holds a strong tie to Wyoming, and he brought a part of the Cowboy State with him to the critical New Hampshire primaries on Jan. 8. Indeed, Coleman Andrews, Rocky Mountain Bank (RMB) CEO, stood at the candidate's side as the votes accumulated, just as he had followed Romney during his Wyoming campaign tours.

Andrews and Romney owe each other a good deal after building one of the world's most lucrative investment firms together 16 years ago, a company that not only launched Andrews to a financial status in which he could acquire and augment a Wyoming bank network, but also spurred Romney to a position of such public prominence that he could follow in his father's footsteps as a presidential candidate.

Of course, whether Romney duplicates his father's failure in the race remains to be seen. Romney won the Wyoming county caucuses on Jan. 5, and came in second place at both the Iowa and New Hampshire primaries. Andrews, who has been a Wyoming resident for the past several years and whose bank branch locations include Pinedale, insists that after years of 12-plus hour work days filtering through financial reports and cracking business deals side-by-side with Romney, he knows firsthand why Wyoming residents would benefit from the candidate's victory.

At the very least, he said, he can give good reason why he'll always support Romney as the candidate supported him in their budding business years.

"I have been pretty fortunate in meeting a significant collection of people in my line of work, and Romney ranks at the very top," said Andrews, who now lives in Jackson. "He's a person who dreams pretty big dreams, and he accomplishes them. There's a magnetism to his personality in that regard."

When the raven-haired presidential candidate broadcasts his platform on aggressive economic reform, he points to his brainchild Bain Capital, the Massachusetts-based investment firm that buys struggling companies and tweaks them with a secret formula for success before selling them for profit. The success stories Bain Capital has churned out include Staples, Domino's, Sport's Authority and Brookstone. Investors in the company have averaged at about 59 percent of their investments.

But the company began as an unknown in 1983, conceived by two suit-clad idealists with no money, limited investment experience, and only a handful of plane tickets for a long campaign to plead potential investors to share in what their business instincts screamed as a good idea.

Andrews and Romney, at the time 29 and 35, had naturally gravitated to each other to partner in a new and undoubtedly risk-ridden business.

Both promising consultants during the six years they worked together at the then small consulting firm Bain and Company, the pair made two impressive investment deals for the firm that quickly flourished. Basking in this success, the two resigned to form Bain Capital.

"We'd never done it before, that made it difficult to raise our first funds — it was a real struggle to convince people that they should invest with us, since we didn't have a long track record," Andrews said.

But the two young men touted their solid successes and their only other asset at the time — enthusiasm.

"I remember potential investors at the other side of the table saying, 'I'm not sure how it'll work out, but you two have enormous energy and I think you'll figure it out,'" he said.

The words sounded familiar, almost verbatim to Andrews' description of Romney the first time they met, when Romney approached Andrews at Stanford Business School about working for Bain and Company. "I had pretty much decided to go join another company, and then this guy I'd never heard of named Mitt Romney from this company I'd never heard of called Bain and Company walked into my business school and started talking to me," Andrews said of the day in 1978, which he proudly noted the 31st anniversary of on the day of the New Hampshire primaries. "An hour later, I thought, 'I still don't know a lot about the company, but this guy's clearly a winner. I want to join him and go where he's going.'" And so he followed Romney at Bain Capital.

With $37 million raised from investors to purchase their first business, the pair hired five other employees and proceeded to take on the business world on their own, traveling across the U.S. and Europe to analyze companies inside and out, probing for faults and potential for blazing success.

"We would never make an investment that we didn't both agree on," Andrews remembered. "The investment world is littered with thousands and thousands of examples of private equity firms that buy companies and have rude awakenings that the company isn't as strong or doesn't perform as well as they thought. Historically over the years, more than decades now, Bain Capital has an exceptional record of very few losses."

The pair of young investors managed to avoid the telltale mistakes with a business analysis technique they had developed while working at Bain and Company. They investigated a business's industry, market, customer base and cost position, and knew just as much or more about its potential than the business owners themselves when they finally cut a deal.

The process, far more detailed than most firms practice, Andrews said, taught him how to weigh investments on his own, and eventually enabled him long after his Bain Capital days to acquire the American National Bank of Rock Springs in 2005. He converted the company from a national bank to a Wyoming bank, and expanded its assets from $50 million to $300 million over two and a half years.

But more than a decade earlier, the method provided Romney and Andrews with the epiphany that people might one day covet discount paper clips and printing paper.

"Although Mitt was fairly enthusiastic about the Staples idea initially, he made sure about every assumption of whether Staples would be able to offer price advantage, the extent to which the market for office supplies would grow, and how many markets it could compete in," Andrews said. "Romney has the unusual characteristic of being able to examine all sides of a question before making a decision. He's never one to rush into a decision or judgment without considering all points of view."

And it wasn't just in the success with Staples, which Bain Capital initially invested $650,00 into, and now boasts a value of $18 billion, that made Andrews observed Romney's beneficial compulsions.

"My favorite anecdote is, Romney is perhaps the most frugal human being on Earth," Andrews said. "When we used to go to the movies, he and his wife Ann would pop their own popcorn at home — Orville Redenbacher. He figured they could do that for 65 cents instead of paying $4.50. To the best of my knowledge, he still does that to this day."

Now just a limited partner of Bain Capital, Andrews's days of scouring the world for companies to cure are over.

He still works nights and weekends, though, only now as political and finance chairman of Romney's Wyoming Statewide Steering Committee, and as one of Romney's national finance co-chairs.

Andrews' 24-year-old daughter also works as Romney's campaign manager in the state, and neither she nor her father felt surprised to see Romney win the Wyoming county caucuses in January.

"When I was with him on the Gillette, Riverton and Cheyenne trip, there was enormous energy — big crowds, 200 to 400 people at each event, a lot of enthusiasm," Andrews said. "I've seen their reception over other candidates, and they haven't gotten the high enthusiasm Mitt received. I think the number of his supporters in Wyoming will only rise as more candidates drop out of the race."

Reflecting on how even the hardest years were easy with such a buoyant partner at his side, Andrews harbors high hopes for this November.

"I think Mitt would be an unusually effective president," Andrews said. "The one thing that I want, I tell him, is just govern wisely. That's what I'm looking for."

See The Archives for past articles.
---
Copyright © 2008 Pinedale Roundup
All rights reserved. Reproduction by any means must have permission of the Publisher.
Pinedale Roundup, PO Box 100, Pinedale, WY 82941 Phone 307-367-2123
editor@pinedaleroundup.com