From the pages of
Pinedale Roundup
Volume 105, Number 4 - January 24, 2008
brought to you online by Pinedale Online
---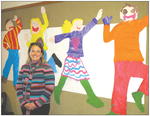 Candice Walker stands in front of self-portraits of her students that adorn the hallway of Bondurant Elementary School.

Bondurant's only teacher has four students

by Jennie Oemig

Though she instructs students nearly 50 miles from Pinedale, Candice Walker enjoys her job as the lone teacher at Bondurant Elementary School, a facility that Pinedale Elementary principal Greg Legerski has referred to as Sublette County School District #1's forgotten stepchild. Enrollment in Bondurant is reminiscent of the one-room schoolhouse days, as four students attend the kindergarten through fourth grade. And that's just fine with Walker.

"It's really nice because they get a lot of one-on-one attention," she said, adding that right now she is teaching kindergarten and first-grade standards. "In a lot of ways, it's a lot of different teaching."

And the entryway to the school is strewn with outdoor necessities, from neatly boxed boots to skis and poles. Walker explained that because of the climate and location, she is able to take the kids sledding and cross-country skiing.

Born and raised in Jackson, Walker attended junior college at Northwestern College in Powell, Wyo., where she studied arts and acquired an associate's of art degree. Realizing there wasn't much of a future in art, Walker said she enrolled at the University of Wyoming graduating with a bachelor's degree in elementary education. Walker had found her calling.

"I just really enjoy working with kids," she said of her decision to try her hand in the education field.

Entering her eighth year as a teacher, Walker said she started out instructing first graders at Pinedale Elementary School before moving to North Carolina to teach third grade. After meeting her husband, the couple decided to move back out West, where Walker began teaching at Bondurant Elementary School six years ago.

"It kind of just came up," she said of the opening in Bondurant. "And it was very fortunate because I was looking for an elementary position."

But this wasn't an ordinary elementary school.

"It was a huge transition," she said about switching gears from a larger institution. "It was very difficult. The first year, it was sink or swim."

Walker managed to stay afloat, adapting to being the school nurse, secretary and teacher all rolled into one.

"You do all of that," she said after fielding a call from one of the student's parents.

Though she may have more duties, Walker said she feels fortunate to have such an atypical job.

"It's pretty unique," she said. "I feel lucky … this is one of the few rural schools left in the country."

But the kids do have the chance twice a month to soak up the atmosphere of a normal school. Every other Wednesday, the students visit Pinedale Elementary School, which Walker said is as much fun for them as it is for her.

"Students really enjoy Pinedale days," she said. "They get to meet other students and experience a different kind of learning … and that's when I get to interact with other teachers."

Though there are only four students enrolled in Bondurant, Walker said she insists on maintaining the classroom decorum expected at other institutions. The students line up when it's time to go to lunch and raise their hands when they need help or have a question.

"I really try to incorporate the larger school expectations," she said. " … Because, someday, they're gonna be in a larger school."

And for the most part, all of the students are respectful of one another. "They get along well, but there are times when they act like brothers and sisters," Walker said.

While it may seem like the most obvious response, Walker said she enjoys her job the most when the kids comprehend something new.

"To see the students when their light bulb clicks and do something that they didn't know before, that's rewarding for me," she said. " … And the kids will say, 'my light bulb just clicked Mrs. Walker." Aside from that, Walker said she enjoys sharing high fives and hugs with her students at the end of the day.

"And it's a fun job," she said. "There's never, never a boring moment."

Of the countless hours Walker has spent at the school in the last six years, she said that her fondest memories are of the annual Christmas program.

"The kids put on a little production or play," she said. "It's such a great moment in teaching."

And while some teachers may falter at the thought of teaching at such a small institution, Walker said she wouldn't trade it for anything.

"It's a once-in-a-lifetime opportunity," she said. "And I'm glad I took the chance."

Photo credits: Jennie Oemig

See The Archives for past articles.
---
Copyright © 2008 Pinedale Roundup
All rights reserved. Reproduction by any means must have permission of the Publisher.
Pinedale Roundup, PO Box 100, Pinedale, WY 82941 Phone 307-367-2123
editor@pinedaleroundup.com