From the pages of
Pinedale Roundup
Volume 105, Number 39 - September 25, 2008
brought to you online by Pinedale Online
---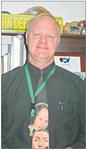 Pinedale Middle School Principal Kevan Kennington.

Middle School Principal enjoying role in Pinedale
Q&A With Kevan Kennington
by Stephen Crane

Question: What's your history in education?

Answer: I graduated from Utah State, got my administrative certificate from Utah State. I was an administrator at Star Valley, as an elementary principal for a few years. I coached (football and wrestling) there at Star Valley.

My kids ended up wanting to go to Utah State school, so I moved to Utah when most of them were in school because of the cost of schooling. So I was there for 11 years. I was in administration all of those years but one. And then, I found the need to come back to Wyoming.

I love Wyoming. Wyoming's a great place to be. The tax structure's low, low state income tax. I just think Wyoming's a great place.

And I applied in Pinedale because I had a good friend here. He called me and said, 'Hey, you really need to apply here.' So I applied here, and was fortunate to get the job. And this is my second year. And I think this is a great community.

As I meet people, they have good high standards for their families and for their community, and I think that's important. Education is valued by the community, which is another thing I really like about being here.

Q: Can you elaborate on this year's new Super Colt Trail to Success program?

A: We've done research, and a lot of research says if you have a strong charactered program that teaches social skills and so forth, academically, your kids will perform better. And also, they're better prepared for the world. If you know how to approach people, how to talk to people without having conflict and how to work through conflict, lots of times, just how you approach them, you won't have the conflict. So those social skills and that character building will help every one of our kids.

What we've done here at first, we've tried to teach them how to use a planner, so that's one of the big things we do. We teach them the handbook. They'll have a little quiz on the handbook and discuss all the procedures and what their expectations are here at school. So that's important, and we try to teach all those first.

And we have also implemented a behavior code, so when they break one of these rules then there's certain things that are going to happen to them, so we do that.

Also, we try to do goal-setting with the students in home room. They can be academic goals. They can be attendance goals here at school. It can be behavioral goals. So the teacher will spend some time setting goals with the students, and that teacher, also, in base camp, is their advisor and their advocate.

Then, as we get into it, we'll do a lot more social skills, such as how to disagree appropriately, and they'll role-play those kinds of things. (We'll also work on) how to make a request, a proper way to make a request. The secretary will sit here and kids will come up and say, 'Hey, I need something.' They need to know how to do it properly, and people will respond to them better. So those are some of the things, and I think it's so important.

Q: What are the biggest challenges confronting you as principal?

A: The biggest challenge we face right now is trying to predict what our class sizes are going to be at the end of the year, and trying to get a schedule and desirable class sizes because it can change in a hurry here. So that's one of our big challenges.

Another big challenge is how to meet the requirements of No Child Left Behind, and at the same time, give the students a wellrounded education with more opportunities to take alternative classes. Because they test on language arts and math, we feel like, 'Hey, we've got to spend lots of time on those two.' So we spend more time on that, and then we don't have time for other classes, because of that pressure. So the other thing in this with No Child Left Behind, is we've got to get better at identifying what needs to be taught, how we're going to teach that, how we're going to assess it to determine how well we're doing, and then, after we assess it, we've got to look at that information and say, 'Have they mastered what we want?' If not, what are we going to do?

Q: What is your favorite aspect?

A: I just enjoy being around the kids, and I do like to see a young kid who's struggling, and us helping that kid so he's no longer struggling, so he's doing well. I think that's a great reward in my life to see a kid go from one who's struggling to one who's excelling or doing very, very well. And that's academically, or socially, or behavioral-wise. That's worth a lot of money to me.

Q: What are some of the changes you've seen in the kids over the years?

A: These kids today are so far ahead of the previous generation in technology. It's totally amazing. Technology has just blossomed and bloomed, and these kids can do things with technology that their parents probably have no idea what some of them can do. So that has been good.

I do think over the 30 years that I've been (in education), I don't think the kids are hardly as aggressive physically. I remember a lot more fights than I do now. I think, also, the kids are a little more tolerant of each other, especially when they want to get up and do something on stage.

I remember being in school as an administrator, and kids didn't want to get up in front of their peers and do a program, or speak or sing or anything like that, because they'd make fun of them. Now, the kids love to get up in front and to perform, and I see that as a big change in our society.

It may be because of TV. Lots of times you have a lot of those programs where people get up and they show their stuff. And I don't know why, but the kids clamor, and boy, they're ready. They want to get up in front of their peers, and their peers are better to them.

I also can say this. The kids today, if you went into a math class, they're teaching in 8th-grade what they were teaching in sophomore classes a few years ago, so they're more advanced in a lot of those things, and they're progressing further up the line.

Q: What are some of the biggest challenges confronting kids today?

A: I still think drugs is something that we've really got to watch. I worry about kids and supervision, outside school. I think TV can be a negative in their life if they're not monitored.

I also think that today, the young people can come and go so quickly and do so many things, I think one thing students need to do is say, 'OK, I can't do everything. What am I going to do? What am I not going to do?' Because we're so mobile, we can go and do so many things, and I think sometimes, some kids try to do too much, and that puts too much pressure on the kids. They're still kids, and we can put too much pressure on them to do so many things.

Q: Do you have a particularly memorable story from your years in education?

A: Rulon Gardner would be one. He was a resource student. He could not get a scholarship in Division I when he was in high school because of his ACT and some of his grades, and yet he went on to graduate from a junior college and go on to the University of Nebraska. And there, he was an All-American. He had to work very, very hard to graduate, and then he went on to become an Olympic champion.

But there's other kids. There's so many of these kids that are not so well academically, but you give them a project to do that's with their hands, and they've got to create things. There's a lot of kids that can do very, very well.

I remember one kid. I was teaching science, and he wasn't really a good student in the class, but we did egg drops from airplanes, and this kid would come up with a design that would blow everybody else away, amazing kid. And I think that really helped his self-esteem as an individual. I mean, Thomas Edison wasn't the greatest, but holy cow, look at what he accomplished in his lifetime.

Photo credits: Stephen Crane

See The Archives for past articles.
---
Copyright © 2008 Pinedale Roundup
All rights reserved. Reproduction by any means must have permission of the Publisher.
Pinedale Roundup, PO Box 100, Pinedale, WY 82941 Phone 307-367-2123
editor@pinedaleroundup.com