From the pages of
Pinedale Roundup
Volume 105, Number 38 - September 18, 2008
brought to you online by Pinedale Online
---
Obituaries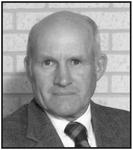 JUNIUS L. ALLEN
JUNIUS L. ALLEN
Junius L. Allen, age 84, peacefully returned to his Heavenly Father Tuesday, September 9, 2008 at the home of his daughter, Lisa, in St. George with all of his family by his side. Hewas born March
31, 1924 in Grace, Idaho to Mark Preece and Flossie Layton Allen. He was the second of four children.
He proudly served his country in the United States Navy overseas in World War II. Upon returning he married Helen Roper in the Salt Lake Temple on August 15, 1947. They began their married life in Grace, Idaho spending much of their time working a dairy farm. In later years they moved to Big Piney, Wyoming, where he was the owner of Allen Equipment for many years, retiring to live in St. George, Utah.
J.L. was affectionately known as Bugs. Anyone who had dealings with him knew him to be a hard worker, honest and a man of integrity. He was devoted to his country, his community, his religion, and his family. He was a fisherman and a golfer and never missed a Jazz game. He continually learned from his books, a scholar at history. He enjoyed exploring the countryside on his Skidoo, in his jeep and in his later years, on foot as he hiked the red hills.
He is survived by his children, Larry R. Allen (Judy), Big Piney, Wyoming, Kaye Allen Watkins, (Will), Edinburg, Texas, Lisa Allen Parker (Jeff), St. George, Utah, Heidi Allen Russell, Kennewick, Washington, and Debra Allen Moffat (Chris) of Big Piney, Wyoming. He is also survived by 23 grandchildren and 25 great grandchildren. He was a fun loving father and grandpa and holds a special place in each of their hearts. He was preceded in death by his parents, his wife Helen, two sisters Helen Snow and Madge Hansen, and one brother Chad Allen.
Graveside services were held Saturday, September 13, 2008 at 11 a.m. in the Grace Cemetery. Condolences may be sent to the family at www.webbmortuary.com . Arrangements are under the direction of Webb Funeral Home in Preston, Idaho.
---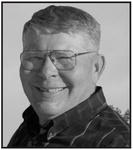 JAMES ROGER FLUGEL
JAMES ROGER FLUGEL
James Roger Flugel 57, of Urie, Wyoming passed away September 15th 2008 from a tragic accident. He was born in Collville, Washington July 28th 1951 to Jerry & Bonnie Flugel. James graduated from Pinedale High School and was fondly known as Jim or Jimmy. He was happily married to Christine Flugel of Urie, Wyoming for 26 years.
Jim was a 5th generation logger and an avid sports enthusiast. He enjoyed hunting and fishing with his family and friends. He was his children and grandchildrenís number one fan whether it was a football game or a violin recital and never passed up a chance to have coffee-shop talk with his friends. Jimís contagious smile and kindness were loved by all.
Jim is survived by: his wife Christine Flugel; his parents Jerry and Bonnie Flugel, of Fort Bridger, Wyoming; his two sisters Nancy and Jim Schmid of LaBarge,Wyoming, Diane and Roger Goodman of Wright, Wyoming; his four sons and two daughters Debbie and Alan Lindemood of Mountain View, Wyoming, Mark and Kathy Wentworth of Jacksonville, Florida, Boyd and Kristy Wentworth of Boise, Idaho, Joe and Keiko Flugel of Nampa, Idaho, Cayle and Tracy Flugel of Millburn, Wyoming, Liana and Andy Mears of West Jordan, Utah; and 19 grand and great grandchildren: Doug & Janey Rees, Dustin & Lynn Rees, Sarah Lindemood, Alicia Lindemood, Cody Wentworth, Karli Flugel, Katryna Flugel, Keaton Flugel, Jun Flugel, Jodi Flugel, Kai Flugel, Sydney Wentworth, Frankie May Mears, Nicholas Wentworth, and an expected baby Mears, Kaycie Rees, Dakota Rees, Colby Rees, Wyatt Rees, and Avery Rees.
Jim was preceded in death by his brother Chic Flugel.
Memorial services will be held at the American Legion Hall; Fort Bridger Wyoming on Saturday, September 25th at 3 p.m. Please come and share your fond memories of Jim.
---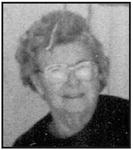 VIVIAN MARIE ZAVATSKY HUMPHREYS
VIVIAN MARIE ZAVATSKY HUMPHREYS
Vivian Marie Zavatsky Humphreys passed away Friday August 22, 2008 at the Sublette Center in Pinedale. Vivian was born September 23, 1923 in Chicago, Ill to Stephen and Vera Zavatsky. She grew up and attended schools in Grovers, Ill. She graduated from Downers Grove Community School on May 28, 1942 and attended Blackburn College in Carlinville, Ill. She was an insurance underwriter for several years. She later moved to Logan, Utah, and took more college courses.
In 1984 she met Arden Humphries, moved to Marbleton and they were married in 1985. Together they opened A&V auto parts in Marbleton. They worked side by side until retirement in 1996.
Vivian enjoyed the outdoor life including camping, fishing and hunting. She also enjoyed dancing, traveling and cooking. Most of all, Vivian loved spending time with her family.
She is survived by her husband, Arden of Marbleton; brother Courtney (Ruth) Morgan of Los Angeles, CA; three sons Donald (Leslie) Stormoen of Las Vegas, NV; Randy, (Dawn) Bickmore of Las Vegas, NV; and Bradley (Terry) Humphreys of Millville, UT; two daughters Diane (Alan) Lewis of Logan, UT and Anna (Gerard) Heronema, of Westminster, CO; 18 grandchildren 34 greatgrandchildren and 3 great-great grandchildren.
She is preceded in death by her daughter Beverly Louise Gallian; son Deemar Evan Humphreys; and grandson Carson Barraclough. Vivian was a beloved wife, sister, mother, and grandmother. She will be missed dearly and forever in our hearts.
Funeral services were held in Logan, Utah and interment took place in the Milville Cemetery. A memorial service will be held for Vivian on Saturday September 20th at the L.D.S. Church in Big Piney at 12 noon and a luncheon will follow the service at the church.
Family suggests memorial contributions be made to the Alzheimers Foundation, by phone (801) 265-1944 or online at www.alz.org/utah/in_my_community_donate. asp. Condolences may be sent to the family online at www.allenmortuaries.net.
---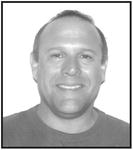 MICHAEL ANTHONY LAMBERT
MICHAEL ANTHONY LAMBERT
Pinedale resident Michael Anthony Lambert, 49, passed away September 11th at his home in Pinedale. He was born November 22, 1958 in Manhattan, New York. He graduated from high school in Yuma, Arizona in 1976. He attended college in Arizona and Wyoming at Yuma College and Western Wyoming Community College. He faithfully served his country in the United States Marine Corps. He was a member of the Catholic Church. He loved music and the outdoors and he once said he found his true home and love in Wyoming.
He is survived by Melody Hoggan, his love and companion; his mother Lucy Lambert; brother Joe Lambert; step father Fred Shaughnessg and his sisters on the east coast. He is preceded in death by his father and grandparents.
A memorial funeral service was held Tuesday September 16th at 1 p.m. at Covill Funeral Home in Pinedale. Father Lucas Kazimiro Simango of the Our Lady of Peace Catholic Church conducted the services.
---
KATHERINE E. SEEGMILLER
Katherine passed away on June 8, 2008. A brief Memorial Service will be held in her honor on October 4, 2008 at Half Moon Lake ó a place Katherine dearly loved.
Service will be conducted by Rev. Carol White, Pinedale Community United Church of Christ, and will begin at 10 a.m.
Please gather with us to honor Katherine's memory. Her family looks forward to seeing her Pinedale friends at this special time.
See The Archives for past articles.
---
Copyright © 2008 Pinedale Roundup
All rights reserved. Reproduction by any means must have permission of the Publisher.
Pinedale Roundup, PO Box 100, Pinedale, WY 82941 Phone 307-367-2123
editor@pinedaleroundup.com