From the pages of
Pinedale Roundup
Volume 105, Number 37 - September 11, 2008
brought to you online by Pinedale Online
---
Obituaries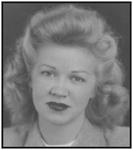 BEULAH M. FALER
BEULAH M. FALER
Beulah M. Faler, 87, of Pinedale, passed away peacefully on September 6th in Pinedale. Services for Beulah will be held on Friday, September 12th at the Pinedale cemetery with a reception immediately following at the Pinedale VFW.
Beulah was born on December 13, 1920 in Ironsides, MD to Charles and Edna Millar. She was one of nine children. She attended school in Maryland and graduated with honors at the age of 15. She was a talented athlete: the recipient of many tennis and volleyball trophies. After graduation, she went to work for the Naval Intelligence department in the United States Pentagon. During WWII she met the love of her life, Harold Faler, at a military dance where she was a hostess in Washington D.C. They married on June 24th, 1944 in San Diego, California. They then returned to Harold's home state and began their life together in Boulder, Wyoming. Two sons were born to them, Judson and Lester. Beulah taught elementary school in Boulder's one room schoolhouse her first year in Wyoming. Harold and Beulah opened their first grocery store, Faler's General Store, in Boulder after their first year of marriage. They eventually out-grew the store in Boulder and opened a larger store in Pinedale. The business grew to be successful and remained in the Faler family until January of 2008.
Beulah was a beautiful, noble and dignified woman. She brought the exceptional grace she learned from her upbringing back east into the small community in Pinedale, and never complained about the world she left behind or the trials of living in the cold rural west. She used her gifts and talents to raise her boys, even taught them how to play ball, and to bless the lives of all people who knew her. She enjoyed writing and authored Christmas plays for the Episcopal church in Pinedale, where she was an active member while her children were young. She was a gifted artist and received many ribbons for her original oil paints. She continued to display great athletic ability by competing and winning several golf tournaments over the years. She enjoyed playing bridge, riding horses, hunting and hosting events in the community. She will always be remembered for her generous heart, quiet yet unshakeable faith, and the kindness she displayed to all people. She loved her children and grandchildren with all of her heart and taught them all much of what they know about generosity, forgiveness, sincerity and unconditional love.
Survivors include her husband, Harold; son, Judson and his wife Claire, of Pinedale; sister, Lillian (Sugar) Walker of Maryland; grandchildren: Steve Faler of Pinedale, Brenda Szymczak of Casper, Beau Faler of Pinedale, Karen Nielson of Tacoma, WA and Kristie Wright of Texarkana, TX; 11 greatgrandchildren and many nieces and nephews.
She was preceded in death by her parents, 7 siblings and her beloved son, Lester. In lieu of flowers, the family requests that all donations be made to Sublette County Retirement Center, Attn: Ann Evenson, P.O. Box 788, Pinedale, WY 82941 to benefit patient comfort and medical needs.
---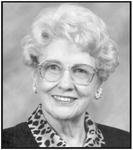 LUCILE SEAMSTER BARNES
LUCILE SEAMSTER BARNES
Lucile Seamster Barnes, 89, passed away Saturday morning August 30, 2008, peacefully asleep at her home in Fort Worth, Texas where she resided since 2005. She was a loving, loyal and devoted wife to her husband during 62 years of marriage and the epitome of a loving, supportive and nurturing mother to her family.
Lucile was well respected as a kind and gracious Christian lady who was active in the church and a generous supporter of many charities. She was a member and longtime supporter of the First Presbyterian Church in Freeport, Texas, and attended the Jackson Community Bible Church and First Baptist Church in Jackson, Wyoming.
Lucile was born on her family's homestead in Sheridan, Wyoming on Sunday April 20, 1919, to Thomas Olen and Anna Belle (Chitwood) Seamster. The family later moved to Muscatine, Iowa where she attended public school. Following her graduation from Muscatine High School in 1937, the Seamster family settled in Midland, Michigan where Lucile met her future husband, Earle Barnes, at the First Baptist Church in 1940. After completing a training program at The Dow Chemical Company, Earle was transferred to Dow's Texas Division in Freeport, Texas. Lucile and Earle were married on July 3, 1941, in Freeport, Texas where they made their home and raised four sons.
Lucile was an active member of the Brazosport community for 26 years until Earle was transferred in 1967 to Dow's corporate headquarters in Midland, Michigan. When Earle retired in July 1982, they made their home at Skyline Ranch in Jackson, Wyoming where they actively enjoyed the beauty of the Tetons in every season. Lucile and Earle owned the Dead Shot Ranch near Bondurant, Wyoming where they raised Arabian horses and were active in many community activities.
Lucile enjoyed crafts and fine arts, was an accomplished pianist and painter, loved cooking, crossword puzzles and scrapbooking as hobbies. She was a member of the P.E.O. (Philanthropic Educational Organization), whose mission is promoting educational opportunities for women. Lucile became a member in Freeport, Texas, continuing in Midland, Michigan, and helped to found a P.E.O. Group in Jackson, Wyoming in 1985, serving as its president from 1985 to 1987. She was also a charter member of the P.E.O. Chapter in Pinedale, Wyoming, founded in 1998.
Lucile was preceded in death by her husband, Earle Barnes, brother Alfred Seamster and son Ronald Barnes. She is survived by her brother Wilbur Seamster and wife Leona of Midland, MI, her daughter-in-law Toni Barnes of Bryan, TX, sons Larry Barnes and wife Cynthia of San Diego, CA, David Barnes and wife Patricia of Georgetown, TX, and Thomas Barnes and wife Susan, of Fort Worth, TX; and by many grandchildren, nephews, nieces, grandnephews and grandnieces.
Burial will be at the Aspen Hill Cemetery in Jackson, Wyoming. A private graveside memorial service with family was held on Saturday September 6, 2008. Pastor Richard A. Steeg officiated.
In lieu of flowers, memorial donations may be made to the Maranatha Baptist Church P.O. Box 4407. McAllen, TX 78501, Add to memo area of checks: 'In memory of Lucile Barnes – Australia missions support'.
See The Archives for past articles.
---
Copyright © 2008 Pinedale Roundup
All rights reserved. Reproduction by any means must have permission of the Publisher.
Pinedale Roundup, PO Box 100, Pinedale, WY 82941 Phone 307-367-2123
editor@pinedaleroundup.com