From the pages of
Pinedale Roundup
Volume 105, Number 36 - September 4, 2008
brought to you online by Pinedale Online
---
Obituaries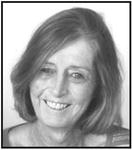 SHARON L. BUNNING (RICHINS)
SHARON L. BUNNING (RICHINS)
Sharon L. Bunning, 60, of Pinedale, Wyoming died peacefully August 25, 2008 in Pinedale after a courageous battle with cancer. She was born September 19, 1947 in Coalville, UT. She attended schools in Evanston, WY and graduated from Evanston High School in 1966. Sharon also attended the University of Wyoming for one year before marrying and starting a family in Rock Springs, WY. She was a long-term resident of both Rock Springs and Pinedale.
Sharon especially enjoyed meeting out of town visitors while working at various local restaurants and motels in Pinedale. She will be remembered as fun-loving and friendly. She was a devoted and loving mother, aunt and grandmother.
Sharon was preceded in death by both of her parents, Dean and Alice Richins.
She is survived by four daughters, Kim Bunning of Boise ID, Barbara Casper and husband Duke of Green River, WY, Jeanne Davis and husband Mike of Pinedale, WY and Kristen Bunning of Sheridan, WY.; one brother, Fred Richins and his wife Diane, and one sister, Judy Richins, all of Evanston, WY. She is also survived by three grandchildren, several nieces, nephews, grand-nieces and grand-nephews.
A Celebration of Life will be held September 6, 2008 at the LDS Church in Pinedale, 221 E North Street. The family will receive visitors between the hours of 1 p.m. and 4 p.m.
In lieu of flowers, the family respectfully suggests that donations be made to Huntsman Cancer Institute in Salt Lake City (http://www.huntsmancancer.org/) or to Sublette County Kickin' Cancer (http://www.kickincancer.org/).
---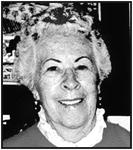 GLORIA A. LOZIER
GLORIA A. LOZIER
Services for Gloria A. Lozier will be held 1 p.m. on Saturday September 6, 2008 at Covill Funeral Home in Pinedale, Wyoming. She passed away August 24, 2008 at the Wyoming Medical Center in Casper, Wyoming She was born in Rock Springs, Wyoming, November 23, 1924 to Charles and Grace (Bird) Alexander, the youngest of 8 children. She was raised on the family ranch on the New Fork and part of her schooling was in the Alexander-Thompson country school and the rest in Pinedale where she graduated in 1942. After graduation she wanted to join the Navy, but her brother would not sign the necessary paperwork for her so she went to Provo, Utah and took an electrical course. They sent her to Hill Field Air Force Base to repair airplane generators. The next year she was a "Rosy the Riveter" on cradles for airplane wings in Spokane, WA.
In October 1944 she married Robert L. Lozier and 3 children were born to this union. They were divorced in 1981. Besides being a partner on ranches, she was a waitress, bookkeeper, bartender, a clerk in a western store and at a motel, prepared income taxes and was a clerk in 3 Port of Entries (Kemmerer, Sheridan and Casper). She retired from the State of Wyoming in March 1994 after 10 years of service.
Survived by: 2 sons, Jim and wife Susan of Wellton, AZ, Tom and wife Mary of Kemmerer, WY. 1 daughter, Linda and husband Dan of Casper, WY, 4 grandchildren and 2 great- grandchildren.
Proceeded in death by: Her parents, 5 brothers, Lloyd (Shimmey), Earl (Tuff), Lawrence (Jack), Robert (Buddy), Charles (Tige). 2 sisters, Thelma (Semmey) Allen and Helen (Pudge) Moedl.
Contributions may be made to charity of choice.
---
DARLECE TRAYLOR
Mrs. Darlece Traylor died August 27, 2008 at Mother Frances Hospital in Tyler, Texas.
Darlece was a longtime resident of Big Piney, Wyoming and had recently moved to Whitehouse, Texas to live with her daughter. She was born June 4, 1939 in Weathers, Oklahoma and was preceded in death by her parents George Thomas and Loreta Garis, husband Derylen Traylor, and son Tommy Traylor.
Survivors include daughter Linda Godwin and son-in-law James, Whitehouse, Tx; son Mike Goldsberry and daughter-in-law Winona, San Antonio, Tx; four grandchildren, Austin and Kurt Godwin, Tyler, Texas, also Chris and Michael Goldsberry, San Antonio, Texas. Sister and brother-in-law Linda and Dick Tanner, Big Piney Wyoming and sister Charlene Blevins, Grants Pass, Oregon.
She loved all of her numerous nieces and nephews and special friends. Memorial service will be held in Big Piney, Wyoming at a later date.
Arrangements are under the direction of Lloyd James Funeral Home in Tyler, Texas.
---
ANNA LEE GRAY WOFFINDEN
Anna Lee Gray Woffinden, 78, died on Monday, August 25, 2008, from complications of an interstitial pulmonary (lung) disease at Star Valley Medical Center in Afton, Wyoming.
Anna Lee was born February 24, 1930, in Bakersfield, California, to Donald Morell and Muriel Lucile Hopkins Gray. She spent most of her growing up years in Big Piney, although she attended first grade in Southern California. She helped her father and family build the Gray family home in 1947. She graduated from Big Piney High School in 1947, as the Salutatorian.
On November 24, 1950, she married Rulon E. "Shrimp" Woffinden in Kemmerer, Wyoming. Their marriage was sealed in the Salt Lake Temple in August 1967. He passed away December 8, 1995, after 45 years together. During that time they lived in Kemmerer and Rock Springs for short periods.
On December 24, 1959, the family moved to the home they shared in Big Piney. Four children were born to this union Keyth Ann, Robin G., Kyla Kay and R. Morell. She worked briefly for the telephone company.
In 1958, she started working as a parttime Postal Clerk in the Big Piney Post Office. She continued this until she retired from the Post Office in October 1988. She also split her "spare" time between working the linotype for the Big Piney Examiner which was owned by her grandfather, George Hopkins, and helping her mother in Gray Gifts and Flowers.
Anna Lee was a member of the Church of Jesus Christ of Latter-Day Saints. She served in many capacities, including, but not limited to Jr. Sunday School President, Young Women's and Relief Society Secretary, Family History Consultant, Visiting Teacher. She was the Big Piney Ward Membership Clerk for 24 years.
Her hobbies and interests were genealogy and history of the people and towns in Sublette County. She enjoyed compiling her Tidbits of local marriages, births and deaths. At the time of her death, she had compiled 1912–2007 and was working on 2008.
She was preceded in death by her parents, husband, one grandson, Donald David Woffinden, and one great-granddaughter, Siera Marquie Phillips.
She is survived by her children: Keyth Palmer, Robin (Denise) Woffinden, Kyla Woffinden, formerly of Rexburg, Idaho, and Morell (Melanie) Woffinden all of Big Piney, Wyoming; grandchildren: Jared (Heidi) Phillips, Big Piney; Clint Phillips, Rock Springs; John Winter-mote, Shoshoni; Seth Wintermote, Big Piney/Shoshoni; Jordon Cooper, Big Piney, Niko (Stevie) Hernandez, LaBarge; Darby Woffinden, Big Piney; Devoni Woffinden, Big Piney and great-grandchildren: Gary Phillips, Warren Phillips, LaTisha Phillips of Big Piney; Danae Gomez, Darian Phillips, Michael Phillips of Rock Springs, and Michael Hernandez of LaBarge. She is also survived by one sister: Donna Mullens, Evanston; three sister-in-laws: Elaine Woffinden Webb, Paris, Idaho; Wilma Woffinden Mauchley, Logan, Utah; Rose Marie Woffinden, Logan, Utah; one aunt: Irene Yeck Hopkins of Lander, Wyoming; numerous nieces and nephews, and cousins.
A Funeral service was held Sunday, August 31 at 3 p.m. at the Big Piney LDS Church. Interment followed the service in the Plainview Cemetery. Anna Lee was a supporter of the Upper Green River Valley Museum in Big Piney and the Big Piney Library. She listed both in her wishes as possible memorial choices.
See The Archives for past articles.
---
Copyright © 2008 Pinedale Roundup
All rights reserved. Reproduction by any means must have permission of the Publisher.
Pinedale Roundup, PO Box 100, Pinedale, WY 82941 Phone 307-367-2123
editor@pinedaleroundup.com