From the pages of
Pinedale Roundup
Volume 105, Number 35 - August 28, 2008
brought to you online by Pinedale Online
---
Obituaries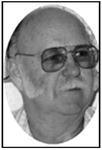 JOHN 'JACK' EDMOND SIMKIN
JOHN 'JACK' EDMOND SIMKIN
Memorial Services for John "Jack" Edmond Simkin of Lander will be at 1 p.m. Friday Aug. 29, 2008 at Hudson's Funeral Home in Lander. Mr. Simkin passed away August 23, 2008 at his home after having a stroke. He was 69 years old.
The loves of his life were gathering with family and friends, his dogs, fishing and hunting with his sons and grandchildren, cooking for a crowd, riding the Harley and traveling with his wife. If there was a kitchen or a grill he loved to be the chief cook and bottle washer, he was known as a wonderful cook with great barbeque skills.
He married M. Nadine Fuccio in 1960 in Rock Springs, WY. They had three children. Then divorced.
He then met & married Patricia Simkin in Rock Springs, WY in 1974. They celebrated their 35th anniversary August 16, 2008.
Jack enjoyed an early retirement at 53 from Union Pacific Resources. He traveled the United States with his soul mate Pat in their motor home and together on the Harley. He was a generous, caring and giving man who loved volunteering his time. After retirement he worked and volunteered in Yellowstone National Park, The Pinedale Museum of the Mountain Man, The Rock Springs High Desert Riders Motorcycle club for the Special Olympics, Lions Club of Lander. He also was a Sr. Volunteer for the Lander Police Dept. and drove the dialysis bus for the Senior Citizen Center. Jack was a lifetime member of the N.R.A., and North American Hunting Club.
He is preceded in death by his parents, Neil and Bertha Simkin of Rock Springs, WY.
Jack is survived by his wife, Patricia Simkin, at home, three children and eight grandchildren, Dean Simkin of Casper, WY and his children Jeremy, Jenifer and Joshua, DeVonne Straube of Boulder, CO and her daughter Deshawn Friss, Dale Simkin of Rock Springs, WY and his sons Brent, Dale Michael, Christopher, and Andrew. Sister Darhl Simkin Of Rock Springs , Wy and a Brother Ken Simkin of Star Valley, Wy. The Family respectfully request donations be made in his name to the Lions Club, P.O. Box 247, Lander, WY 82520. Online obituaries are available and condolences for the family may be made at: www.hudsonsfuneralhome. com Services are entrusted to Hudson's Funeral Home of Lander.
---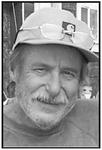 WILLIAM VAN METER
WILLIAM VAN METER
William "Ralph "Bill" Van Meter, a.k.a. "Mad" Max Griswold, 55, passed away August 13, 2008, at his home in Pinedale, Wyoming of natural causes. He was born November 2, 1952, in San Francisco, California, to Carl and Joy Van Meter.
William grew up in both Utah and California. His father died in the Korean War shortly after William was born. His mother remarried Wayne Redden, and they made their home in Kaysville, Utah. He graduated from Davis High School in Kaysville, and after he attended Dixie State College in St. George, Utah, where he learned his trade as an aviation mechanic. He loved to fly and work on airplanes and he was very skilled as a mechanic.
He married Julie Farquer in 1978 and together they had two children, a daughter Lindsay, and son, William Duncan. They made their home in Erda, Utah and later Evanston, Wyoming. During that time William was employed by Utah Power and Light as a fleet mechanic & nbsp; William and Julie divorced in 1990.
William moved to Pinedale, Wyoming around 1993 and worked in various trades in and around Pinedale until health issues forced him to retire. He loved the community and the people of Pinedale. This is where he wanted to be when his time on earth was through.
He is survived by his daughter Lindsay Van Meter and her husband Robert Graham of Albuquerque, New Mexico, son William of Huntersville, North Carolina, granddaughter Isabella, sister Peggy Gack of Auburn, California, half-sister Jaylin Hefty in Oregon, step-mother Eleanor Redden, step-sister Nancy Lawrence and step-brother Dell Espinoza in Utah. He was preceded in death by his parents, step-father Wayne Redden, half-brother George Redden, and stepsister Margaret Espinoza. A memorial funeral service will be held in Pinedale, Wyoming at the Covill Funeral Home on Saturday, August 30, 2008 at 1 pm.
---
ANNA LEE WOFFINDEN
Big Piney resident Anna Lee Woffinden, 78, passed away Monday, August 25, at the Star Valley Medical Center in Afton, Wyoming. A funeral service will be held Sunday, August 31, at 3:00 p.m. at the L.D.S. Church in Big Piney with a viewing one hour prior to the service. A full obituary will be in next week's paper.
---
MARK D. COWLEY
Mark D. Cowley passed away at his home in Mountain Grove, Missouri, August 16, 2008.
Mark was born in Layton, Utah, January 19, 1929 to Stanford Adams and Laree Tucker Cowley. He married Mary Drakos February 16, 1945, in Salt Lake City. Mark worked on ranches in Big Piney and Boulder, Wyoming, and in Utah before becoming manager of the Ellison Ranching Company's Squaw Valley Ranch in Elko County. In 1971, Mark and Mary purchased Mark's Waterhole #1 in Golconda. While at the Waterhole Mark was president of the Waterhole Ike syndicate. New agencies worldwide interviewed Mark about Ike the pig with a social security number.
Riding horseback and working cows was Mark's life long love, but his story telling, quick wit and ability to make a "good trade" made Waterhole #1 a success. While Waterhole Ike was the most famous of Mark's adventures in Golconda, the frog jumping contests and baseball team brought many together to enjoy the fun in the community.
From the time of his days playing football in high school, Mark enjoyed watching any football game. And a wager on that game (or anything else) always made the game more exciting.
In 1979, Mark and Mary sold the Waterhole. They moved to Missouri and returned to the cattle business.
Mark is survived by his wife Mary of Mountain Grove, MO; daughter Louise and husband Terry Rackley, Cabool, MO; son Stan and wife Jeannie Cowley, Winnemucca; sister and brother-in-law Stana and Don Wood, Farmington, Utah; grandchildren Travis Stearns and Tara Roberts, Missouri; Mark Cowley, Boise, Idaho; Anita Cowley, Reno; Elise Cowley, Winnemucca; great grandchildren Devon, Taellor, and Slaton Stearns and Elias and Markea Rogers all of Missouri, Uncle Hal Cowley, Murray, Utah and numerous nieces and nephews.
He was preceded in death by his parents Stan and Laree Cowley, daughters Julie and Barbara, and brother Jerry.
Funeral services were held August 21 in Cabool, Missouri. Burial and graveside services will be held August 23 in Kaysville, Utah.
Donations can be made to Winnemucca Rural Fire Department Scholarship Fund, 422 Baud St., Winnemucca or Mountain Grove South Side Baptist Church Youth Fund, c/o Elliott Gentry Carder Funeral Home, Box 708, Cabool, MO 65689.
Remember the Alamo!
See The Archives for past articles.
---
Copyright © 2008 Pinedale Roundup
All rights reserved. Reproduction by any means must have permission of the Publisher.
Pinedale Roundup, PO Box 100, Pinedale, WY 82941 Phone 307-367-2123
editor@pinedaleroundup.com