From the pages of
Pinedale Roundup
Volume 105, Number 33 - August 14, 2008
brought to you online by Pinedale Online
---
Obituaries


BRET LEE ATCHLEY
Bret Lee Atchley, 46, of Midland, died Sunday, August 10, 2008. The family will receive friends at Ellis Funeral Home Tuesday, August 12, 2008 between the hours of 6:00 P.M. and 8:00 P.M. Memorial services have been scheduled for 10:00 A.M. Wednesday, August 13, 2008 at First Baptist Church with Reverend Patrick Payton officiating.
Arrangements are under the direction of Ellis Funeral Home, 801 Andrews Highway, Midland, Texas 79701 (432) 683-5555. To place online condolences please visit www.mem.com.
---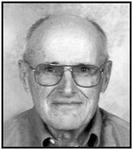 JOHN B. ERRAMOUSPE
JOHN B. ERRAMOUSPE
John B. Erramouspe, beloved husband, father and grandfather passed away on August 8, 2008 surrounded by his family. He fought a valiant fight against cancer, which he was diagnosed with eleven months earlier.
He was born on December 9, 1926, one of twelve children, to Basque immigrant parents, Gaston and Grace (Larre) Erramouspe. John stayed and attended school on the family ranch located in Sublette County, with his nine brothers and sisters until he was in the eighth grade. He then went to Colorado to finish his high school education. John returned to the family ranch upon the death of his older brother Pierre who was killed in World War II. John and his father ran the ranch until it was turned over to John completely. He found time to visit Rock Springs occasionally where he met, courted and married Wilma Rose Lowe on April 16, 1955. Together they had ten children whom they also raised together in Rock Springs, and on the Erramouspe Family Ranch. John was a hard worker for eighty one years and he instilled the same work ethic and morals upon his family. John remained active on the family ranch up until his diagnosis. Even after, he found ways to help out his son John on the ranch such as delivering grain for the livestock or simply meeting him in Farson to help feed the cattle.
John enjoyed spending time at the family ranch taking care of the animals. He was always teaching his children and grandchildren the importance of taking care of the land and importance of prayer in their lives. He was a member of the Traditional Roman Catholic Church.
John is survived by his wife, Wilma, children Joe Erramouspe and wife Tiffany, John Erramouspe and wife Joy, Paul Erramouspe and wife Sherry, Pat Erramouspe and wife Angie, Mary Allen and husband Lance of Salt Lake City, Utah, Chris Erramouspe and wife Shauna, Bernadette Legerski and husband Tony, Lori Gipson and husband Shawn, Nancy Gideon and husband Rick of Edmond, Oklahoma and Erin Erramouspe and fianceí George Gavula of Oklahoma City, Oklahoma; twenty-one grandchildren; seven great-grandchildren. He is survived by a brother Joseph J. Erramouspe and wife Barbara, sisters Miriam Grace, CSC of Ventura, California, Anne Case of Oceanside, California, Catherine Canestrini, Bernadette Gosar and husband Tony of Pinedale, Wyoming, Margaret Sellyei and husband Joe of Loveland, Colorado, Grace Mossman of Englewood, Colorado; sisters-in-law Suzan Erramouspe of Shoshoni, Wyoming, Genevieve Gordon of Lakewood, Colorado; brother-in-law Joe Rogers and wife Marilyn and many niece, nephews and cousins.
John was preceded in death by his parents, four brothers Pierre, Paul, Phillip and Louis, sister-in-law Donna Collins and brothers-in-law Roy Case, Richard Canestrini and Jack Collins.
Private funeral services will be held. A memorial service in Johnís honor will be held on August 12, 2008 at 12:00 P.M. at Our Lady of Sorrows Catholic Church, 116 Broadway, Rock Springs, Wyoming.
The family of John B. Erramouspe respectfully suggest that donations in his memory be made to Monastery of Our Lady of Guadalupe, 142 Joseph Blane Road, Silver City, New Mexico 88061-9799 or Hospice of Sweetwater County, 809 Thompson Street, Suite D, Rock Springs, Wyoming 82901.
Pallbearers will be Johnís sons and a grandson; Joe Erramouspe, John Erramouspe, Paul Erramouspe, Pat Erramouspe, Chris Erramouspe and Adam Jasman. Honorary Pallbearers are Joseph Erramouspe, DDS, Lance Allen, Tony Legerski, Shawn Gipson, Rick Gideon and George Gavula.
See The Archives for past articles.
---
Copyright © 2008 Pinedale Roundup
All rights reserved. Reproduction by any means must have permission of the Publisher.
Pinedale Roundup, PO Box 100, Pinedale, WY 82941 Phone 307-367-2123
editor@pinedaleroundup.com