From the pages of
Pinedale Roundup
Volume 105, Number 32 - August 7, 2008
brought to you online by Pinedale Online
---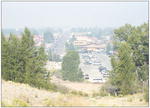 Smoke has been creeping into downtown Pinedale creating a smoggy effect each morning before clearing out in the afternoon.

New Fork Lakes Fire
Smoke could last until first snow
by Jonathan Van Dyke photo

The New Fork Lakes fire continues to burn south and east cutting a 13,240-acre swath that has shut down local hiking trails and sent a thick layer of smoke over Pinedale each morning.

"We don't have any kind of estimate on [how much] acreage [the fire will grow to], but as far as long term, we imagine this fire will burn until the snow [season]," said Nat Stinson, public service officer for Bridger-Teton National Forest Service.

Whalen's Type II Incident Management Team took control of the fire on Tuesday. Without any estimated extinguish period, residents in Pinedale can expect a smoky beginning to their mornings for the foreseeable future.

"The smoke is going to settle in the mornings until that inversion lifts around 10 or 11 in the morning," Stinson said.

With that in mind, the public should be wary of how much outdoors activity they participate in the morning, and those with respiratory problems should steer clear entirely.

"[Those with respiratory problems] need to be aware that they are at a higher risk," said Dr. Thomas Johnston, public health advisor. Residents with pulmonary disease, asthma, respirators, chronic lung disease, smokers or a hyperactive airwave can be in danger of accelerating their conditions.

"This seems to be worse, really, than any [smoke instances] that I've experienced," said Johnston, a longtime county resident. Taking a look outside, for the time being, is probably the best barometer for breathing conditions, Johnston said.

"The visual condition of the atmosphere should pretty much be your guide," Johnston added.

While the Forest Service typically has a policy of immediately extinguishing humanstarted fires, this particular instance became difficult to manage in a hurry. "It escaped initial attack efforts right away and went to about 1,000 acres," Stinson said. "They could tell from the type of fuel and the dead and decadent bug kill and all that — with the resources they had on hand — they were not going to be able to do anything with it."

Instead, the Forest Service moved quickly to protect the area surrounding the fire. "Basically our main concern is keeping it north of any private lands or populated recreation areas," Stinson said.

The Forest Service will continue to do everything in its power to protect private lands and trails, but the fire has already caused an area closing that included New Fork Lake, Willow Creek, Long Lake and Spring Creek Trailheads. Trail closures include Trapper Creek, Glimpse Lake, Pine Creek, Section Corner, Palmer Canyon, Heart Lake, Double Top, Gulf Creek and Snake Lake.

An end is not immediately in sight, and ultimately may require colder weather and the snow that comes with it.

"If we had significant rain, then that would probably help us a great deal," Stinson said. "The chances of getting a heavy rain in August are pretty slight."

For continued updates residents can visit http://www.inciweb.org/incident/1440.

Photo credits: Jonathan Van Dyke photo

See The Archives for past articles.
---
Copyright © 2008 Pinedale Roundup
All rights reserved. Reproduction by any means must have permission of the Publisher.
Pinedale Roundup, PO Box 100, Pinedale, WY 82941 Phone 307-367-2123
editor@pinedaleroundup.com