From the pages of
Pinedale Roundup
Volume 105, Number 30 - July 24, 2008
brought to you online by Pinedale Online
---
Obituaries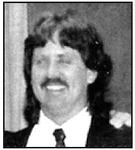 STEVEN K. HARRIS
STEVEN K. HARRIS
Steven K. Harris, 48, of Rock Springs, Wyo., passed away on Monday, July 14, 2008, at the Memorial Hospital of Sweetwater County in Rock Springs. A longtime resident of Reliance and Rock Springs, Mr. Harris died following a fatal accident.
He was born on Dec. 18, 1959, the son of Richard W. and Patricia Anne Kelley Harris. He attended schools in Rock Springs and graduated with the class of 1978. His interests included camping, Dutch oven cooking, hiking, rock climbing, remodeling and loved spending time with his family. Steve spent a great deal of time trying to improve communities for people with disabilities. Though he had to deal with adversity, he lived his life in a very positive way.
Survivors include two sons, Steven Greg and Orey Layne Harris, and two daughters, Cherstin Ane and Samantha Jo Harris; his father, Richard W. Harris of Pinedale, Wyo.; four brothers, Ken Harris of Santa Fe, N. M., Albert Harris and fiancée Laurie Shaw of Green River, Wyo., Tracy Harris and wife Becky of Cheyenne, Wyo. and Chris Harris and wife Bobbie of Reliance, Wyo.; 10 nieces and nephews, Michael and Jessica Harris, Bailee and Ethan Harris, Tiffany, Megan and Guy Harris and Jenna, Tristen and Sabastion Harris. His paternal grandmother, Mary Harris of Rock Springs, several aunts, uncles and cousins also survive. He leaves behind a large extended family.
He was preceded in death by his mother, Patricia Harris, who died on Nov. 3, 1994, one brother, Patrick James Harris, who died on March 28, 2007, his paternal grandfather, George Harris, and his maternal grandparents, James and Burchal Kelley.
Following cremation at the Vase White Mountain Crematory, memorial services were held at 12 p.m. on Saturday, July 19, at the First Congregational Church, 1275 Adams Ave., Rock Springs, WY. Reverend Harvey Joyner officiated. Friends called at the church one hour prior to services on Saturday.
---
CHARLENE S. MORRIS
Charlene (Charlie) S. Morris, our beloved mother, grandmother and sister, returned to her Heavenly home on July 13, 2008, at age 73, from her home in Bondurant, Wyo. She was born June 7, 1935, in Kingston, Utah. She was the oldest daughter of Earl and Chloe Sudweeks and sister of Shana (Ron) Ackerman. She grew up in Kingston, Utah.
She married Harold Gene (Hal) Morris on Oct. 28, 1964 in Evanston, Wyo. They were parents of a daughter, Cindy Anderson; a son, Brett Earl (Sharon) Morris; and grandparents of a grandson, Chad Z. (Tina) Cox. She was employed by and retired from the United States Postal Service in Salt Lake City. She enjoyed cooking, sewing, crafts, gardening, hunting, fishing and winters in Los Barriles, Mexico.
She is survived by her children, grandson and sister. She was preceded in death by her husband, parents and grandparents.
A memorial celebration of her life was held on July 20 at The Church of St. Hubert the Hunter in Bondurant. Memorial donations can be made to the Bondurant Community Club, P.O. Box 71, Bondurant, Wyoming 82922.
---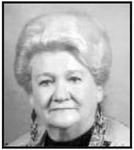 FERN M. TOTH
FERN M. TOTH
Fern M. Toth, 88, of Pinedale, died Tuesday, June 24, 2008, at the Sublette Center after a lengthy illness. She was born May 9, 1920, in Rock Springs, Wyo., the daughter of Hiram and Lena Moss. She attended schools in Rock Springs and graduated from Rock Springs High School in 1938. Fern married Albert J. Toth on Dec. 19, 1939, at the Sts. Cyril and Methodius Catholic Church in Rock Springs.
Several years later, the couple started an electrical contracting business, Curley's Electric. Mrs. Toth was the bookkeeper for 48 years helping Albert and, later, their sons, Jim and Greg at C.T.S. (Curley Toth and Sons, Inc.)
She was a member of the Rock Springs Women's Club and was honored as Clubwoman of the Year in 1967. While she was chair of the Garden Division of the Club, more than 1,000 trees were planted by members in support of the civic beautification project.
Mrs. Toth served as a charter member of the Board, Western Wyoming Community College. She served on the Public HealthNursing Board and helped with the first polio clinic in Rock Springs. She was also a PTA officer for 16 years while her children were in school. After the children were grown, Fern became a Certified Nursing Assistant and worked at Sweetwater County Memorial Hospital for many years.
Mrs. Toth was the charter president of the Rock Springs Humane Society and was very successful in raising funds for that organization. She was very active in the animal welfare cause on the local and national level. She was recognized for her lifetime of work by the Wyoming Humane Society in 1993. Fern and Albert retired and built a home in Pinedale in 1974. She loved to garden and care for her parrots and other pets as long as her health allowed.
She was preceded in death by her husband, parents, and brothers and sister, and a daughter-in-law, Ellen Toth.
Fern is survived by three children and their spouses, Marilyn and Sam Dorrence of Centennial, Wyo., Jim Toth of South Ogden, Utah, and Greg and Donni Toth of Pinedale; two foster-children, Sonny Francis of Rock Springs and Ruth Renwick of Mason, Ohio; 12 grandchildren and many great-grandchildren.
Mrs. Toth was a member of Our Lady of Peace Catholic Church in Pinedale. A funeral mass will be celebrated there at 11 a.m. on Saturday, Aug. 2. Cremation has taken place and interment will be in the Pinedale Cemetery after which a luncheon will be served at Our Lady of Peace by the Ladies of the Pinedale Council of Catholic Women. In lieu of flowers, Fern requested that donations be made to the Rock Springs Humane Society, 310 Yellowstone Rd., Rock Springs, WY 82901 or Happy Endings Animal Shelter (H.E.A.R.), PO Box 713, Pinedale, WY 82941.
See The Archives for past articles.
---
Copyright © 2008 Pinedale Roundup
All rights reserved. Reproduction by any means must have permission of the Publisher.
Pinedale Roundup, PO Box 100, Pinedale, WY 82941 Phone 307-367-2123
editor@pinedaleroundup.com