From the pages of
Pinedale Roundup
Volume 105, Number 29 - July 17, 2008
brought to you online by Pinedale Online
---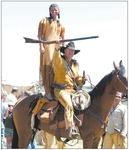 Moses 'Black' Harris (Ty Huffman) was an early Mountain Man who took up a native bride (Hailey Kogianes) in the Green River Rendezvous Pageant on Sunday. For more coverage see pages 13A through 20A and pages 5B through 10B.

Weather, events brought big turnout
Green River Rendezvous Days 2008
by Jennie Oemig

This year's Green River Rendezvous Days proved to be more successful than in years past with cooperative weather all four days and a number of activities for people of all ages to enjoy.

"I think, all around, people had a wonderful time," Museum of the Mountain Man director Laurie Hartwig said. " … I thought it was a beautiful weekend; the weather was great."

Chamber executive director Terrie Swift said she thought the diversity of events garnered a larger crowd this year. "This year definitely had a better turnout across the board," she said. "We had more vendors, more parade participants, more activities and more people enjoying Rendezvous."

Those from out of town likely had quite the experience as well, Hartwig said.

"The people who came, I think, were awestruck that a community of this size can put on a festival like this," she said.

One of the events that drew a particularly large response was the block party, which Swift said she was very happy with.

"I was extremely pleased with the block party that the Chamber was able to sponsor," she said. "With Rock Rabbit's help, we were able to bring in great music on a beautiful night, all the while making it very family friendly."

In addition to the musical entertainment, Swift said the parade was exceptional this year as well.

"The parade was also a big highlight," she said. "I would like to personally thank Dave Smith for really making it a crowd pleasing event. Thanks to Dale Hill for the excellent lineup too."

Hartwig said she witnessed the best turnout for museum events in years. "Our numbers were way up for all of our events," she said.

Some of those events that had a better showing than last year included the Michael Terry Plains Indian Encampment and Lectures event, as well as the buffalo burger lunch.

"We had a very successful turnout," she said. "There were 200 more people attending the Michael Terry event … And with our buffalo burgers, we made $500 more than last year."

With such a good turnout at the museum, Hartwig said that, for the most part, things will not change too drastically during next year's Rendezvous.

"We'll probably keep the programs that we have and possibly add more," she said, explaining that the museum board will have to meet before anything does change. " … But I've had a couple suggestions."

Jill Tegeler, who helped coordinate the Rendezvous Ramble, said the turnout for the event was about the same as last year. "[There were] over 100 participating in the race with others donating," she said. Des Brunette, who had a hand in coordinating the pageant, said she thought the weekend went well.

"It seems the numbers might have been down, but there was a great turnout for the parade and the rodeo," she said.

As for the pageant, Brunette said she was pleased to see some new faces, both taking part in and watching that event.

"Our stands were full," she noted. "We sold over 600 tickets … so we were definitely up over 100 people."

All in all, Swift said the entire weekend was a success, not just one event in particular.

"The rodeo was fantastic, the museum's activities were great and I think everything going on in town was the cherry on top," she said. " … I also think that the pageant was really great too."

Photo credits: Jonathan Van Dyke

See The Archives for past articles.
---
Copyright © 2008 Pinedale Roundup
All rights reserved. Reproduction by any means must have permission of the Publisher.
Pinedale Roundup, PO Box 100, Pinedale, WY 82941 Phone 307-367-2123
editor@pinedaleroundup.com