From the pages of
Pinedale Roundup
Volume 105, Number 28 - July 10, 2008
brought to you online by Pinedale Online
---
Obituaries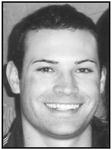 GARRETT WAYNE BARDIN
GARRETT WAYNE BARDIN
Mama's Boy, Daddy's hero, the "G" man — Garrett Wayne Bardin found inner peace overlooking Big Sandy River on June 21, 2008.
Garrett was born August 24, 1984, son of Carole Richie and Wayne "Bardy" Bardin. He attended school in Pinedale where he graduated in 2003. While in high school he was a strong member of the track team. After graduation, Garrett worked for Ben Davis for several years as a painter. He later became employed with Epco Incorporated monitoring gas wells.
Garrett loved the outdoors and enjoyed extreme outdoor sports, such as snowboarding, mountain bike riding and wakeboarding.
His athletic abilities allowed him to be the "wild man" and push the limits. But Garrett's deep passion was people. He was compassionate and caring to all the people in his life; a lifelong friend or a new acquaintance, a child or an elderly adult. Garrett brightened everyone's life with his dazzling smile and easy conversation.
Garrett is survived by his mother and father, sister and brother-in-law Taylor and Brandon Leingang, nephew Bennett, niece Afton, grandparents Katie King and Jep Richie, and many loving aunts, uncles and cousins.
Services were held Wednesday, July 9th at 10 a.m. at the Pinedale Auditorium with Reverend Wes Shields officiating. Garrett's family suggests that in lieu of flowers donations be made in his memory to Tip Top Search and Rescue, P.O. Box 400, Pinedale, WY. 82941.
Also, an account has been set up at First State Bank in Pinedale for Garrett's PALMS (Prevention, Awareness, Litigation against Medications that may cause Suicide).
---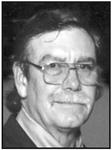 KIRK STEVE ANDRUS
KIRK STEVE ANDRUS
Kirk Steve Andrus, 57, of LaBarge, Wyo., passed away Sunday, June 29, 2008, surrounded by his loving family at the Cache Valley Specialty Hospital, in Logan, Utah, after a courageous and valiant fight with cancer. He was born March 1, 1951, in Ogden, Utah, to Kenneth DelMar and Jeannette Arnold Andrus. He was raised in the Ogden area and graduated from Box Elder High School.
Kirk served two tours in Vietnam and received three bronze stars and a purple heart for his dedicated and brave service to his country in the U.S. Army. He loved driving big trucks and drove for over 25 years, working as a long haul truck driver and a crane operator in the oil field industry.
In December of 1985, he married Janet Kay Thomas of Smithfield and together they blended a family in love.
He is survived by his wife, Janet, and his children, Chad (Kayla); Lisa Ricks; K. Scott (Rebecca); Tim (Heather); Angela (Darren) Gregersen; two foster children: Justin Hakey and Davina Forth; 17 grandchildren and a host of "adopted" children that he has loved, mentored and cared for throughout the years. He is also survived by two sisters, Sheila (LaMont) Doman and Kathy (Wayne) Howell.
He was preceded in death by his parents.
Kirk will be remembered for his unfailing sense of service to others, his love of nature, especially fishing, and his fierce loyalty to and care for his family and all those around him. He will be fondly remembered and dearly missed.
A memorial service will be held at LaBarge LDS Ward Chapel, at 11 a.m. on Saturday, July 19. Condolences may be extended to the family at www.nelsonfuneralhome.com.
In lieu of flowers, donations may be made to the family to assist with funeral expenses.
See The Archives for past articles.
---
Copyright © 2008 Pinedale Roundup
All rights reserved. Reproduction by any means must have permission of the Publisher.
Pinedale Roundup, PO Box 100, Pinedale, WY 82941 Phone 307-367-2123
editor@pinedaleroundup.com