From the pages of
Pinedale Roundup
Volume 105, Number 27 - July 3, 2008
brought to you online by Pinedale Online
---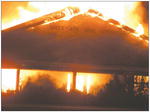 The Rocky Mountain Home Center, which has been in the community since 1993, burned down early Saturday morning. Owner Scott Grove said he plans to rebuild on the site and is still taking orders from customers.

Rocky Mountain Home Center Destroyed

by Jonathan Van Dyke

A fire overtook Rocky Mountain HomeCenter early Saturday morning, leaving little in the way of salvageable remnants the next day.

"From what I understand, it was somewhere around 2:30 a.m. that the call was made," said Scott Grove, owner of the store.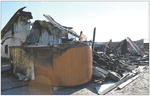 Only one wall remains standing.

Fire departments from Pinedale, Daniel, Boulder and Big Piney provided initial support, with the Kendall Valley and Bondurant departments providing additional manpower.

"I responded with the Daniel [fire] engine, and when we got into town it was pretty much engulfed," said T.J. Hunt, Sublette County Fire Warden. "Once we got established, we were able to keep it pretty much in control and knocked down."

The efforts of the county fire departments helped keep the fire in check, saving the RVs and boats parked — and additional businesses like Performance Tech — next to it.

"We taxed the water system on that side of the town for sure," Hunt said. "I think those new water lines that they put in out there pretty much helped us out. Water was flowing."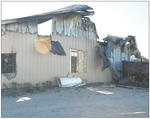 The outside of Rocky Mountain Home Center is mangled.

Chad Cooper of the Wyoming State Fire Marshals out of Green River is leading an investigation, with assistance from the local departments. As of deadline, the cause of the fire could not be ascertained and there wasn't a monetary loss estimate.

Rocky Mountain Home Center has been a part of the community since 1993, with Grove being the second generation to manage the shop. Despite the fire, Grove is still open for business and taking orders at 367-6711.

We're open for business right now," Grove said. "I'm taking orders, we're taking in products."

Within a few days Grove said he'd have a mobile flooring setup going.

"My selection is not going to be huge right out of the chute, but we'll be building on it," he added.

Grove also said he plans on rebuilding at the same location.

"I have no idea how long it will be, but we will be in the same location," Grove said. "I keep telling my wife, we may be a little down but we're not out."

Grove's family was thankful for the swift response by fire officials and emergency officials and the general community outpouring that has already occurred.

"Even though it was a total loss on our part, nobody got hurt and we're thankful for that," Grove said. "[Emergency response] did a heck of a job."

Now, Grove will press on, meeting with insurance adjusters and keeping his business afloat in the interim.

"I have people placing orders already this morning, and people ordering yesterday," he said. "They just have to call us, and it may be a little odd or strange for the next week or so, but we'll get them taken care of."

Photo credits: James Galloway, Jonathan Van Dyke, Jonathan Van Dyke

See The Archives for past articles.
---
Copyright © 2008 Pinedale Roundup
All rights reserved. Reproduction by any means must have permission of the Publisher.
Pinedale Roundup, PO Box 100, Pinedale, WY 82941 Phone 307-367-2123
editor@pinedaleroundup.com