From the pages of
Pinedale Roundup
Volume 105, Number 25 - June 19, 2008
brought to you online by Pinedale Online
---
Obituaries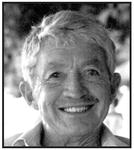 RALPH WENZ
RALPH WENZ
Ralph Louis Wenz, 71, passed away on June 7, 2008, at St. John's Hospital in Jackson Hole, Wyo., from complications associated with pneumonia surrounded by his family.
Ralph was born in Pinedale on Oct. 16, 1936, the youngest of three children, to Ray and Ruth Wenz. Upon his graduation from Pinedale High School, Ralph attended Salt Lake Community College for Barber School.
On July 17,1957, Ralph married the love of his life, Connie Mae Barnes. Together they raised four children: Jana, Bobbi, Lori and Ralph Jr.
The many civic and community organizations in which Ralph was active included Masonic Lodge, Dance Club, Little Theater, Archery Club, Volunteer Fire Department, Town Council, Boat Club and Ski Patrol. Also, Ralph was a longtime member of the Congregational Church.
Ralph had an adventurous personality and lively intelligence that spurred his entire family into constantly expanding their experiences—sometimes against their better judgment. Because of Ralph, Connie and all of their children became certified divers, learned to water and snow ski, fish and ice skate.
Always one to take advantage of the natural beauty and wonder of Wyoming, Ralph instilled a love of the mountains, water, wildlife and environment in all of his children and grandchildren. One of his favorite sayings was "you aren't learning unless you're falling down," which always made it easier to pick yourself up.
Never a stranger for more than a few moments, Ralph easily made friends and knew how to make everyone feel important. He had a significant impact on everyone he met, even during the many travels he and Connie made to nearly every corner of the world. Their trips included visiting Asia, Australia, New Zealand, Europe, Egypt, South and Central America, Canada and multiple tropical destinations.
During every trip, Ralph would learn a bit of the language and you would find it recorded on their answering machine upon their return home. Their most recent trip was a cruise to Alaska with their kids and spouses for their 50th wedding anniversary in 2007.
Because of his natural curiosity and artistic eye, Ralph had many hobbies and interests. They included, fishing, hiking, swimming, skiing, golf and hunting. Ralph demonstrated his artistic skill through his wood-carving, sketching and photography. He also was naturally graceful and his distinct style could be spotted on the slopes or behind his boat on Fremont Lake as well as during the dancing performances he and Connie were asked to do during holiday concerts and shows.
Ralph was blessed with a wonderful singing voice, with no limits on the range of what his voice could do. He enjoyed singing in numerous barbershop quartets.
Besides his years as a barber, Ralph enjoyed a long and successful partnership with Dan Carlson as part of Carlson and Wenz Construction, building and renovating homes and businesses throughout Sublette County.
Ralph was preceded in death by his father, mother and sister, Wraylene. He is survived by his brother, Dick Wenz of Big Piney, his wife, children, 10 grandchildren and 4 greatgrandchildren.
Everything Ralph achieved was because of his desire and determination. He loved Pinedale and all of the people in it and despite the cold and his later difficulty with the high altitude could never imagine himself living anywhere else. Ralph was special to so many in a way that is hard to describe and left a little piece of himself in everyone's hearts.
Memorial donations can be made to The National Jewish Medical and Research Center at www.nationaljewish.org or by calling 1-800-388-4461 ext. 1050.
A memorial service and a celebration of Ralph's life will be held on Father's Day 2009 in Pinedale.
We miss you, Dad.
---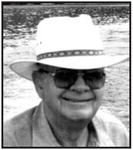 JIMMIE CARL KENYON
JIMMIE CARL KENYON
Jim Kenyon, 74, passed away Thursdaymorning June 12, 2008 at the Sublette Center in Pinedale, Wyoming after a valiant battle with cancer. He was born August 10, 1933 in Little Rock, Arkansas to Gladys Neely and Grant Kenyon.
Jim came to Wyoming in 1941 with his grandmother Annie Neely and lived on the Hoback Basin for a few years. He later moved to California and stayed with his grandparents. He joined the United States Marine Corps in 1950 and served in Korea through 1953. He was awarded the Korean Service Medal and the U.N. Service Medal. He raised two daughters Anna and Sharie from his first marriage. He made his way back to Wyoming in 1967 and settled in Pinedale. Here he met and married his beloved wife Nancy Pulley Kenyon on March 4, 1968.
Jim enjoyed golfing, fishing, rock hunting, playing music, reading, playing cards, and long conversations with family and friends. His occupation as a truck driver allowed him to see much of the country. He was a member of the Pinedale V.F.W. Post 4801 and the Teamsters Union.
He is survived by his wife Nancy, two daughters Anna Steenhard and Sharie Anrade; six grandchildren and five great-grandchildren. He is preceded in death by his mother and stepfather Gladys and Albert Miller and granddaughter Danielle.
A funeral service was held Wednesday June 18th at 11 a.m. at Covill Funeral Home in Pinedale. Internment followed in the Pinedale Cemetery. In lieu of flowers the family wishes you make a memorial contribution to the charity of your choice. Online condolences can be sent to covillfh@centurytel.net.
---
AMY STREENAN
Amy Rahm Streenan of Vancouver, Wash., died June 12, 2008, at the age of 87. She was born on June 9, 1921, at home on the family ranch near Cora, Wyo. She attended Pinedale Public Schools and married Bill Streenan in 1939. They recently celebrated their 69th anniversary. Through the years, Amy and Bill traveled extensively throughout the South Pacific, Asia, the Middle East and Latin America. Amy was well known for her quick wit and deep compassion. She was the last surviving child of John and Effie Rahm and was preceded in death by her two brothers and two sisters. She is survived by her husband, Bill. At her request, she will be cremated and her ashes scattered on Mount Hood. There will be no memorial service.
See The Archives for past articles.
---
Copyright © 2008 Pinedale Roundup
All rights reserved. Reproduction by any means must have permission of the Publisher.
Pinedale Roundup, PO Box 100, Pinedale, WY 82941 Phone 307-367-2123
editor@pinedaleroundup.com