From the pages of
Pinedale Roundup
Volume 105, Number 24 - June 12, 2008
brought to you online by Pinedale Online
---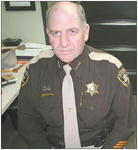 Sheriff Wayne 'Bardy' Bardin in his office in the Sublette County Courthouse.

Many challenges for local law enforcement
Q&A With Sheriff Bardin
by Alecia Warren

How long have you been sheriff in Sublette County?

I was appointed in 2005, I've been with the department since 1992.

What are the biggest challenges facing law enforcement in Sublette County today?

Our biggest challenge, and it's not so much on the criminal side of things, is the retention of qualified people. We have a lot of new folks coming up now where the mother wants to stay home and raise the children. But in Sublette County, if you're coming in with just the clothes on your back, both parents need to work to live here, and we lose qualified people because of that. They can go to another state or another county where the cost of living isn't so great.

We also have to compete with the oil and gas fields. They pay a lot of money, and it means a lot to people when they only have to work five days a week, have weekends off and aren't called out at all hours during the night.

How do you keep staff here?

We have a very proactive, pro-law enforcement county commission, and they know if I'm going to bring something in front of them, it's important. We asked for and got an increase in 2006, a big bump. We got the wages up, plus they also put in a bonus at the end of the year.

That helped a lot. There were three people ready to leave this department just to go somewhere else where they could afford to live, and with that increase, we were able to retain those folks.

What crimes do the department see the most?

Probably the biggest would be the drug issue. When I was appointed in 2005, I asked the commission and got approval to start our own task force. From 2005 to date, I think we've had 21 federal indictments, and out of those 21, several are already serving time. There's more down the road I can't comment on, but we're doing an excellent job there.

Is the drug problem mostly meth?

Meth, marijuana. Some cocaine, not a lot.

What demographics in the county are using drugs?

It's the gamut. People I've known all my life who would never have suspected they would try this drug… It's so addictive that just one try, one time, and they're hooked on it. It's school-age kids up to folks in their mid-60s.

The number two problem for us is alcohol, and this is an issue I know inside and out, because I'm a recovering alcoholic, and probably have been since I was at least 18. Alcohol's a problem for Sublette County, it's a problem for the state, and it's a problem for the country.

A lot of kids have grown up in homes where alcohol's accessible, and for some, and I was in this position, it seems to be a rite of passage.

The old saying that "kids will be kids" — that needs to go away, because that type of mindset is getting a lot of kids killed across the country.

How has the sheriff's department been trying to tackle that issue?

We work as close as we can with the folks that have liquor establishments. We work with the state and the first lady's initiative to curb juvenile drinking, and the way we do that is we actually have folks come in who are underage and try to purchase alcohol in different places. We also do that with tobacco products, too, and the folks with liquor licenses know that we're doing that, and they don't want to put their livelihoods in jeopardy, so people in their 50s are being carded.

Is it going to stop underaged drinking?

No. But we're putting a pretty good dent in it.

How does crime in Sublette County now compare to five or 10 years ago?

Let's go back to say, 1995 — we've probably had a 500 percent increase in just about everything.

Would it be valid to say it's mostly because of the energy boom?

It would, in a way, because we have more people, and with more people, they have a chance to have a problem, so we have more problems out there.

Is it inevitable that crime will rise with the population?

Yes. Calls for service, I should say, will rise.

How many people work in the Sheriff's Office right now?

Just on a patrol level, with the sheriff and undersheriff, and investigations, we have about 38 people.

Is that adequate for the amount of crime right now?

No. It used to be the sheriffs were charged with keeping the peace and providing for the needs of prisoners. But right now, besides just keeping the peace in all three towns and stocking the jail, we also have emergency management, the sheriffs in every county now are responsible for search and rescue by statute, we have a school resource officer we didn't used to have, we have juvenile and adult probation courts, we have a juvenile diversion program we started, increased investigations, a drug task force, we do our own chemical testing. I'm responsible for providing security for both the courts and the courthouse. The sheriff's office does all the vehicle inspections and handles all abandoned vehicles.

We're also charged with all communication through our dispatch, not only for law enforcement, but also fire and ambulance. It seems like the Sheriff's Office just keeps getting bigger and bigger and there's more put under our umbrella.

What's your turnover rate?

Since 2004, we've gone through 57 people. Out of those 57, four were retiring officers. The greatest turnover rate is in detention.

What keeps you working here?

The people I work with, especially at the Sheriff's Office. I was raised in Sublette County my whole life; I've spent 53 years here. I know a lot of people, I like the county, I like the country, I like the lifestyle.

What do you like the least about your job?

Fatalities. Suicides, industrial accidents, natural causes. A lot of these people I know, I went to school with, and it's kind of had a big toll on me over the last few years, anyway. I'm at a point now where I don't actually have to be on scene at some of these, but I do, especially when I know somebody who's been in the county for quite some time and I know the family.

That's the other aspect of this job I don't like: death notifications. I've done quite a few of them in my tenure. People know something's up when I knock on the door, especially at one o'clock in the morning. I've had people stare at me, I've had people faint, I've been slapped, I've been punched, I've had people scream and run from me.

Does Sublette County see a lot of fatalities?

We do, for the 7,000 population. We have a lot of crashes, just due to speed and sleep deprivation. These guys are working a lot of long hours, they might be late for work or they want to get home, and people just start taking chances.

What does the Sheriff's Office need right now?

We're out of room. The Sheriff's Office we're in now was designed and built to get us hopefully 20 years down the road. We moved in 2001, and currently we are out of room. We aren't out of room in the jail, but all the other divisions in the Sheriff's Office have to have a place to be, and we have zero office space left.

It's to the point that if I can find an empty cubicle somewhere, I'll partition it off for two officers.

Have you sought funding for an extension of any kind?

We haven't actually approached that subject in a county commission meeting, but we have received a lot of positive feedback for building a law enforcement complex. And that would encompass maybe 80 acres. We would have the jail, jail administration, patrol and patrol administration, and in the same vicinity, have county and district court, so everything is right there.

How can local citizens help fight crime?

Just with their eyes and ears, noticing anything suspicious. We do not and never have, never will turn away suspicious activity reported; we always follow up on it and just because of the citizens' contacts we've had, we've solved a lot of cases.

Photo credits: Alecia Warren

See The Archives for past articles.
---
Copyright © 2008 Pinedale Roundup
All rights reserved. Reproduction by any means must have permission of the Publisher.
Pinedale Roundup, PO Box 100, Pinedale, WY 82941 Phone 307-367-2123
editor@pinedaleroundup.com