From the pages of
Pinedale Roundup
Volume 105, Number 23 - June 5, 2008
brought to you online by Pinedale Online
---
Obituaries


WILLIAM BELVEAL
A memorial funeral service for Pinedale resident William Belveal will be held Saturday, June 7 at 2 p.m. at the Pinedale Community Church. (United Churchof Christ) 113 S. Maybell, Pinedale.
---
GEORGE L. BARP
George L. Barp, 85, died on May 25, 2008. A funeral Mass will be held on Monday, June 23, at 10 a.m. at St. Anneís Catholic Church in Big Piney. A rosary will be said on Sunday, June 22, at 7 p.m. at St. Anneís.
George was born on June 2, 1922, in Frontier, Wyo., to Eustachio and Giovanna Ropelato Barp; he was baptized on April 28, 1924, at St. Patrickís Catholic Church in Kemmerer. He attended elementary school in Frontier.
George served his country in the Army during World War II in the Western Pacific front and was honorably discharged on Feb. 12, 1946.
George married Edythe Fear on April 28, 1947, in Kemmerer, Wyo., and established their home in Big Piney. He served as the Big Piney Postmaster for several years. In the spring of 1956, George and Edythe purchased the Big Piney Drug Store. They operated the drug store until a fire destroyed the building in March of 1961. In early 1962 they purchased the Big Piney Garage and Texaco gas station, which also included a few schools buses providing student transportation for the school district. In the spring of 1966 they closed the gas station to devote their energy full time to provide quality student transportation for the Big Piney schools. In 1988, after providing service for 29 years they sold the buses to the school, retiring to their home in Big Piney.
In retirement George spent many hours working on various woodworking and craft projects, always attempting to build a better mousetrap. George and Edythe enjoyed their annual Fourth of July gathering of family, extended family, neighbors and friends for an old-fashioned milk can dinner and social complete with homemade root beer.
George is survived by his son George R. (Jan) and their children Eric and wife Jenni, Meghan, Nick, Amanda and grand children Alexis and Tyler; daughter Mary Ellen Giles, children Jillian and Kristofer; son Daniel C. (Janet) and their sons Josh and Jesse; and sister-in-law Grace Barp. George was preceded in death by his wife Edythe, parents, sisters Mary and Freda, brother Raymond, infant son George Clifton and son-in-law Leo Giles.
The family requests memorials be sent to St. Josephís Childrenís Home, Box 111, Torrington, WY 82240.
---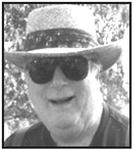 ELTON E. CLOW JR.
ELTON E. CLOW JR.
Elton E. Clow, Jr., 68, entered into final rest early Friday morning, May 23, 2008. He lived at Coeur díAlene Homes for the past nine years. He was born in Lindsay, Calif., in May 1940 to Elton E., Sr. and Bess Clow.
In 1945, the family moved to Big Piney, Wyoming. Elton had many interests growing up. Besides working for the ranchers, he worked in construction and oil field work. He played football and basketball in high school, as well as played the coronet in the school band. After high school, in 1959, he entered into the Army Reserve. Upon completion, he then entered the Air Force from 1973-75.
The family wishes to thank all the wonderful people of Sublette County, Wyoming, for their friendship, love and assistance Elton during the years he lived there. We will always remember you for your special kindness.
Elton moved into Coeur dí Alene Homes directly from Big Piney in March 1999 to be near his brother, Alvah and his family. He is preceded in death by his mother, Bess and Elton E. Clow, Sr. He is survived his brother, Al and his wife, Susan, of Coeur díAlene, Idaho. He loved living at Coeur dí Alene Homes and enjoyed the people, staff and the many activities.
The family is grateful to the staff and volunteers of Coeur dí Alene Homes and the medical staff at Dirne Medical Clinic for the love and care given to him throughout the years. You are all very precious and show Godís love.
A memorial service will be held at Coeur dí Alene Homes, 624 W. Harrison, Coeur dí Alene, Idaho, on Friday, May 30, 2008, at 2 p.m. The family would encourage any donations be made to CDA Homes or the Dirne Medical Clinic, if desired.
Please sign Eltonís guest registry and view online memorial at www.englishfuneralchapel.com.
See The Archives for past articles.
---
Copyright © 2008 Pinedale Roundup
All rights reserved. Reproduction by any means must have permission of the Publisher.
Pinedale Roundup, PO Box 100, Pinedale, WY 82941 Phone 307-367-2123
editor@pinedaleroundup.com