From the pages of
Pinedale Roundup
Volume 105, Number 22 - May 29, 2008
brought to you online by Pinedale Online
---
Obituaries


LOUIS W. ISAACS
December 28, 1916 — May 11, 2008 Louis W. (Bill) Isaacs, longtime owner and operator of the Circle S Ranch, Cora, Wyoming, passed away May 11, 2008 in Naples, Florida. He was 91. He is survived by Alene, his wife of 70 years, one brother, Eugene Isaacs (Jeannie Thompson) of Las Vegas, Nevada, daughter Marion (Mame) Smith, Big Piney, Wyoming, grandson Kelly Wardell of Bellevue, Idaho, his cousin Mark Harris (Lea) of Denver, Colorado whom Bill and Alene raised on the ranch from age 11, and nieces and nephews in Nevada and California.
Born and raised in St. Louis, Missouri, as a young man he traveled the West as a buyer for the B Harris Wool and Fur Company, founded and run by his grandfather, Marcus Harris in the late 1800's. Bill met Alene Parsons, the love of his life, while on a wool buying trip in Salt Lake City, Utah. They were married August 28, 1938 in Salt Lake City and began a lifetime partnership, filled with adventure to last 70 years.
Wanting to live a ranching, outdoor life, they bought the Circle S Ranch from Wm. Showers in August, 1944 — no power, phone or running water — snowed in for months during the winter. They were pioneers and had a lot to learn. Bill soon purchased Wood Diesel Power Plants and ran the ranch on that power until 1958 when REA came in. He was instrumental in bringing in phone lines to Kendall Valley.
Bill and friends who had snow planes were among the first to go through Yellowstone Park in the winter. He designed and built a two passenger — later on a four passenger — snow plane propelled by an inverted Lycoming Aircraft Engine with an eight-foot prop that was started by hand. The snow plane provided transportation to Cora, 20 miles away where they stored a vehicle to get into town. Previous to that, when snow got too deep for teams and a sled or horseback, skis, snowshoes or dogsleds were the modes of transportation. Later when Ski Doo's came out, Bill, along with Rex Wardell, Glen Wise, Les Anderson and Monte Wright made the first trip in winter in double track Ski Doo snow machines over Union Pass. He and Alene had many fun excursions with friends on those Ski Doos.
In the late 1940's and 1950's, Bill and Alene traveled throughout the US promoting the guest ranch and Wyoming tourism. Over the years clientele coming to the ranch for fishing pack trips, riding and hunting in the Bridger Wilderness included heads of major corporations, LAPD captains and detectives, and the president of Pittsburg Coal, who returned each summer for 18 years. In 1960, the Circle S was visited by a Maharja and family of Kotah, India. They hunted deer and moose. Many guests became lifelong friends.
Bill was a founder of the Wyoming Outfitters Association and served as president in 1961 and also the president of the Wyoming Wildlife Federation. He served on the Wyoming 75th Anniversary Statehood Commission and compiled and printed an extensive commemorative history of Wyoming.
He was a member of the Elks Club, the NRA and many volunteer organizations. Bill was a conservationist, historian, and fisherman and strived to make the world a better place wherever he lived. He never backed down in fighting for a cause in which he believed. In 1964, the Isaacs Family sold the Circle S to Mari George of the Tony Hulman family, owners of the Indianapolis Motor Speedway.
---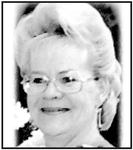 JOYCE ARLENE MITCHELL
JOYCE ARLENE MITCHELL
Pinedale resident Joyce Arlene Mitchell, 65, passed away Monday evening, May 19, 2008, in Idaho Falls, Idaho, of natural causes. Her family was at her side.
Joyce was born March 8, 1943 in Rock Springs, Wyo., to Alvin and Weenona Boyce. She completed her schooling and grew up in Pinedale. She graduated from Pinedale High School in 1961 and later that year, she married William "Billy" Mitchell. Together they raised two sons, Alvin and Kevin. Joyce and Billy were divorced
after 19 years of marriage. She later married Dave Sebesta, who passed away in 1994.
Joyce loved the outdoors. She enjoyed camping and boating, snowmachining, gardening, crafts, painting and her cats. She was a member of the Pinedale Boat Club & Snow Machine Club. She was the State Champion of the Wyoming State Snowmachine Association in 1977.
She is survived by her sons, Alvin R. (Dawn) Mitchell and Kevin N. (Susan) Mitchell, both of Pinedale; five grandchildren Miranda, Savannah, Jacob, Tom and John; brother, Bob Boyce, of Pinedale; sister, Ruthie Clark, of Big Piney and many nieces and nephews.
She is preceded in death by her parents and grandparents, brother, Fred Boyce Sr., and her second husband, Dave Sebesta.
Funeral services were held Saturday, May 24, at 11 a.m. at Covill Funeral Home in Pinedale. Tony Boyce conducted the service. Interment followed in the Pinedale Cemetery.
---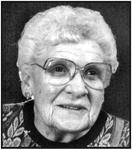 IRENE MARY SONDGEROTH
IRENE MARY SONDGEROTH
Irene Mary Sondgeroth of Riverton died Friday afternoon, May 23, 2008, at Wind River Health Care in Riverton, Wyo. She was 94.
There will be no local services. Mrs. Sondgeroth's body will be returned to O'Neill, Neb., for graveside services at the nearby Scottsville Cemetery through Biglins Mortuary. She was a 13- year resident of Riverton.
Irene Mary Williams was born in Bonesteel, S.D., on April 11, 1914, the daughter of James H. Williams and Mary (Haver) William, the youngest of eight siblings. She grew up in Bonesteel, where she was graduated from high school.
She married Chester G. Carsten on May 13, 1931. He was killed in a farm accident on Nov. 20, 1951.
On Nov. 5, 1963, she married Walter Sondgeroth. He preceded her in death on May 8, 1979.
Mrs. Sondgeroth moved to Riverton in 1989 after the death of her husband in Pinedale.
She had lived in Holt County, Neb., where the family farmed.
Mrs. Sondgeroth belonged to card clubs, enjoyed spending time at the Senior Citizens Center where she played cards.
A homemaker, Mrs. Sondgeroth worked for the R.E.A. in Bonesteel. She did the bookkeeping and secretarial work for the plumbing business run by her husband, Walt's Plumbing in Pinedale.
Survivors include two sons, Gerald Carsten and his wife Peggy of Sioux Falls, S.D., and Robert Carstens and his wife Peggy of Missouri Valley, Iowa; a daughter, Alyce M. Mills and husband Eldon of Riverton; 12 grandchildren, 41 great grandchildren, and 25 great-great grandchildren; 24 stepchildren, including Don and Ladella Sondgeroth of River and Joe and Annie Sondgeroth of Pinedale; step-daughter in law, Gerry Sondgeroth of Waterloo, New York.; step son-in-law, Mike O'Melia of Cheyenne.
She was preceded in death by her parents; two husbands, Chester Carsten and Walter Sondgeroth; two brothers and five sisters; two step-children, Harold Sondgeroth; stepdaughter Nita O'Melia.
---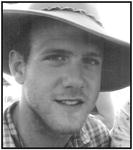 JOSEPH DANNY WELDON
JOSEPH DANNY WELDON
Joseph Danny Weldon, 22, resident of Dubois, Wyo., died on Sunday, May 18, 2008, at the Wyoming Medical Center in Casper, Wyo., from injuries sustained as a passenger in an automobile accident on Saturday, May 17.
He was born on June 23, 1985, in the village of Gouverneur to Danny and Gina Weldon and was the grandson of Doug and Alice Weldon, Gouverneur, and the late Marco and Doris Carbone. He graduated from Gouverneur Central School in 2003, where he enjoyed participating on the wrestling team. After high school, he traveled before settling in Dubois. Joseph worked for Nabor's Drilling Company in the North Mesa oil field. He was also an accomplished hunting guide, licensed by the state of Wyoming where he spent each autumn season with Fritz Meyer, guiding big game hunts in the Wind River and Absaroka Mountain Range, located near Dubois, Wyoming.
Joseph loved to read and was especially fond of Robert Frost and Henry David Thoreau. He was an avid outdoorsman who enjoyed hunting, fishing, trapping, hiking and all other outdoor activities.
He is survived by his companion, Katie Lewis, Dubois; a brother, Jacob Weldon, Gouverneur, N.Y.; three sisters, Erin (Jacob) Knowlton of Watertown, N.Y., Emma (Nathan) Slate, and Clara Weldon both of Gouverneur; and two nieces, Victoria and Virginia Knowlton. In addition, he is survived by many aunts, uncles, cousins and friends.
In lieu of calling hours, Joseph's family has chosen to celebrate his life at an open memorial reception for family and friends of family to be held on Sunday at 1 p.m. at Mullin's Restaurant, located in Gouverneur. Donations may be made to the Joseph Weldon Memorial Fund at Community Bank in Gouverneur, N.Y.
See The Archives for past articles.
---
Copyright © 2008 Pinedale Roundup
All rights reserved. Reproduction by any means must have permission of the Publisher.
Pinedale Roundup, PO Box 100, Pinedale, WY 82941 Phone 307-367-2123
editor@pinedaleroundup.com