From the pages of
Pinedale Roundup
Volume 105, Number 22 - May 29, 2008
brought to you online by Pinedale Online
---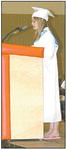 Co-valedictorian Hailey Denae Turner gave her speech Tuesday night.

Big Piney students remember principal

by Jonathan Van Dyke

As the sun cracked through dark clouds, creating a full rainbow outside, Big Piney High School's 52 graduates and their friends and family packed the school's gym.

The gathering lasted a little under two hours, but will ultimately be remembered by the students, who in turn made sure the memory of former principal Terry Statton remained in the hearts of all those present. "Terry was right, none us are as good as the whole," Dr. David Burnett said, opening the presentation.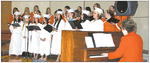 The concert choir sings 'Together We Are One.'

The Big Piney Concert Choir and Band provided music between many of the speeches while several figures provided a look back on the class of 2008.

"I don't know what to do with you, but I wouldn't know what to do without you," said co-valedictorian Hailey Denae Turner, speaking to many of her fellow students and the audience.

She let out a raucous "yee haw" in memory of Statton at the end of her speech, one that reflected on high school being a place where "we mess up" but learn from our mistakes.

Co-valedictorian Matt Guio pontificated about how graduation was much like the first time he climbed up the high dive. "The only difference this time is that we're about to launch into the real world," Guio said.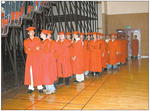 The male graduates line up to enter the gymnasium.

He ended his speech with some famous words that garnered a chuckle from the packed room.

"Like Aerosmith said, 'Dream on, dream on,'" Guio added.

The Assistant Dean of the University of Wyoming School of Law, Dr. Darcy Turner, provided the guest speech, peppering in a number of pop culture references to engage the audience.

"[For these kids] 'off the hook' has never had anything to do with a phone," Turner said.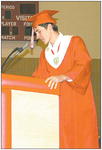 Co-valedictorian Matt Guio leans forward on the podium as he gives his speech.

She even mock answered her cell phone in the middle of the speech, drawing a huge laugh from the entire crowd.

With students moving forward, it was only natural that Turner asked Chase Raza to lead the whole room in one last remembrance of Terry Statton.

"Yee haw," they said, the applause drowning the gymnasium with the same enthusiasm as after the last name called for a diploma.

.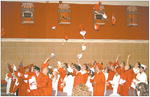 With the last diploma received, the Big Piney 2008 graduates celebrate.

.

.

.

.

.

Photo credits: Jonathan Van Dyke, Jonathan Van Dyke, Jonathan Van Dyke, Jonathan Van Dyke, Jonathan Van Dyke

See The Archives for past articles.
---
Copyright © 2008 Pinedale Roundup
All rights reserved. Reproduction by any means must have permission of the Publisher.
Pinedale Roundup, PO Box 100, Pinedale, WY 82941 Phone 307-367-2123
editor@pinedaleroundup.com